BA (Hons.) Degree in Audio and Music Technology

Pulse College is very excited to partner with Griffith College, Ireland's largest independent third level institution, to deliver this brand new, unique and industry focused BA (Hons) Degree in Audio and Music Technology.
Recording Studios, Live Venue's, TV & Radio, Post-Production, Live Performance: It is now essential to be skilled in array of disciplines to become successful in the audio industry.
It is with these various industry disciplines in mind that we have designed a new BA (Hons) Degree in Audio & Music Technology in partnership with Ireland's largest independent third level institution, Griffith College.
Aimed at musicians, DJ's, computer music hobbyists, and general lovers of music, this programme will train you with the skills required to succeed as a modern day Audio Professional.





Course Content
We will teach you how to record and produce music both in the home studio and in large recording studios. You will learn about live sound from both a performance and technical perspective.
The modern "studio engineer" can record, mix and master audio, but also help produce. Whether it is programming drum parts or string sections or even being on stage, performing with a band.
Please note you do not need to be a musician to be accepted onto this course but someone who is passionate and enthusiastic for all things music.
As with all our courses, hands on experience is crucial to learning. This course is no different. Our students will be trained in Windmill Lane Recording studios and will also be required to put on live shows and performances throughout out the duration of the course.
Why study Music Technology at Pulse College?
This course is taught by passionate Industry Professionals

Students will have access to State of the Art Facilities – including access to the iconic Windmill Lane Recording Studios

The curriculum is taught to international industry standard

Guest Industry talks and lecturers

Use of industry relevant software applications

Pulse College is an Apple Logic Pro Certified Centre and Avid Pro Tools Centre

24 hour studio access

Become a member of our Creative Community – Pulse College offer courses in film production, game design and animation
Detailed Course Content
Stage 1 (Year 1):
Module
ECTS
Music Technology 1
10
You will learn how to set up the hardware and software of a music production suite to record, edit and mix music. You will learn how to programme Drums and Beats, and how to use Samplers and Synthesisers.
Applications Technology
10
You will learn how to use industry standard Digital Audio Workstation software (Pro-Tools and Logic Pro X) to record and edit audio and MIDI. You will learn how to produce music from conception to final mix-down, including the use of effects and automation, in a professional workflow.
Recording Studio Principles
10
You will be introduced to the operating principles of modern recording studios. You will gain insights into audio processing and the operation and signal flow of analogue mixing consoles. You will complete a number of recordings to understand the principles of capturing sound.
Applications of Music Theory 1
15
You will develop your understanding of musical theory, analyse musical structure and form (from Rock and Pop music to Classical and Jazz) and Aural Training skills. You will develop your notational skills using Sibelius notation software to convey musical ideas to musicians with musical vocabulary.
Explorations in Music
5
You will develop your musical understanding by exploring genres of music out of your 'comfort zone'. You will also expand your musical vocabulary and analytical skills by exposure to wide range of musical works from various musical genres and periods in history.
History of Music Production
5
You will learn how to recognise the stylistic traits of music production in a historical context and develop your critical and contextual language in relation to music production.
The Music Industry
5
You will get a broad understanding of the music industry, its various roles and structures within the industry; the commercial, the regulatory environment, and the wider music culture.
Critical Listening and Audio Analysis
5
You will be introduced to the principles of sound, estimating changes in sound frequency, sound level, band limitations and irregularities, distortion, noise, etc.
Stage 2 (Year 2):
Module
ECTS
Music Technology 2
10
You will develop your competence and confidence in programming Samplers, Sequencers and Synthesisers You will learn advanced automation and synchronisation techniques in Post-production and to technically manage the interchange of projects between recording studios.
Music and Image
10
You will learn the processes involved in composing music for TV and Film; It also aims to expand your musical vocabulary and analytical skills through studying the craft of composing to image. Emphasis is placed on developing your own compositional techniques.
Sound Design
10
You will gain an understanding of the theory, the technologies, and practical skills central to the production and postproduction of sound for virtual environments, and the role of sound design effects in other media.
Applications of Music Theory 2
10
You will develop your foundational knowledge of musical theory and aural training skills. Musical forms in popular and contemporary music genres will be analysied. Notational and theoretical skills will be applied using Sibelius software.You will develop your musical vocabulary to convey musical ideas to musicians.
Music Production and Recording 1
5
You will work in the role of a modern music producer utilising technical and interpersonal skills to facilitate a project from pre-production to completion.
Research Methods
5
You will develop your research skills such as developing a research idea, investigating prior work in the area, writing a literature review and evaluating previous studies.
Sound for Performance
5
You will learn the live sound environment, health & safety, equipment, techniques and standard procedures utilised in producing live sound for an event.
Business of Digital Media
5
You will understand the creative and communicative industry of which you will become a part. Key aspects of the media sectors market structure and development will be addressed. Other areas covered include marketing, finance, audience theories and entrepreneurship in the media sector.
Professional Client Project 1 (summer)
10
You will work at a professional level in the role of Music Producer. You will source a client and plan and develop a project through negotiation with their tutor to facilitate the smooth flow of a project through its various stages from pre-production to completion.
Stage 3 (Year 3)
Module
ECTS
Dissertation
20
You may select to present an academic dissertation or a dissertation by practice. You will explore new ideas through research; develop independent research and learning skills; develop the skills necessary to plan and produce an extended, formally written document; and develop creativity through independent practical work and expand knowledge in areas of personal interest.This module will be the culmination of your study. You will explore, through research and writing, subjects deemed worthy of academic investigation, or the development of new ideas through practice based project work.
Music Production And Recording 2
10
You will develop your recording skills to a professional industry standard including pre and post-production elements, recording large acoustic ensembles, You will manage the studio environment with an orchestra or large ensemble, and develop your communication skills required to liaise with clients.
Composition For Visual Media
10
You will explore the use of main themes, underscoring and the harmonic languages of soundtracks. Coursework consists of compositions to image, in various compositional styles and technical skills required to writing to image. You will critically consider the various roles that music can have when used with visual media.
Mixing, Remixing And Mastering
10
You will create professional quality mixes, remixes and master audio across a wide range of genres and listening platforms. You will explore all aspects of the mixing process, in-depth analysis and comparison of analogue versus digital mixing with focus on technical processes along with aesthetic and genre considerations. The final element of this module focusses on the mastering stage.
Professional Practice
5
You will be equipped with a working knowledge of the ethical and fiscal standards of the professional bodies and the practical understanding of the complex legal implications of intellectual property in the music industry. You will develop skills in presenting, creating an industry cv and applying for industry jobs aswell as developing your digital presence online.
Studio Design And Installation
5
You will learn the practical and theoretical knowledge in the main areas of studio design and related industries. You will become familiar with various systems and operations using industry software currently used in acoustic analysis.
Professional Client Project 2 (summer)
15
You will work at a professional level in the role of a modern Music Producer in a professional recording studio. You will source a client and plan and develop a project through negotiation with your tutor to facilitate the smooth flow of a project through its various stages from pre-production to completion.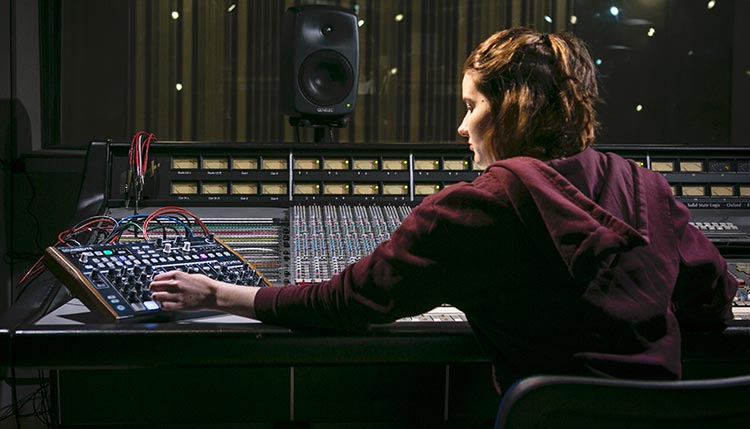 Further Progression
In line with national policy, graduates from the level 8 programme would be eligible to progress to postgraduate programmes at level 9. Students may also be applicable for our MA in Scoring for Film & Visual Media Program.
Graduates may wish to further extend their industry-based professional qualifications as new technologies and developments emerge.
Admissions
This course is a direct application course and involves an interview. Applications are currently taken through the Application Form below. Upon receiving your application form our Admissions Team will contact you to schedule your course interview.
Please see specific information on the course requirements below:
General Course Requirements
A proven interest in audio and/or music technology, and to display some interest in related creative media arts

Basic knowledge of computers (Mac/PC, and audio software): helpful but not essential
Note: Applications from individuals with non-standard qualifications, relevant work or life experience will also be considered.
Interview Process
This course requires an interview as part of your applications. Please see the FAQ's below for commonly asked questions regarding the interview process.
Fees
Total Course Fee Per Year
€8,415 per year (3 years duration)*
[2% PFL Charge of €165 included in Total Fee Per Year]
Flexible Payment Option
Deposit: €800 (payable upon acceptance onto the course, following interview. Please note; deposit is non-refundable)
Enrolment Fee: €3,500 (payable by September)
Instalments: 4 monthly payments of €1028.75 (Oct – Jan)
International Student Fee Per Year
EU Student Living Abroad
€9,357 per year (3 years duration)*
Non-EU Student Living in Ireland
€11,780 per year (3 years duration)*
Non-EU Student Living Abroad
€11,780 per year (3 years duration)*
2% PFL Charge is included in all of total course fees above. This charge is incurred to finance arrangements required under Part 6 of the Qualifications and Quality Assurance (Education and Training) Act, 2012 to ensure protection of enrolled learners.
*Please note that a Registration Fee of €250 is applicable each academic year in addition to the fees quoted above.
Please contact us to find out more about our Flexible Payment options.