BA (Hons.) Degree in Music Production

Movies, television productions, music videos and computer games all rely on finely crafted soundtracks to heighten the viewer's sense of enjoyment and to fully immerse them in the action.
Pulse College is very excited to partner with Griffith College, Ireland's largest independent third level institution, to deliver this unique and industry focused program
This BA (Hons) Degree in Music Production will equip you to use real-life recording studios and production suites to compose, create and deliver music of the highest quality. This programme embraces learners from a variety of musical backgrounds, such as instrumentalists, vocalists and group musicians looking to broaden their knowledge and skills, alongside those with 'non-traditional' musical skills and experience such as programming, sequencing, recording, mixing, and DJ-ing.
With the significant benefit of hands-on experience in Pulse College's world class facilities at Windmill Lane Recording Studios, you will be taught beyond the standard levels required by academic institutions. This practical experience is an essential element of our unique Degree programme.





Course Content
Using the industry standard software and studio equipment available at Windmill Lane Recording Studios, you will work with our  professional lecturing staff and industry guest speakers to develop a combination of practical skills, underpinned by theoretical lectures and tutorials.
As Ireland's only Avid Pro Tools Pro School (and one of only six in Europe), you will acquire official certification in Avid Pro Tools up to expert level (310M or 310P).
Alongside studio and live recording, this programme develops skills in critical listening and audio analysis, investigations of form and aural training, and music theory. You will also learn vital skills in the online promotion of music, project leadership, and marketing.
Detailed Course Content
Stage 1 (Year 1):
Module
Music Technology 1
Applications Technology
Recording Studio Principles
Applications of Music Theory 1
Explorations in Music
History of Music Production
The Music Industry
Critical Listening and Audio Analysis
Stage 2 (Year 2):
Module
Music Technology 2
Music and Image
Sound Design
Applications of Music Theory 2
Music Production and Recording 1
Research Methods
Sound for Performance
Business of Digital Media
Professional Client Project 1 (summer)
Stage 3 (Year 3)
Module
Dissertation
Music Production And Recording 2
Composition For Visual Media
Mixing, Remixing And Mastering
Professional Practice
Studio Design And Installation
Professional Client Project 2 (summer)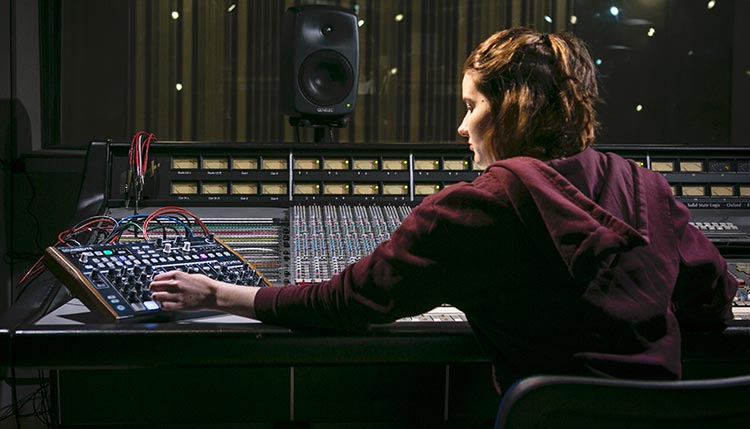 Further Progression
The skills gained through this course will allow you to move into a variety of careers within the creative industries, such as music recording, live sound, TV, post-production, education and sound design for multimedia.
At the end of the programme, you will have built up an extensive portfolio demonstrating expert technical, artistic and professional abilities, giving you the cutting edge needed to gain employment in this exciting and varied industry. You will also have the required business skills which will enable you to start your own freelance practice.
Graduates may wish to further extend their industry-based professional qualifications as new technologies and developments emerge.
Admissions
This course is a direct application course and includes an interview. Applications are currently taken through the Application Form below. Upon receiving your application form our Admissions Team will contact you to schedule your course interview.
Please see specific information on the course requirements below:
General Course Requirements
Grade 5 in Music or equivalent (candidates are required to have prior knowledge in Music Theory)


A proven interest in audio and/or music technology, and to display some interest in related creative media arts

Basic knowledge of computers (Mac/PC, and audio software): helpful but not essential
Note: Applications from individuals with non-standard qualifications, relevant work or life experience will also be considered.
Interview Process
This course requires an interview as part of your applications. Please see the FAQ's below for commonly asked questions regarding the interview process.
Fees
Total Course Fee Per Year
€8,415 per year (3 years duration)*
[2% PFL Charge of €165 included in Total Fee Per Year]
Flexible Payment Option
Deposit: €800 (payable upon acceptance onto the course, following interview)
Enrolment Fee: €3,500 (payable in September)
Instalments: 4 monthly payments of €1,028.75 (Oct – Jan)
International Student Fee Per Year
EU Student Living Abroad
€9,357 per year (3 years duration)*
Non-EU Student Living in Ireland
€12,295 per year (3 years duration)*
Non-EU Student Living Abroad
€12,295 per year (3 years duration)*
2% PFL Charge is included in all of total course fees above. This charge is incurred to finance arrangements required under Part 6 of the Qualifications and Quality Assurance (Education and Training) Act, 2012 to ensure protection of enrolled learners.
*Please note that a Registration Fee of €250 is applicable each academic year in addition to the fees quoted above.
Please contact us to find out more about our Flexible Payment options.