BA (Hons) in Digital Art and Creative Technologies
*THIS COURSE IS SUBJECT TO VALIDATION
Digital art and creative technologies are at the core of many inventive industries. From storytelling, gaming and entertainment to arts, culture and tourism, from architecture and engineering, to medicine, retail, journalism and education, these dynamic technologies are opening up new and changing areas of employment.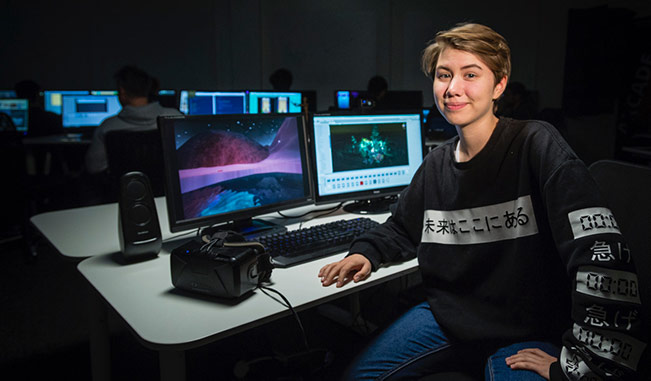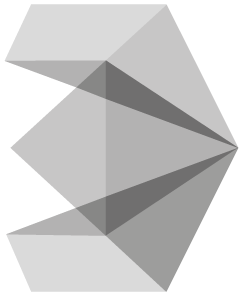 Course Content
This programme will familiarise learners with the tools essential to multimedia development. Through a focus on studio training and practical work, graduates will emerge from the programme 'industry-ready' and equipped with a demonstrable portfolio of work. Yet, while practical work remains the singularly most significant element and aspect of the course, so too are the skills of critical thinking and conceptual and theoretical knowledge which shall be nurtured and cultivated over the duration of the programme.
Graduates will find employment in diverse areas of multimedia across different industrial and cultural sectors, including web development, software support and development, digital marketing, mobile development, animation, architecture, education, tourism and heritage industries, e-commerce, sales and marketing, media and broadcast industries, as well as the expanding electronic media/arts sectors.
Year 1
Introduction to Programming

2D Art, Design & Animation

3D Modelling for Games

Game Theory

Programming for Games

Game Design & Architecture

Visual Media

Research Methods

UI Design & Implementation
Year 2
Procedural Programming & Generation

Introduction to Gaming Mathematics

Shaders & Technical Art

Introduction to Audio

Games Algorithms & Data Structure

3D Animation & Environment for Games

Level Design & Interactions

Narrative for Games

Art & Technology: Critical Analysis
Year 3
XR Technologies

Interactive Design Portfolio

Business & Entrepreneurship

Final Project

Further Progression
Graduates will be able to find employment in a diverse range of fields, including the video-game industry, animation, the aviation industry (aircraft design and flight simulation), architecture, the film industry, and in the field of medical training. Others may wish to continue further education within an academic environment (e.g. NFQ level 9)
Admissions
Entry onto our Degree Programme is based upon a course interview and achieving a minimum of:
2x H5s (H5 = 50 – 60% in a Leaving Certificate Higher Level subject)
and
Minimum of 4x O6/H7s (O6 = 40 – 55% in a Leaving Certificate Ordinary Subject / H7 = 30-40% in a Leaving Certificate Higher Level subject).
To include a minimum O6 or higher in Ordinary Leaving Certificate Mathematics and either Irish or English.
Or: To achieve a minimum of 3 distinctions and the full award in a FETAC Level 5/6 or HETAC Level 7 in Animation/Art / Media.
Or: a Minimum of 2 Grade C A Levels as well as 4 subjects from either A levels (Grades A-E) or GCSE (Grades A,B or C). Or NVQ Level 3 in Music/Media or similar
Covid-19 Notice
In response to the worldwide closure of English Language Test Centres arising from the Covid-19 pandemic, Griffith College is now accepting the online Duolingo English Test (DET) as valid proof of English proficiency. This is a temporary measure for the 2020 intake. Please see here for further details.
General Course Requirements
A proven interest in Multimedia and/or Game Design techniques and to display some interest in related creative media arts

Basic knowledge of computers (Mac/PC, and audio software): helpful but not essential
Fees
Irish/EU
Study Mode: Full-Time
Location: Dublin
Irish/EU living in Ireland: EUR 8,823*
*The fees above relate to Year 1 fees only. 2% PFL Charge of €173 included in Total Fee Per Year
Flexible Payment Option
Deposit: €800 (payable upon acceptance onto the course, following interview)
Enrolment Fee: €3,500 (payable by September)
Instalments: 4 monthly payments of €1130.75 (Oct – Jan)
Year 2 Course Fees: €8,415
Year 3 Course Fees: €8,415
International / EU (living outside of Ireland)
Course fees are paid directly to the International Office of our partner college: Griffith College.
Study Mode: Full-Time
Location: Dublin
Non-EU Living in Ireland or abroad: Please refer to Griffith's Non-EU Tuition Fees section.
EU Living Abroad: EUR 9,639*
*The fees above relate to Year 1 fees only. 2% PFL Charge of €189 included in Total Fee Per Year. Please note that a Registration Fee of €250 is applicable each academic year in addition to the fees quoted above for International & EU (living outside of Ireland Students).