ALUMNUS INTERVIEWS
Name: Lilian Herrouin
Course: Audio & Music Technology 2 Year Diploma
Year of Graduation: 2010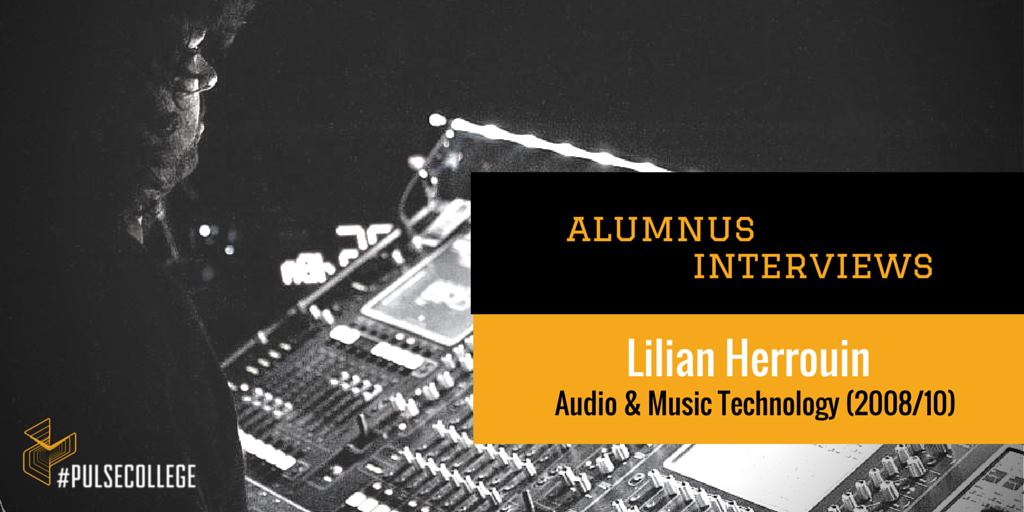 My name is Lilian and I am a French sound engineer. My main occupation is working in a Music Production and Post Production Studio called 'Cryogene Productions'. It is based in Bordeaux, France. I also worked for a contemporary circus named "Cirque Farouche" as a live sound engineer.
What is a typical working day for you?
A typical day in the studio would start with a chat about the ongoing projects with my colleagues in the morning while eating croissants in the garden. When I am in a recording process, the band is around in the morning too. We listen to what was recorded the previous days and carry on the recordings. By 2.30pm, we take a one-hour break. Taking a break is quite essential and good for your ears to rest them a bit. The day ends after 8 to 10 hours of recording. I don't record more than this because I realized after 10 hours you tend to be inefficient. The recordings and arrangements you are doing after 10 hours of work are usually very "weird" and the following day you often ask yourself with the band: "Did we really record this?!"
What are some of the accomplishments you're most proud of in your career thus far?
As a live engineer, that is definitely being able to work with the circus and set the band up on stage in conjunction with the light engineer to gig in big venues. When 1200 people come in a venue and you are responsible for making the show sound good, you get slightly nervous at the beginning. But it's a great reward when it goes on well and the shows get standing ovations.
What are the most challenging aspects of your current job?
I guess it is to record and mix very different styles of music. Every client wants its music to sound like his or her references, whether it is reggae, hard core or indie music. This means that you have to compete against the best sound engineers/producers in the world in every single style of music. This is madness! It is very time consuming to achieve good results.

Why did you choose to study at Pulse College?
I chose to study at Pulse College because I didn't want to be just a live sound engineer or just an engineer recording bands. I can't really stand routine, I get bored quite easily so the idea was to learn the most I could do in every fields and I knew Pulse College was offering this variety of course.
What did you enjoy most about studying at Pulse?
What I enjoyed the most was mixing on big consoles. This was great fun. Whether it was an overnight on the AMEK or a full long day on the SSL, it's always been great. You get to try different outboard gears, you patch them in and you listen. This is brilliant!

How did Pulse College prepare you for your career?
Straight after College, I found a job as a Pro Tools operator and I had to manage a huge session for a theatre show. Also, I can go to any studios and get my head around the set up quickly. It was very valuable to learn the routing of signals in the studios in Pulse College because any studios in the world are more or less routed the same.
What advice would you give to someone entering the Sound Engineering industry now?
I would recommend being patient. I would also recommend taking any opportunities, at least at the beginning because it is good for networking. One work leads to another. If you work hard and in professional manner, the guys who employed you will call you back.
Find out more about our Audio & Music Technology programs
[openday]
Follow Us