Diploma in Game Development Full Time

Faculty: Games
Duration: 1 Year
Delivery: Blended
Level: Pulse College Diploma
Start Date: September 2024
Course Director: Kevin Adanan
Fees: Please Refer to 'Fees' Section Below
Certification: Pulse College Diploma
The aim of this course is to equip you with the technical skills you will need to pursue a career in the video game industry. Pulse College's Diploma in Game Development is an official Unreal Academic Partner Program. The Unreal Academic Partner Program recognizes exemplary universities that have integrated Unreal Engine into their classes and labs.
Over the course of two semesters, you will explore every aspect of the development pipeline; from coming up with game ideas and concepts to building a game you can deploy on whatever platform you choose. You will learn to code in Unreal Engine, to construct 3D models using 3DS Max, and how to design levels and narratives for games.
Using industry-standard hardware and software, we will help you to develop the technical skills you will need to find employment in the video game industry. Most Pulse College teaching staff are, or have recently been, employed in industry. This ensures that the workflows, skills and knowledge you will acquire on this programme are up-to-date with current industry standards.
If you are interested in discovering more about how games are made, in improving your game development skills, or are looking to strengthen your portfolio, then the Diploma in Game Development is the programme for you.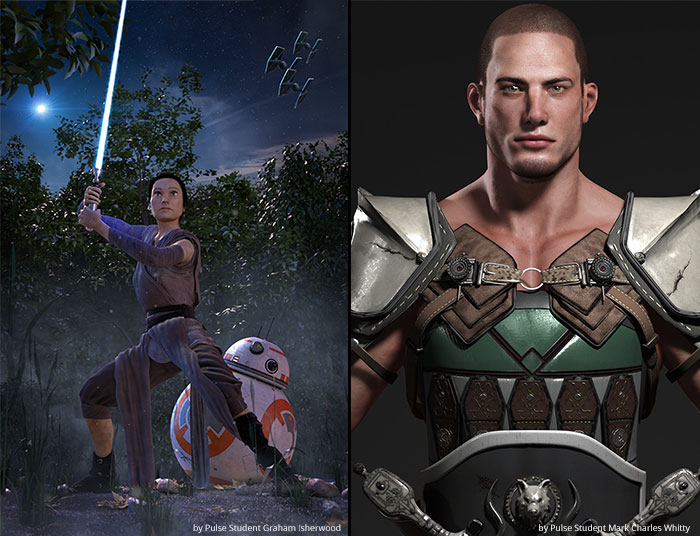 Introduction to Unreal Engine, Blueprint and C++ Programming
2D Art, Design and Architecture
Narrative for Games
3D Modelling for Games
Intermediate Unreal Engine, Blueprint and C++ Programming
Animation for Games
Level Design
Game Mechanics
General Course Requirements
A proven general interest in games, and an interest in related creative media arts

Basic knowledge of computers (either Mac or PC) and game design software will be helpful, but not essential before starting the course

A willingness to explore new ideas is important alongside a positive attitude towards this creative field of study
The skills gained through this course will allow you to move into a variety of careers within the games industries, as well as to progress to further study. At the end of the programme, you will have built up an extensive portfolio demonstrating technical, artistic and professional abilities, giving you the cutting edge needed to gain employment in this exciting and varied industry.
Celebrate your achievements in learning with approved digital badges. Learners can share their credentials across a variety of social media platforms, with contacts, and the greater community enhancing their professional profile.
Digital badges are a powerful new tool for identifying and validating the rich array of people's skills, knowledge, accomplishments, and competencies defined and awarded to learners from recognised Issuers.
Each badge is a digital representation of skill, learning achievement or experience, associated with an image and metadata. The metadata provides information about what the badge represents and the evidence used to support it. This allows digital badges to inspire new pathways to learning and connect learners to opportunities, resources, and one another.
Your Badges will demonstrate to prospective employers the skills you demonstrated and achieved throughout your journey at Pulse College.
This course is a direct application course and includes an interview. Applications are currently taken through the Application Form below. Upon receiving your application form our Admissions Team will contact you to schedule your course interview.
The programme is designed for all ages (over 17 years of age) and skill levels, whether you are new to the industry, looking to up-skill, or wanting to learn new skills and enhance your career options within the games industry. No industry experience is required and applicants may be accepted without formal academic qualifications.
This course requires an interview as part of your application.
Irish / EU (Residing in Ireland)
Total Course Fee
€6,990
Flexible Payment Option
Deposit: €800 (payable upon acceptance onto the course, following interview)
Enrolment Fee: €3,500 (payable in September)
Installments: 4 payments of €672.5 (Oct – Jan)