Music Production With Ableton Live
Faculty: Audio
Duration: 8 Weeks
Delivery: Online
Level: Beginner/Advanced
Start Date: TBC
Course Director: Joey Maguire
Fees: €400
Certification: 
Pulse College Certificate
LEARN HOW TO PRODUCE AND PERFORM USING ABLETON LIVE.
The team at Windmill Lane Recording Studios are the perfect team to help you master the skills to take your Ableton production and performance to the next level.
We will guide you through all of the great features and functions in Ableton and show you how to develop professional workflows. Everything is covered, from how to start a project all the way through to delivering a mix to a mastering engineer!
As a producer, you need to know how chords, rhythms, basslines and melodies are made. Let the Windmill Lane team show you all the tricks and tips to making professional sounding tracks and dynamic performances.
Some topics covered:
Create beats and slice rhythms using samples, Drum Racks and Samplers

Learn the basics of music composition: chords, melodies, and harmony to help your track evolve and develop

Get an in – depth understanding of the Live Capabilities of the Session View, Ableton's unique jamming facility.
Learn how to
Edit Audio and MIDI like a pro.

Get impact, clarity and depth in your mixes.

Control and Perform Your Tracks in Ableton's Session View
Week 1 : Developing Your Own Voice
Week 4: Advanced features and workflows
Week 7: Working with Video
Week 8: External Synths and Midi Controllers
The Wavetable Synth: An In-Depth Exploration
Operator: An Introduction to FM Synthesis
Introduction to Max for Live
Explanation of Visual Programming Environments
Build an FX plugin and a custom UI
Using Session view to come up with ideas, enhance song arrangements and use Ableton Live in a live setup
Mixing your track within Ableton Live and Preparing for Mastering
Joey Maguire
Joey Maguire is a passionate Musician and Technologist. After earning a BA in Music majoring in contemporary composition with a minor in Jazz Guitar Performance, Joey worked in the music industry as a freelance guitarist and music tutor. Continuing with higher education, Joey completed a MA in Music and Technology where he focused on octophonic surround sound with a heavy lean on sound design and synthesis.
Over many years Joey has worked as a performer and technician using sound, visual and lighting technologies, continuing to develop his passion for immersive environments. Joey produces many different styles of music and is experienced in both sound design and audio post production.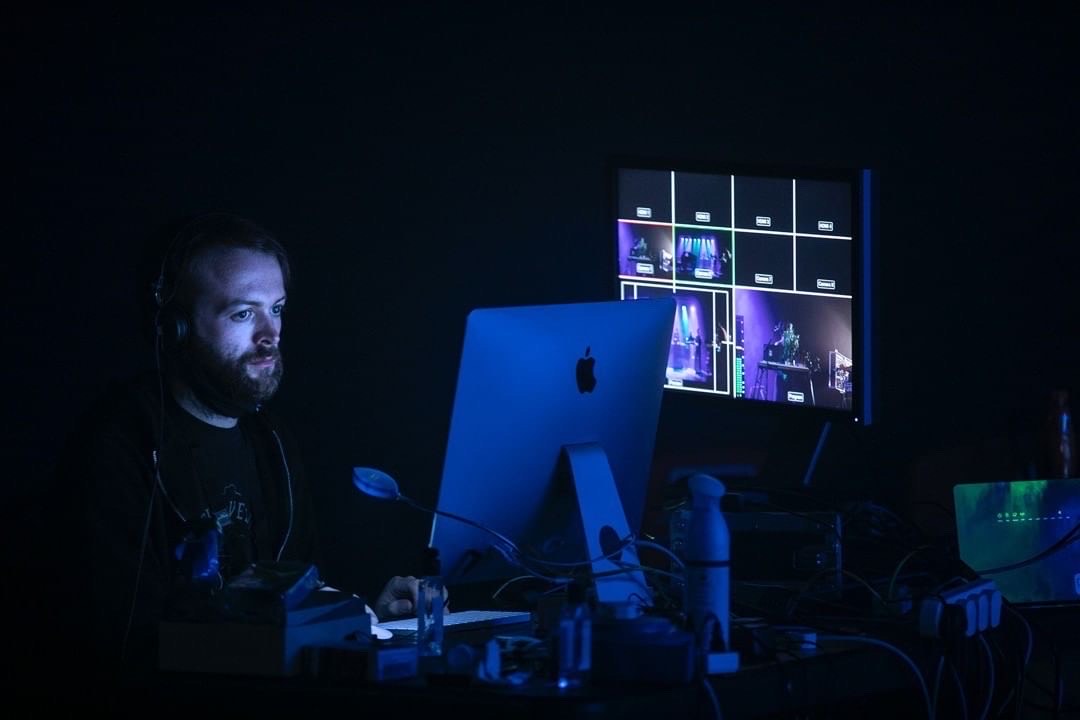 This course is a direct application course. Applications are currently taken through the Application Form below. Upon receiving your application form our Admissions Team will be in contact. No industry experience is required and applicants may be accepted without formal academic qualifications. If you wish to gain further insight into what this course has to offer, please don't hesitate to contact us.
Start Dates
8 Week Course:
1 night a week (Wednesdays, 6:30pm – 9pm).
Level 1 start date is 22nd March 2023
Level 2 start date is To Be Confirmed
To apply for this exciting online course, click Apply Now below.
Computer running Ableton Live 10 (90- day free trial available)

A broadband internet connection

Camera preferable but not mandatory
To apply for this exciting online course, please fill out the application form below.
Joanna will be in contact!
There is no interview application for this course but we would be delighted to invite you in for a private tour of our campus; to meet our course lecturers and gain further insight into what our course has to offer.
I would highly recommend Pulse College as a go to for courses.. Windmill Lane Recording Studios is amazing and lecturers are so passionate for music it really shows.
Google Review

Gary O'Brien
Cork
Irish / EU (Residing in Ireland)
Total Cost: €400
*Full Payment Required to Confirm Place
On completion, you will be awarded a Pulse College Certificate.
*Please note: Fees are non-refundable