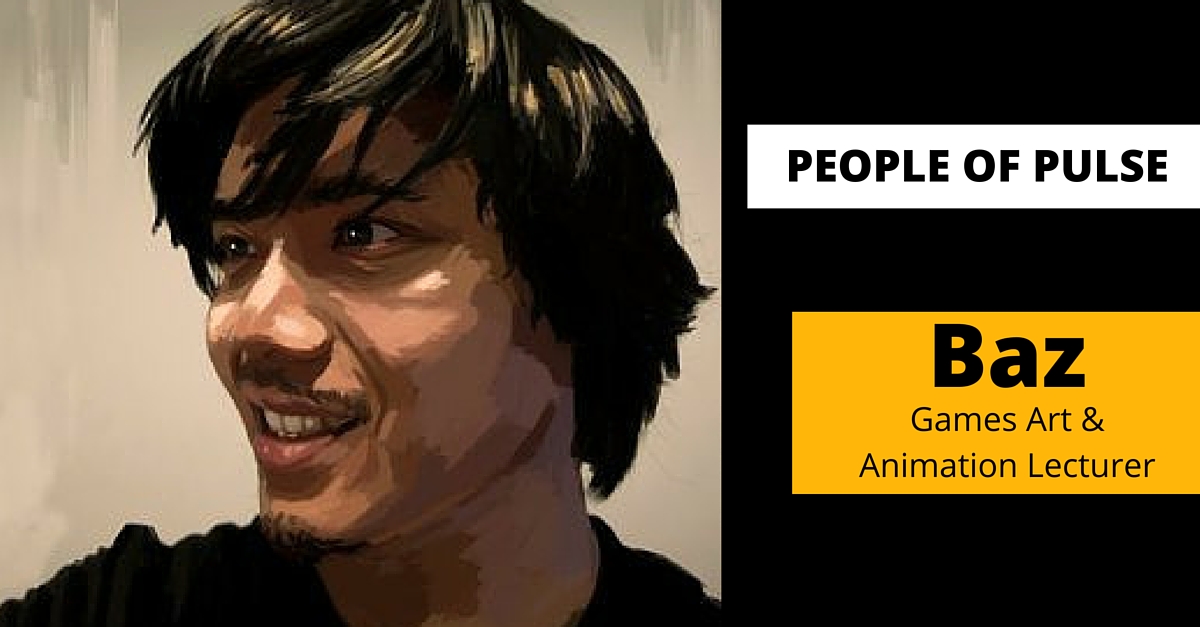 Basil has a life-long passion for gaming and the animation industry and he has successfully managed to harness this enthusiasm into a career he loves – combining teaching animation courses with art direction on game projects. Not only that, he's optimistic that his latest game project could be a significant commercial success; in fact he's so confident about this that the company he co-founded, bitSmith Games, has recently turned down an offer of funding for their next title Frank'n'John.
We caught up with Basil and we talked about his work here at Pulse College, how his career has evolved and we got the low-down on the exciting work underway at bitSmith.
How did you get into the world of animation and gaming?
When I was a kid I was always a bit of a gaming nerd! I'd be the one to borrow a friends Gameboy and play it as much as possible until I was forced to hand it back. I remember having 100 desperate free games on a computer as well and playing them over and over – I just loved computer games; no matter how bad they were back then.
When I left school I did a medical physics course and went to work in a clean room in quality assurance; that didn't last long; I hated it. So I took a chance, left the job and did a Digital Media course; it was really a web development course but we were twinned with a digital gaming course and that was lucky; it was gaming art and animation that I was drawn to. That's a good lesson for prospective students actually – if you're stuck working in something you don't like but you have a real passion for gaming, art or whatever it is that you enjoy – follow your passion; it's a cliché but it's so true…
When did bitSmith Games come on the scene?
One of the projects we worked on in college was to create a game, which ultimately became "Ku:Shroud of the Morrigan". We established bitSmith Games to launch it and although we won a lot of critical acclaim, it wasn't a commercial success. But for me personally it was like a PHD in gaming – you need to be a jack of all trades and get an understanding of all the skills needed and how they gel together. And I got to understand the business side too – you need to be working on the basis that your first game will fail commercially and you move on to the next project; fail fast, fail better!  That's the only way to get the right experience to create something lucrative in the end. Through this process I've learnt all about the independent scene; how to publish your own games and we've even turned down an offer of funding on our latest project Frank'n'John as we feel we'll be able to fund the work to finish it out ourselves – that's where teaching comes in! Working at Pulse is totally complimentary to what I do and it's a win win – I can bring hands-on real-life experience into the classroom and the job is flexible so it facilitates the art direction work I'm doing at bitSmith Games. It's great to tap into the creativity of the students too and hear what they're thinking.
What's so good about Pulse?
Besides the fact that all the lectures are working in the industry in one way or another – which is a significant advantage for students – Pulse College is also very agile; if we need to update software or get new equipment, it's done quickly. It's not a civil-service type environment, it's very fact-moving; that's not always the case with these courses and in the gaming and animation business it's essential to be nimble – technology is moving all the time.
What advice do you have for gaming and animation courses students?
That's simple – make your own games. Just doing a course will never be enough. On the courses here at Pulse we get the guys to make 2 or 3 games a year to maximise their exposure to the development cycle as early as possible. You can teach students how to use powerful software tools to make a game but you can't teach real craft; that only comes from experience, hard work and skill.
Going to local game events like dubludo are also a great way to network in the industry. The opportunity is out there – Irish game designers like Terry Kavanagh are hugely successful and an Irish business has recently had a big hit with Guild of Dungeoneering So it's all to play for!
Learn more about our game development and animation courses by coming to an open day or contact us now to discuss your options.
[openday]
FOLLOW US