Record | Mix | Master


Here's your opportunity to study the process of Recording, Mixing and Mastering at the world famous Windmill Lane Recording Studios.
This intense, short course is over Six Days In July and you'll be learning under the guidance of our highly experienced engineers and producers.
Our comprehensive course will take you through the recording process step-by-step, so you'll experience how to record in a professional environment, using state-of-the-art equipment. You'll work with our engineers who'll show you how to apply the tricks of the trade and take your recordings to the next level. This course covers both mixing "in the box" and the use of summing stems on the SSL and Neve consoles.
Love to experiment recording music at home? Or maybe you're a musician or DJ with a passion for mixing music but with no formal training?
This in-depth, practical course takes place at the iconic Windmill Lane Recording Studios in Dublin, Ireland, which boasts a client list that includes a who's-who of global superstars.
This Summer Program has been devised in collaboration with the management teams at Windmill Lane Recording Studios and Ireland's leading educator in creative media – Pulse College.
Who is it for?
If you're a home-recording hobbyist, a musician or DJ that wants to get more from their recordings, then get in touch. This course is ideal if you want to deepen your skills and knowledge in the art of recording and producing.
Unfortunately, due to the prior skills required and the rapid pace of teaching, this course is not suitable for complete beginners.
The Team
Course Content
– Introduction to the Studio 1 Windmill Lane- Recording and Microphone Techniques for Drums and Bass
– Recording and Microphone Techniques for overdubbed instruments:- Percussion, Electric Guitar, Acoustic Guitar, Piano, Keys and a Strings
– Recording Vocals – Preparing for the mix- Editing, Beat detective, tips and tricks
– Mixing Workshop- Preparation for Mastering
– The Art and Science of Mastering- Mastering Workshop
Facilities
You can find out more about Windmill Lane Recording Studios here
Tutors
Niall McMonagle – Studio Engineer – Ed Sheeran, Nile Rogers, Rudimental
Alan Kelly – Studio Engineer / Producer – Gavin James, The Corrs, The Script
Greg Clooney – Mix Engineer / Avid Protools Expert – U2, Herbie Hancock, Dionne Warick
Ger McDonnell – Engineer / Producer – U2, Van Morrison, Kasabian
Fergal Davis – Mastering Engineer – Muse, Ben Folds, Sinead O'Connor
Admissions
Please apply online and tell us about your experience to date. Admission decisions are made as applications are received. This program has limited capacity so early application is recommended.
Accommodation
Windmill Lane Recording Studios is located at 20 Ringsend Road, Dublin 4, Ireland.
The studios are serviced by the:
Dart: The Grand Canal Dock station is located on Barrow Street around the corner.
Dublin Bus: routes servicing Windmill Lane are 1, 15a, 15b, 47, 56a and 77a.
Luas: (Spencer Dock Station Red Line) is a 15-minute walk across the Liffey.
Useful sites for booking accommodation are
Airbnb Home from Home Booking.com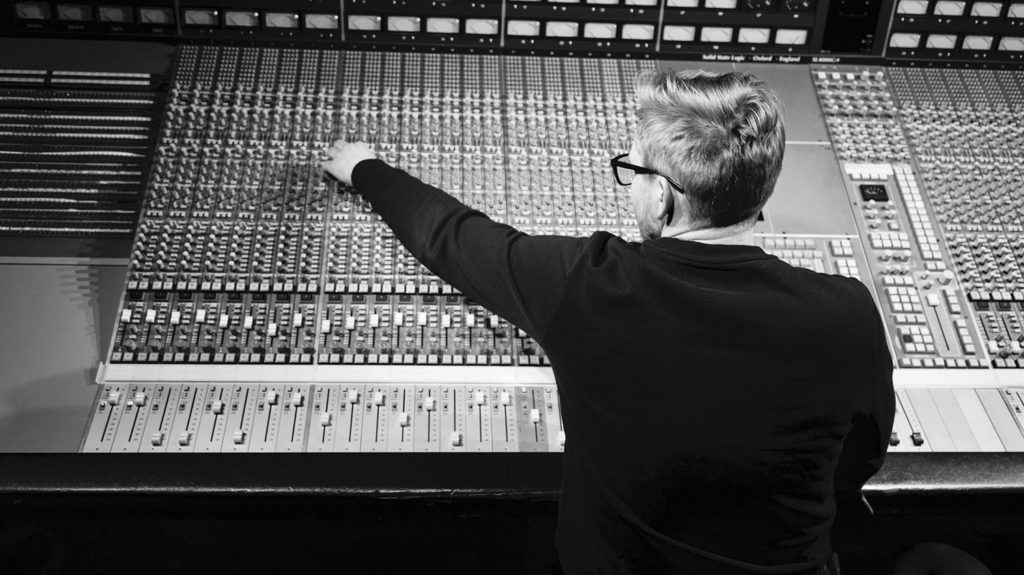 Pic: SSL G+ in Studio 2 Windmill Lane Recording Studios
Testimonials
"It's not often you get the chance to work with multiple engineers & producers but to get to spend a week with five of such high calibre is a rare thing indeed. I loved learning how to successfully merge the various processes from the recording phase all the way through to the completed track and mastering phase. Hugely beneficial for someone who wants to up-skill"– Seán O'Neill, MSQ Audio in Apple
Fees
Total Cost: €1350
Deposit: €250 (Please note; deposit is non-refundable)
Balance: €1,100 (payable at the start of the course)