"There's no drama like wrestling." – Andy Kaufman
We recently asked Film Production Student Eoin King, to take us through the process of creating an idea and directing a short as part of his college program.
#PeopleOfPulse
Student: Eoin King
Course: Advanced Diploma in Film Production
Year: 2nd Year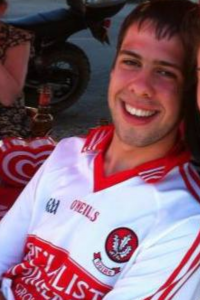 "There's no drama like wrestling." – Andy Kaufman
Cutting straight to the chase, I have been a wrestling fan since I was a kid. I stopped watching/following during the years of 2009-2013, as the storylines got too predictable for me and to be very honest, I became bored with it. However, one day in 2013, I found myself on YouTube, bored as I could be. Granted, I could have been studying for my Leaving Cert but I prefer being bored to be honest! I remember trying to find new music to listen to or new shows to follow. But I got nothing. So, I typed in something like 'Best Wrestling Matches of all Time'. Something along those lines anyways. And looking back at it now, it could have well been one of the best decisions I ever made, as my interest for wrestling was back.
From that point on, I looked up almost everything. Documentaries on wrestling, wrestling matches, wrestlers, WWE, New Japan Pro Wrestling, TNA, 'funniest wrestling moments' the whole shebang. I didn't just get back into it. I almost began living and breathing it! It became an addiction. And the best bit about it was that I didn't care at all. It was better than worrying about exams where some teachers build it up as the "end of your life!" if you mess it up.
Fast forward then to 2014. We began a documentary module of our course here in college, taught by Basil Al Rawi. When I was told before the module started that we had to pitch an idea for a short documentary, it took me a while what to think as I wanted to do. I wanted something that was unique in Ireland. And almost immediately, the independent wrestling scene immediately sprung to mind. However, whilst doing my research, there was so many documentaries based on a certain wrestler, what a wrestler does, or a wrestling company. So I thought that it would be cool if I picked someone that wouldn't usually be picked as the protagonist. That's when I thought of the match maker. The person who organises the matches and segments of a wrestling show. A very important job behind the scenes indeed. So with this, I glanced at Irish Whip Wrestling, an independent professional wrestling promotion based in Dublin. I then looked up a hero of mine. Paul Heyman.

Heyman is a wrestling genius in my opinion. In the 1990s, he was the main promoter/match maker of the pop culture phenomenon known as Extreme Championship Wrestling (ECW) over in the states, as well as being an on screen personality as a manager or match maker/promoter. If you ever watch Heyman, it's quite fascinating. He plays himself, and only himself. A 'Mad Scientist' as his nickname goes. I thought this was extraordinary that he was his gimmick in real life. With this, I started thinking 'wouldn't it really be cool if we could find a guy like this for the documentary?!' Well we wouldn't. We got something better. Something far more real.
When Basil selected me to direct my idea, I was pumped. He then gave me my crew. Dara McConnell (producer), Stephen Fitzpatrick (DOP), and Tom Coyne (sound). From the beginning, we began to work heavily. I developed my scripts and began picking out necessary shots, as well as setting the narrative. We wanted to follow the match maker. Show what he does. And after contacting numerous promotions, we got one promoter by the name of Simon Rochford at Irish Whip Wrestling. I was delighted as this was also the promotion I initially wanted to do.
I think this is also the perfect chance to thank Dara. Not only did he produce this, he also took on the workload of editing, scoring, and camera operating as well. Not only this, but I was so happy to see him actually take a strong interest into the project. He wanted to make it work as much as I did. This gave me a huge boost in confidence as I knew he was not doing it just for the sake of passing the assignment. Like myself, he wanted this to be as interesting as we could get it.

Dara and I agreed to meet Simon. And, I think it was safe to say that we were fascinated by what he had to say. Down to earth, no nonsense, and 100% honesty and truth. At the meeting we had with him, he talked about numerous things. Rival promotions tearing down posters, the role of a promoter, how he dislikes the term 'booker' and prefers match maker. That last point is something I highly respect, as the term 'match maker' is exactly what they do.
After talking with Simon, we organized a date to document one of their shows, which would be at East Wall's Sean O Casey Community Centre in Dublin. The date was the 21st of November 2014. I was slightly nervous as this was also my directorial debut. I was also scared as I was afraid of messing up something that I was very passionate about. However, this was good, as I was mentally focused on what I was doing. Due to our skeleton crew, Dara also became the 2nd camera op with Stephen on the main camera.
As the event went on, my confidence began to grow. I kept strong communication with Stephen and Dara. I mainly kept with Stephen as his footage would consist mainly of Simon. We followed Simon from his entrance to the building, his organizing of the event, his setting up of the PA system and merchandise stand, stepping in as a referee, and going through the matches with the wrestlers who consisted of 'Captain Rooney' 'Galway Grappler' 'El Mayhem' 'Cambo Cray' 'Powerhouse Biffo Meehan' and Lee Flynn. As Tom had radio mic'd Simon from the start, we picked up every word he said. Everything he did was telling the perfect story of what I wanted for this documentary, which was the role of the match maker/promoter. Even at the end, we all were in the locker room, and he gave us an insight to his role and who they do the show for, which was family and kids.

After filming the event, we were riding high. We had something really strong here. I was delighted. But there was one more final step. The interview. Here, I had to organize a list of questions for Simon. This was no problem. I used my knowledge of wrestling, the footage from the event, and even a little help from Dara to guide me along a succession of questions. So the following week, we were greeted to Simon's apartment where the interview took place, along with getting some additional footage. This was my favourite part of the whole documentary. Simon's answers were so full of detail and honesty. He didn't hold back. It was a really heartfelt interview.
After we wrapped, I was over the moon. This was a huge experience for me. With this, my interest in directing was back as my interest of the craft was shot down drastically during the summer previous to this. I had also learnt so many new methods. Interviews, documentary directing and how it differs from directing the likes of a commercial or music video. I was also over the moon as I knew I had completed my goal of showing the role of what a wrestling match maker/promoter does. I also got to expose how wrestling can also be a very dangerous, complicated sport.
Getting this was also hugely important to me as I do get annoyed when people say that wrestling is 'fake'. Wrestling is not fake, it is scripted. It is sports entertainment. The key word there is 'entertainment'. It is to entertain the audience. It tells a story just like a soap opera or TV drama does. I think this was shown heavily in the documentary which made me happy.

To wrap up, I had a blast filming this. It really has kick-started my directing aspirations. All I can say is a huge thanks to Dara, Stephen and Tom who really put the effort into this. It was also a great pleasure to work with Simon and all the crew at Irish Whip Wrestling. After this, I can't help but look up to Simon as someone I really admire in the world of wrestling. Great knowledge was certainly gained after hearing what he had to say.
To even celebrate, I watched my first Wrestlemania in 7 years with my mates in the pub of all places! Haha
I am honoured and privileged to say that the film has now begun its festival run, and has gotten off to a great start, as it is already into the Underground Cinema Film Festival. So here's to many more to come!
– Words, Eoin King, 2nd Year Film production Student, Pulse College
Find out more about our Full-Time Film Production Diploma.
[openday]
Follow Us