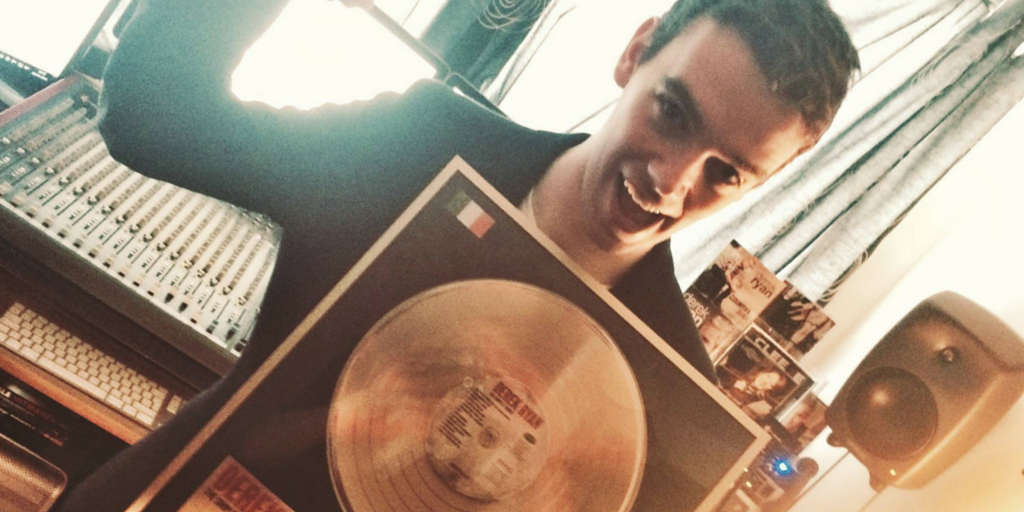 Huge congrats to Brian Sheil, BA (Hons) Music Production alumnus, who received some great news last week!
Brian – "This week was special! Just received my 1st Official Gold Disc for my Mixing and Mastering Engineer work on Derek Ryan's #1 Album ‪"The Simple Things"‬ in the Official Irish Charts. Little did I know when I was 7 years old, trying to figure out why one sound would come from the left side of my Mam's car speaker system and not the right side, (while listening to Celine Dion records), would lead to this."
We're all very proud here at Pulse College!
Since leaving Pulse College, Brian's career has gone from strength to strength, having set up his own recording and production studios, Bryestar Studios, and has been Nominated as International Producer of The Year & International Recording Engineer of the Yea (2013) at The Music Producers Guild Awards, alongside illustrious producers such as David Guetta, Afrojack and Danger Mouse. Brian has worked as producer, mixing engineer and sound engineer for a host if renowned artists, including Derek Ryan, Kodaline, Gemma Hayes, Jerry Fish, Christy Moore, Julie Feeney and the RTE National Symphony Orchestra.
Follow Brian Sheil Recording Studios on Facebook and check out his Brytestar Production/Recording Studios.
Find out more about our Music Production programme or contact us to talk about the program!
[openday]
Follow Us