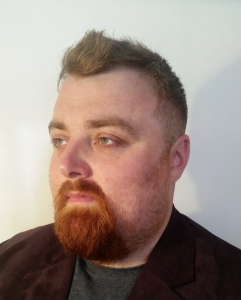 David Williams is one of the lucky ones – he has managed to turn a passion into a profession and he's not planning to change his game anytime time soon. A self-confessed gaming geek, his desk surrounded by nerdy toys for boys and gaming memorabilia, David is hugely enthusiastic about the gaming and animation courses available at Pulse and how they work so well in a practical way for students. And so he should be, given his role as Head of Game and Animation Programmes at the College.
We talked with David about his own background, the courses he runs and the advantages of studying gaming and animation at Pulse.
What got you into Game Development and Animation?
I guess the easy answer to that is a lot of study and hard work! As soon as I left school I went to study multi-media and computing and when I got an honours degree in that I went on to do an MA Learning and Teaching. Right now I'm a PhD researcher looking at the psychology of gaming in relation to learning so I've pretty much steeped myself in the business – both from an academic perspective and in terms of work experience. I've worked in globals like Google as well as with start-up game development businesses, film production companies, retailers and I've worked in other sectors too. But I've always leaned towards the academic side of things and I've been published in a number of respected academic journals which is great. So teaching has gone hand-in-hand with the development of my career and it came pretty naturally to me – gamers like to share stuff!
What attracted you to teach at Pulse College?
Pulse is very heavily involved with the gaming and animation community – we host events like the global game jam, we have an onsite incubation unit for gaming and animation start-ups and we mentor new businesses so there's a real energy and buzz about the place; you don't get that in a lot of  that colleges.
The other big advantage of studying at Pulse is that all our lecturers for the gaming and animation courses are practicing professionals themselves; they're lead artists and designers in studios, they programme games, they run multi-media businesses and it's a two-way street – we're able to keep students bang-up-to-date with what's happening in the marketplace because we're right there in it ourselves and we are energised by their ideas and enthusiasm – we're all at the cutting-edge of this business and I love that. It's worth mentioning at this stage that the facilities at Pulse are superb and that makes a difference – we have the latest software and custom-built machines for each of the courses.
If you're an enthusiastic amateur gamer or animator then I see Pulse as the ideal bridge to a professional career in those fields – it's a great place to make the right connections in this community and to acquire the type of skills the marketplace is looking for.
How are the game development courses organised?
Well you're asking the right person! It's quite a broad field in terms of different technical skills and a lot of students who want to be involved in gaming aren't sure which aspect will suit them best so we've structured the course to allow all students to get a feel for each general field of expertise and then to specialise later on. The industry is organised in a "T Model" where people working in it understand a variety of roles but specialise in one and the courses reflect that. Usually they go on to work either in a programming, design or artistic role and of course there are specialities within those professions too.
One of the most important aspects of the gaming and animation courses is the focus on putting together a portfolio – this is the students calling card into the industry so we work really closely with students to make sure their portfolio of work reflects their true talent.
Do the animation courses take the same approach?
Animation is a speciality in its own right of course and our focus is to give students the skills needed to work in the types of jobs that are available in this market; in advertising (3D modelling),  gaming, cartoons/animations and sequential art (comic books) – all these skills are closely related no matter which career the student subsequently follows. Again the portfolio is a key output from the course and students are closely mentored to make sure this works for them once they leave Pulse.
Any final piece of advice for prospective students?
Yep – come to the open days; I think for a lot of students it really helps to come along to see the game development and animation facilities, to talk to the tutors and get a feel for the place – it's a cool environment to study in, the courses are practical, hands-on and great fun and of course you'll be getting the skills you need to build a career in a growing global business. Check it out!
Learn more about our game development and animation courses by coming to an open day or contact us now to discuss your options.
[openday]
Follow Us