#WHATis? The Director of Photography
If you're thinking of working in the film industry and have a good artistic eye, then a career as a director of photography (also commonly referred to as a cinematographer) may be ideal for you. The first in our series of "#WhatIs" blog posts, breaking down and explaining key industry terms within our college course industries, focuses on the always intriguing world of the Director of Photography.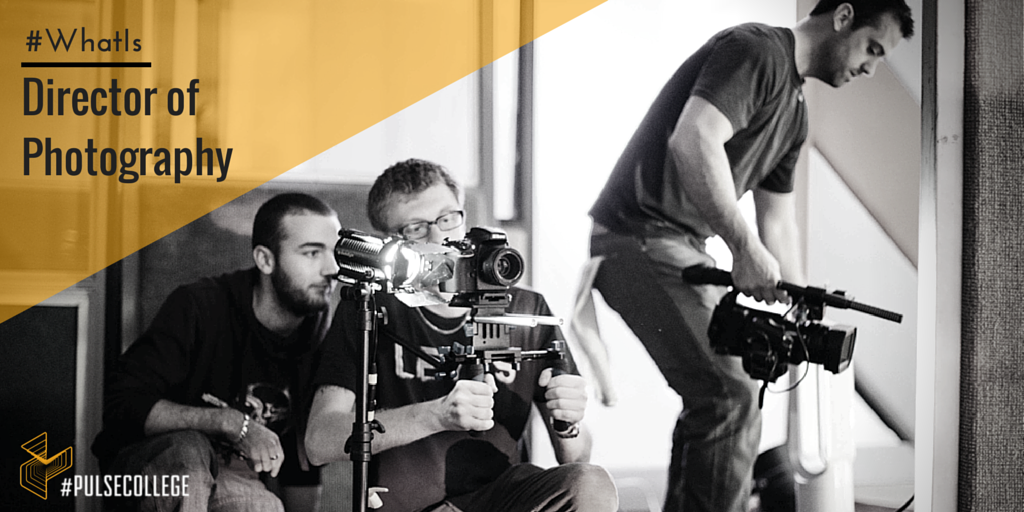 Although people tend to assume the director is responsible for everything, in reality it's often talented cinematographers that give a film its visual identity. The role is one of the most creatively rewarding in the industry, but it requires a particularly robust skillset in order to interpret the director's creative vision and communicate it to the rest of the crew.
Among other things you need to have is a sound knowledge of the technical aspects of film, including framing, digital and photo-chemical processes and camera equipment. As a result of this, most directors of photography will have had extensive experience in a number of roles and will typically have attended film school, so if you're serious about the role then any on-set experience is good experience (even if you're just making coffee to begin with).
Here we outline a few of the key responsibilities the role entails during different stages of production.
Pre-production
In the run-up to the shoot, the director of photography is usually entrusted with a number of crucial responsibilities. First off they'll read and discuss the script with the director to ascertain their overall intent and then about making the arrangements to make it a reality. This usually includes:
Calculating budgetary requirements
Finding and approving filming locations
Reviewing and approving set plans, props, vehicles etc.
Conducting technical research and design, including transfer protocols, set timing, printing and sourcing new equipment
Designing rigging and lighting-plot plan with the key grip and the gaffer
Quality control of equipment, costumes and sets
Shooting tests for style, special effects, props and camera lenses
Essentially the cinematographer is in charge of making sure everything is good to go on the first day of shooting: they are the first point of contact for most of the crew, and a keen attention to detail is critical for ensuring everything runs smoothly.
Shooting
This is where the director of photography has the most creative scope. They need to collaborate with both the lighting and camera teams to ensure that the scene is arranged to reflect the mood and tone of the story, as well as choosing the correct camera lenses and design lighting. They also may need to devise and set any camera movement cues. Most importantly of course – they are in charge of photography, and serve as a mediator between the director and the camera operators to set up shots to achieve the best possible image composition.
Post Production
For the director of photography the work doesn't end when the shoot wraps up. During the post production process their responsibilities can include:
Additional photography, such as inserts, special effects and second unit footage
Grading of the picture and approving all digital and optical effects composites
Publicity. The director of photography will often have an extensive role in putting together the marketing materials for the film, including release prints, trailers and posters. They may also be called on to do interviews, award ceremonies etc.
For many cinematographers this can be the most demanding and stressful stage in production as they will be heavily involved in the final sign-off and delivery of the finished piece.
Pulse College: the perfect film school for budding cinematographers
Given the workload and responsibilities it entails, it's safe to say that being a director of photography is one of the most demanding jobs in the industry. However, if you relish a challenge and have real creative flair – it could well be ideal for you. Getting the requisite experience to do the job is also a challenge, and training at a reputable film school under the guidance of industry veterans can go a long way towards equipping you with the skills you need.
Pulse College offers a number of vocationally-focused programmes, with our flagship BA in Film Production providing the most comprehensive coverage. As well as general modules aimed at forming an aesthetic appreciation for film as a medium, there are also a number of specialised courses in cinematography and post-production. The programme has been a springboard to employment in cinematography for many of our alumni, and in the past graduates of our film school have gone in to industries as varied as advertising, film-making and television.
If you want learn more about our courses you can get in touch with us today. We also run monthly open days at the Pulse College Dublin Campus: if you'd like to have a chat with some of our instructors then book your place today!
[openday]
Follow Us