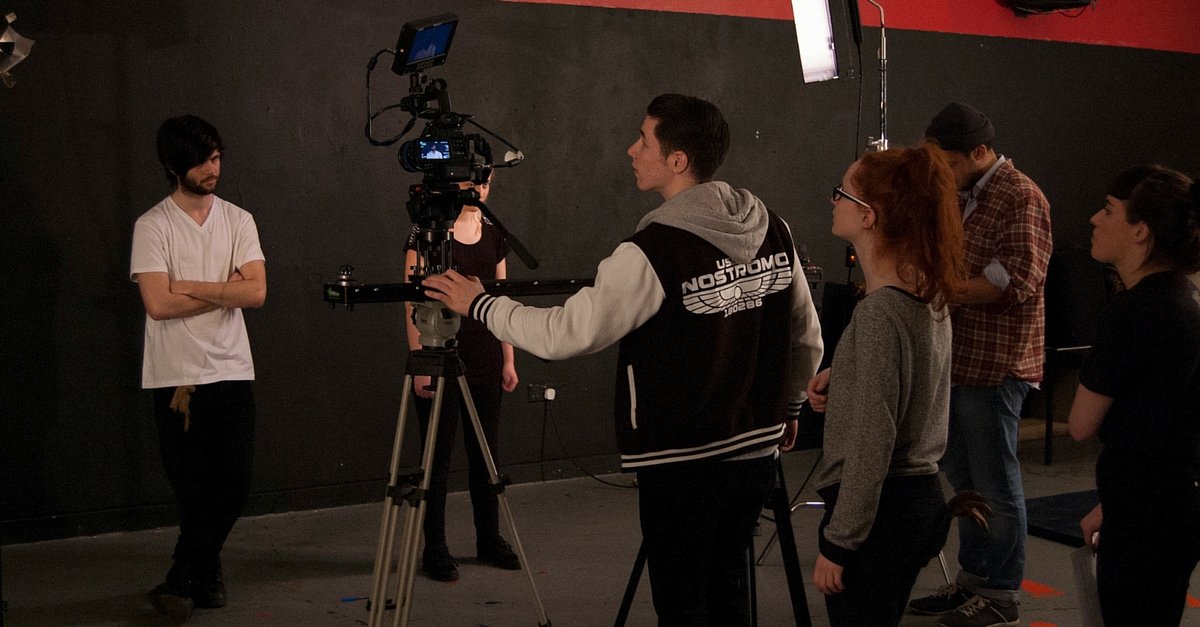 If you fancy yourself as a budding film maker then there's lots of great reasons to make a short film. And the beauty of a short is that you don't have to wait 'til you graduate from film school to get going. The film business can be tough and there's plenty of people out there trying to make a career in this industry so it can be hard to break into the business successfully. But a short film is a great way to kick-start your move into movies! Here's 4 of many reasons why….
1. Hands-On Experience
First up when you think about making a film, what aspect of the process is it that you want to be involved in – you'll need a script, a producer, a director, someone to do the camera-work, editing skills and facilities, and of course actors. As soon as you decide to make a short film, you'll start to think about the skills needed, the locations, the characters and more. Now you're already thinking practically and once you start working on it, you'll experience the true realities of film making; the excitement and creativity as well as the challenges and stress. No theory class at film school or viewing other shorts will teach you more than getting out there and doing it for yourself. It will also help to clarify the different roles involved in film-making and you can work out which career in film making you might like to follow and what suits your skills best.
2. Fun at Film Festivals
Film festivals is where many professionals in the business get their careers going and if you've got a short that they will show, it's a great way to introduce your work to the right people in the industry. In Ireland we're lucky with a huge number of local film festivals but if your work is good, it's feasible to be shown at international festivals too; check out how local industry professional JJ Harrington got flown over to the  50th Anniversary of the Alcala de Henares Film Festival as a "Special Guest" for her work as a writer and director. Because short films are often done on tight budgets, the pressure to sell you work at film festivals is off but if you've made a feature film and significant money is invested into that project, film festivals can be nerve-wracking occasions where the pressure is really on to "sell, sell, sell".
3. Creative Freedom
If you're making your own short film, you're starting with a blank canvass. This gives you an incredible amount of freedom to let your imagination run wild. It might be short but it can be brilliant. You don't have the type of restrictions that commercial film makers have to work with – you can develop a storyline on something you really feel passionate about and that passion should filter through to your work. It's a chance to find your voice as a film maker and to do it in a productive and creative way. You might surprise yourself when you see the end result!
 4. Making Shorts on a Shoestring!
Where are you going to get the money to make the film? Here's where short films come into their own because they can be, and usually are, made very tight budgets. You'll need to plug into all your contacts, you'll have to find actors willing to give time for little money or for free so that they are shown in the credits, you'll have to beg, borrow or steal (well beg or borrow anyway!) equipment such as cameras and editing software. Or you'll need to put your own money into it, find an investor or look for funding. It's worth keeping an eye out on the Irish Film Board website for information on funding. The experience of funding a film is something that will add to your commercial acumen and demonstrate your ability to make films happen – that'll be important when you're looking for finance for your second short!
Film School Options at Pulse
Pulse College offers a range of courses for students looking to get into the film industry and we've a detailed outline of each course on the site – read through each one to find the best fit or check out our open days to see the facilities and hear from the tutors. There are two full time courses as follows;
BA in Film and Television Production
Advanced Diploma in Film Production
We also offer a selection of relevant part-time and evening courses.
There's never been a better time to get involved in the film business in Ireland and film school here at Pulse is the best place to start!
[openday]
FOLLOW US