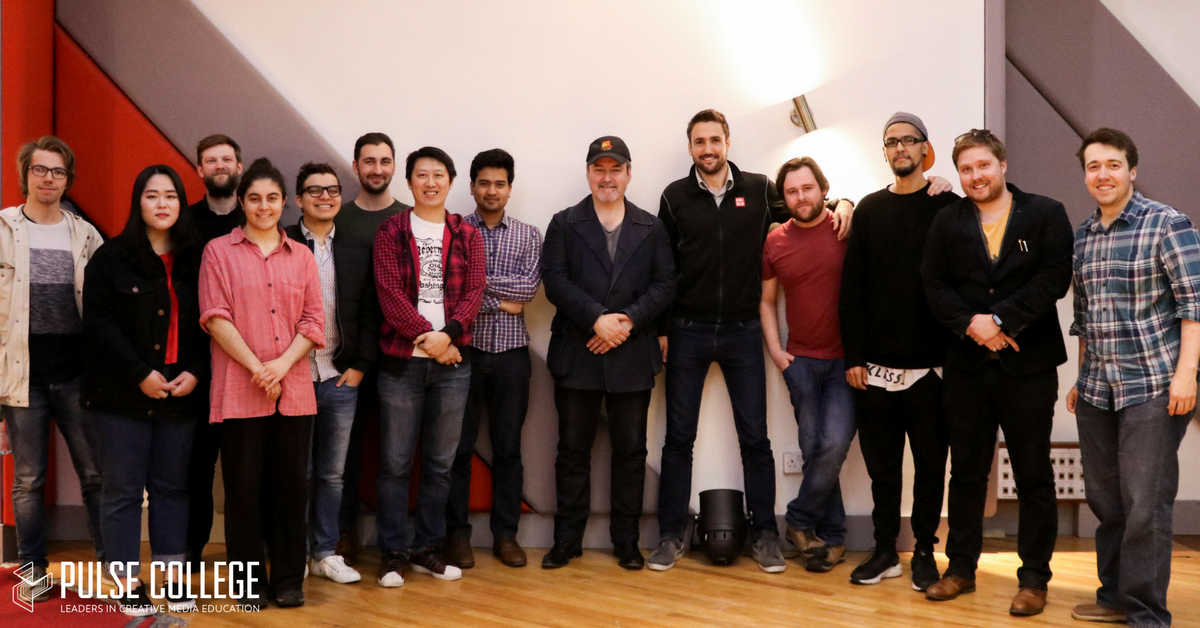 On 17th May, acclaimed British film composer David Arnold gave a guest lecture to students undertaking the MA in Scoring for Film and Visual Media at Pulse College. The talk preceded two concert presentations of Arnold's work by the RTÉ Concert Orchestra at Dublin's Bord Gáis Energy Theatre on 19th and 20th May. Arnold is perhaps best known for his scores for five James Bond feature films ("Casino Royale", "Tomorrow Never Dies", "The World is Not Enough", "Die Another Day" and "Quantum of Solace"); the scores for sci-fi features such as "Stargate" (1994), "Independence Day" (1996), "Godzilla" (1998); and scores for the hit British TV series "Sherlock" and "Little Britain". He was also Musical Director for the 2012 London Olympic Games.
As part of the masterclass, Arnold emphasised filmmaking as a team effort – the film composer, he said, must absolutely recognise his/her role as part of a larger team. They must care deeply about filmmaking, and offer all of their skills and talents in the service of that process. Throughout his talk, Arnold often returned to the value of good interpersonal skills – the value of being able to work within a team, confident about articulating one's own ideas, and always sensitive to and respectful of different perspectives.
Arnold spoke illuminatingly about the practicalities of scoring for television, with reference to his experience creating music for the BAFTA-award winning BBC series "Sherlock". He described his approach to generating and re-colouring material, working with stems, and his specific sonic palette. In response to questions about specialism / preferred medium, Arnold emphasised his preference was simply to work on projects he felt worthwhile, with people he wanted to work with.
Having scored no less than five James Bond films, and having produced a tribute album to John Barry's music for early James Bond features, Arnold spoke about working within the tradition of the James Bond franchise. He spoke about the variagation of the various scores over the years. For him, he said, it was about doing something personal, sometimes trying to re-create the feeling of his first encounter with a Bond film – but always also conscious that all aspects of a Bond film tend to be compared to the iconic 1960s instalments.
It was very beneficial for the students undertaking the MA in Scoring for Film and Visual Media to hear from Arnold, and we at Pulse College are very grateful to him for sharing his insights, realism, humour and enthusiasm.
Jérôme Kauffmann / MA in Scoring Student
"David Arnold's speech about today's film scoring industry has been a really informative experience. He provided interesting insights in both the business of Film Scoring and TV Scoring. Furthermore, David presents himself as a versatile composer, having worked within many different genres and compositional styles – The most important factor in my opinion as I believe that a successful film composer needs to be as versatile as possible. David is also very aware about the financial aspects in today's media industry. These two hours with David Arnold were an absolute success and expanded my knowledge as composer."
Rafailia Bampasidou / MA in Scoring Student
"The session with David Arnold was extremely helpful because he is so active in the film scoring industry and he has huge experience in every medium possible.He has gone through the difficulties of being in it and trying to get jobs in the smoothest way possible as well as he provided some cool tips for behaving in meetings with directors. That was very informative and much more appreciated than a music class."
Jeremy Leidhecker / MA in Scoring Student
"Listening to David Arnold speak about his experiences in the field was really a great opportunity. He spoke a lot about the industry and what filmmakers value in a composer-director relationship, which is information that oftentimes is more important than the music-making itself. He was down to earth, obviously very intelligent, and easy to be around and listen to. I found it particularly interesting to hear about his interpretation of the James Bond legacy, and how he tackled the scoring process of a film of this magnitude. This was invaluable information and advice from a veteran composer! "
MA IN SCORING FOR FILM & VISUAL MEDIA AT PULSE COLLEGE
For more info on our renowned 1-Year MA in Scoring program visit the course page by clicking here.

FOLLOW US