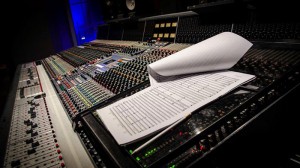 If you want to learn the craft of composing for film, you may be thinking about the options for an MA on that topic. There's definitely a demand in the industry for talented professionals who know what they're doing in the studio, and a programme specifically tailored for equipping you with the relevant skill-set can prove invaluable. Taught by industry practitioners with decades of experience between them, Pulse College's MA programme in Scoring Film and Visual Media is ideal for motivated individuals who want to focus their career in film composing. Here's a few reasons to bear us in mind when looking for a film scoring school.

World class tutors
At Pulse we believe experience speaks volumes, and all of our tutors are professional composers with numerous demonstrable industry projects to their names. With accolades including Emmies and Golden Globes, they know what it takes to make it in the industry, and they'll do everything they can to help talented students achieve their goals. In many cases they got their starts in similar programmes: just listen to renowned composer Richard Bellis (Star Trek, Doublecrossed) talk about how studying at UCLA opened up the doors for him. The connection he made with composing legend David Raskin was the spark he needed to start producing outstanding work, and is what motivated him to teach others at Pulse College. Andy Hill, another of our tutors, places similar emphasis on the importance of strong links to industry professionals, and explains that it was Pulse's dedication to providing its alumni with a strong support network that attracted him to the programme.

Peerless facilities
The ability to create convincing, fully realised demos that convey your intentions to a director is essential for grabbing their attention. Located in the world famous studio space at Windmill Lane Studios, Pulse College offers its students state-of-the-art equipment, allowing them to produce professional quality recordings that could impress influential industry figures. By the time you've graduated, you'll have nine ensemble recordings in your portfolio, with your final piece performed by a 110 piece orchestra – beat that!
Our students also have the opportunity to make a submission of an original composition to Dublin Philharmonic Orchestra, and if selected it will be performed at one of the orchestra's live touring programmes – certainly something worth showing off to prospective clients! And not an opportunity you'll find in other film scoring schools. Find out more about this   unique opportunity here.

Hands-on learning in Film Scoring
Recognising that students of our MA programme will already have extensive experience in performing music, our curriculum aims to help them apply their knowledge and skill-set specifically to film as a medium. Modules covered in the course include:
Arranging and orchestration
Scoring Techniques (fundamentals and advanced)
Score Supervision and production
The business of film scoring
Developing and delivering projects
The aim of the programme is simple – by the end of all of this, students will be equipped with both the hard and soft skills to forge successful careers in the motion picture industry as composers, orchestrators, editors, supervisors and music producers.

Pulse: Dublin's film scoring school
If you're serious about embarking on a career in film scoring, why not get in contact with us to find out more about what our programme can offer you? We're always glad to hear from talented individuals with a solid portfolio, and we'll be happy to advise you on your next move.