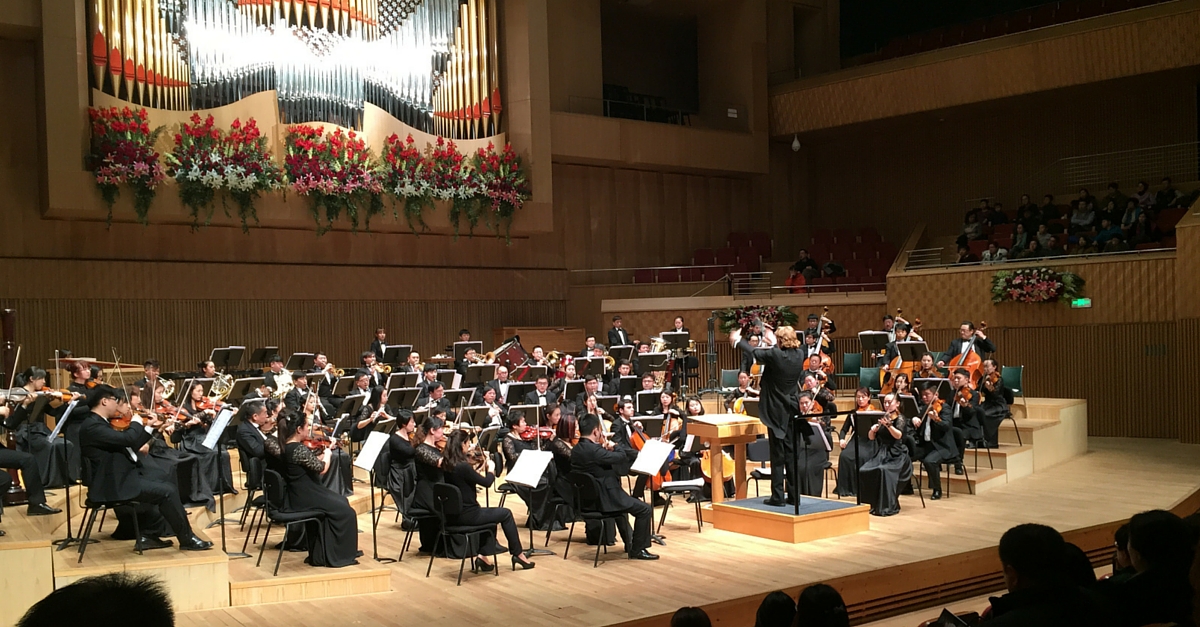 Some of the current Film Scoring Students from Pulse College (from the MA in Scoring for Film & Visual Media and the Summer Scoring Program) recently had the honour of having their work selected and performed by Harbin Symphony Orchestra and the Dublin Philharmonic Orchestra (DPO), while on their 2016 Tour of China in January.
This opportunity was made available to our Film Scoring students thanks to Pulse College's close relationship with the DPO, where MA Course Director, maestro Derek Gleeson (pictured below), acts as Musical Director and Principal Conductor for the DPO. After the concerts with the Harbin Symphony Orchestra, Derek Gleeson was named Principal Guest Conductor, becoming one of the first foreigners to hold a title with a Chinese orchestra.
By teaming up with the DPO on their recent Tour of China, Pulse College offers International opportunities to students through performances of their works, that would not be available elsewhere.
Director of the Film Scoring Department, Derek Gleeson: "I am delighted to be able to offer these performance opportunities to our MA Scoring students. In general scoring composers rarely have their work performed live by a symphony orchestra and these opportunities are magnificent for their resumes."
Pulse College Film Scoring Student, Jake Morgan: "As a 19 year old full time student, being selected to be part of this China concert series couldn't have happened at a better time. This kind of experience is invaluable when breaking into the film music industry and it has given me more confidence in my abilities. There is no better feeling than both holding a finished A3 copy of your score and hearing your music played live for the first time!"
Find out more about our 1-Year Film Scoring Masters program by clicking here
[openday]
FOLLOW US