Christopher Young Film Scoring Scholarship Awarded
Josh Zimmerman, incoming student on the Scoring for Film and Visual Media masters program here at Pulse College, has been awarded the Christopher Young Scholarship award. Josh proved to be an outstanding applicant, who demonstrated a great passion for film scoring. He showed exceptional creative talent and strong career development ambition and motivation.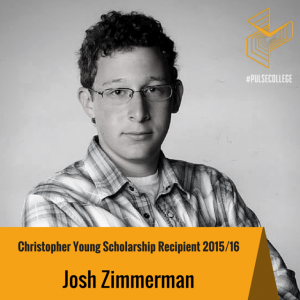 "I am honoured to accept this year's Christopher Young Scholarship! This is an amazing opportunity and I cannot wait to come to Ireland and begin strengthening and expanding my skills in such an overwhelmingly supportive environment. I'm so happy to become part of the Pulse College family this September!" – Josh Zimmerman.
"I am thrilled to be apart of the lives of a whole new group of talented composers, here at Pulse College" – Christopher Young.
You can hear compositions from Josh by checking out his YouTube account. We look forward to welcoming Josh in September 2015!
Masters in Scoring Scholarship Opportunities
The Christopher Young Scholarship, the Conrad Pope Scholarship, and the Garry Schyman Scholarship are three €3000 scholarship awards offered by Pulse College, in conjunction with these major international artists, exclusively for the Scoring for Film and Visual Media master's program. All accepted applicants to the Masters program will be automatically considered for either of these scholarship awards. Christopher Young, Conrad Pope and Garry Schyman teach on the Scoring for Film and Visual Media master's program, and there will be opportunities for professional mentoring with some of the tutors.
All applicants who apply and become accepted before May 1st 2015 will be eligible for the either the Conrad Pope or the Garry Schyman Scholarship Award.
Find out more about our Film Scoring Masters and Scholarship Opportunities by clicking here
[openday]
Follow Us