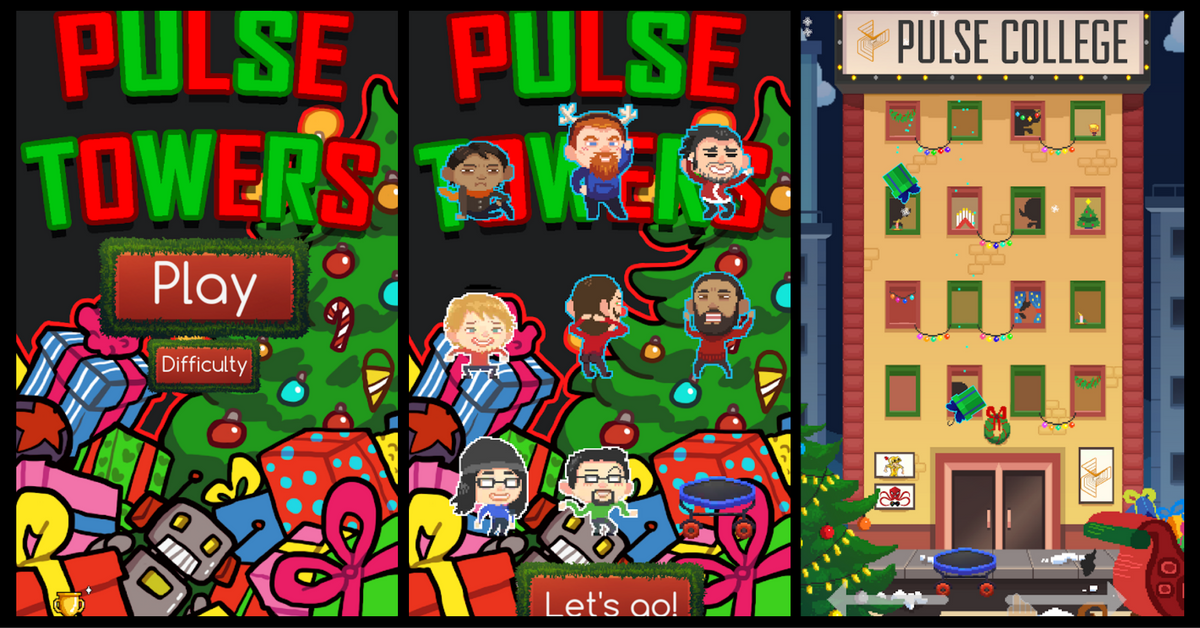 Gotta Catch 'Em All (Christmas presents that is!)
Students from our Higher Certificate in Games Development programme have designed, developed and launched a free-to-play mobile game (for Android users) to help people get into the Christmas spirit this year!
'Pulse Towers' is a family friendly game downloadable now from the Google Play Store and is the first game to be released through Pulse College Games, the video game publishing arm for Pulse College and our students games.
The simple premise of the game is that Pulse College is overflowing with presents and the player must catch gifts as they fall from the windows before hitting the ground. Make sure to avoid the dreaded coal though, as no one wants that in their pile of presents on Christmas morning!
The game has 9 Characters to select from (modelled on Pulse College students and staff) and can be played at 2 different difficulty settings. Drag your finger left or right to move your character to catch the falling objects, it's that easy and perfect for all ages to learn and play.
The game was fully developed by the following students on the Higher Certificate in Game Development program at Pulse College, who operate under the developer name of Robot Squid Studios: Josephine Wagner, Gareth Condron and Cian Larkan. The students are in the process of developing multiple other titles but wanted to share a fun game over the Holiday season.
Cian Larkan
"When we started on Pulse Towers we never thought it would end up quite like it did. It went through so many iterations and designs overhauls that just kept improving it more and more that it almost turned out to be a completely different game from what we initially began with. From the time we began the project to point we finished, working with such a great team made the whole process enjoyable."
Josephine Wagner
"We wanted to make a fun little game for people to play on Christmas. I was the art lead, and had a great time making the art assets. It was especially fun to make sprites of our lecturers and ourselves, as well as the building itself. We had a great teamwork, which I feel shows in the final product. I hope people will enjoy playing this game as much as we did making it."
The game can be found available for download on the Google Play store for your android devices
Make sure to rate the game after playing (and you'll get on Santa's Good List for sure!)
[openday]
FOLLOW US