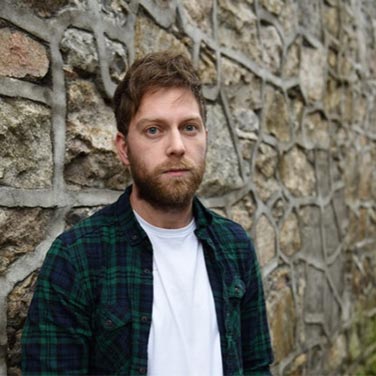 Gav Duffy is a real expert when it comes to the music and entertainment industry, providing acts with the help and mentoring they need to succeed in the early years of their career.
Gav is a tutor on our new music and entertainment industry course and he's ready to pass on his knowledge to help you carve out your dream career. Whether you're looking to work with a major label, a music PR company, an events company or any other aspect of the industry – Gav has the industry knowledge to set you on your way.
We sat down with Gav to find out a bit more about his experience in the entertainment industry and what he's going to cover on the new course……
So, how did you find your way into the industry?
I was studying in Dublin, in a completely unrelated area, and had also been playing music for years. After university I decided to head over to London to form a band. I suppose I was a little naïve at the time, I figured you could just head over, do a bunch of gigs and the rest would naturally fall into place. The reality was pretty different….. but in fact, things picked up and we had a few people helping us out – a manager, a publishing company and a booking agent. We got a good bit of air play on BBC, Huw Stevens particularly liked the bands sound and we produced a couple of videos that got air time, which was great.
This experience really thought me the basics of how to launch a band and I found the process very exciting. I ended up getting more involved with what the managers and PR people were doing and started liking it more than actually being a musician! Gradually I moved into that side of the business and the rest is history as they say!
What was the change in direction like?
For me it was fantastic, I landed a job working with the UKs largest independent music festival, the Secret Garden Party and it was an unreal experience. The festival was wholly independent, there was no sponsorship at all, it was amazingly successful and a big learning experience.
My boss at the Secret Garden Party was Karen Johnson, she'd been PR manager of Blur in the 90's and also spent time working at EMI so she had a lot of insider-knowledge about the industry. Karen was the team leader and I suppose a mentor for me as I was starting out. She was brilliant at helping me network into the scene in London and I got to know tonnes of people through her.
After a while I was torn between working for another music PR company or going out on my own….. I took the plunge and set up my own company Raised by Wolves PR and haven't looked back since. That was 4 years ago now and we've worked with artists from both the UK and Ireland. Primarily we focus on Irish acts in the first 2 or 3 years of their career – helping them to raise their profile at home, in the UK, around Europe and in the US.
We get them airplay, press coverage, work with booking agents and get them on the line-up at festivals like SXSW in the US so they can progress their careers. It's a full package.
I've moved back to Ireland now and am based in Galway, but before I left London I lectured on an 'Introduction to Music Business' course and found it very rewarding. Some of my students have gone on to work with the biggest publishing houses and PR companies in the UK which I'm chuffed about!
What are the trends taking place in the music industry – what's hot?
Well obviously the physical boarders have really disappeared over the last 4 or 5 years. We're seeing that it's much more possible for Irish acts to get press in the UK or Europe. Spotify and Sound Cloud enable bands to get their music out to a global audience with the click of a button.
More and more people are questioning the need to be tied down to a major label.
Tell us a bit more about the new Industry course at Pulse
It's a ten-week short course and we're going to be covering a number of key topics…
Major labels
Indie labels
Royalties
Publishing
Marketing and digital marketing
Booking managers
PR
Even some law and accounting!
It's quite an intensive course and it's literally packed with info.
At the end we help each student to create their own unique business plan or strategy for the area of the industry they are interested in –  this is a really practical benefit for the students.
Our aim here is to literally kick start their career and give each student the material they need to do just that.
Who's it aimed at?
Anyone who wants to work in the music and entertainment industry. Musicians, audio engineers, producers….. but not only people coming from a musical background. This is an ideal course for someone who has a marketing, law, accountancy or maybe public relations qualification and is interested in working for a publishing house, record label or say an event management company like MCD.
What would be your top tip for cracking into the industry?
My top tip would be to realise the importance of building a team around a musician. With good music, and the right people on board, an act can go all the way.
[openday]
FOLLOW US