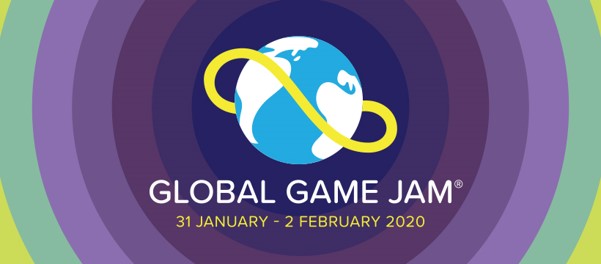 If you're into designing games, the 2020 Global Game Jam (GGJ) is an event you won't wanna miss!  And this annual jam is coming up fast; get it into your diary – it's on the weekend of January 31st – February 2nd . It's great fun and we're delighted to confirm that – once again –  Pulse College is one of the few Irish locations to host this international event.
What is the Global Game Jam?
GGJ is the world's biggest jam event (i.e. game creation) that takes place at designated physical locations across the globe. It's like a hackathon but the focus is on game development. It represents an opportunity for the international gaming community to come together and create and express itself through the medium of video games.
How is it structured?
The jam takes place over 48hours and it's an action packed but fun & rewarding weekend. Typically, everyone gets together late on the Friday afternoon. From there the participants can watch a short keynote video and then a secret theme is announced.  From there, the international challenge is to create a game by the Sunday afternoon. Then the sprint is on! The time-limit fosters a creative buzz throughout the many worldwide locations. In 2019 for example, across 860 locations in 113 countries – 9,010 games were created…all in a single weekend!
Who can participate?
Basically everyone. The GGJ wants to encourage people from all walks of life to take part and to be able to enjoy the creativity and collaborative aspects of participating in this global spread of game design and build. Even if you don't have technical expertise such as coding – you can still work on the creative aspects of story-boarding a game or you can work on a non-digital game. It represents a great opportunity to make new friends and connections in the industry and to increase your confidence in your creative flair to design games and/or your technical ability to build them. It's a golden opportunity to meet like-minded people and network within the gaming ecosystem. And the collaborative aspect of the jam makes it a really exciting prospect for anyone interested in gaming.
But it's a real challenge too – it'll stretch you intellectually – which makes it even more fun if you're up for a challenge.
If you would like to know more about this year's Global Game Jam, or any of our courses on Gaming, then please contact us. Full details on the event at Pulse college are here.
[openday]