Following on from the great fun we had over the last two years, Pulse College is delighted to be back at Dublin Comic Con again for 2015! The event takes place this coming weekend, 8th and 9th August at it's brand new venue, the Convention Centre Dublin.
As with the last two years, we will be onsite to get in on all the comic book and cosplay fun so come say hello and show off your costumes! We will also be showcasing the Games Development and Animation programs on offer at Pulse College, letting visitors play some amazing student games and experience live animation demonstrations.
Win A Nintendo NES Bundle!
This year we are also giving visitors the chance to win the coolest prize ever – a Nintendo NES Bundle worth €150!
Contest Details
– Visit the Pulse College stand at Dublin ComicCon and take one of our course leaflets
– Take a snap of the leaflet in the most interesting setting you can find at ComicCon
– Upload it to Facebook, Twitter or Instagram, along with the hashtag #PulseCollege
– Make sure to follow us on Facebook, Twitter or Instagram as well!
– Pic on Monday with the most 'likes' is the winner!
We can't wait to check out the submissions from the weekend!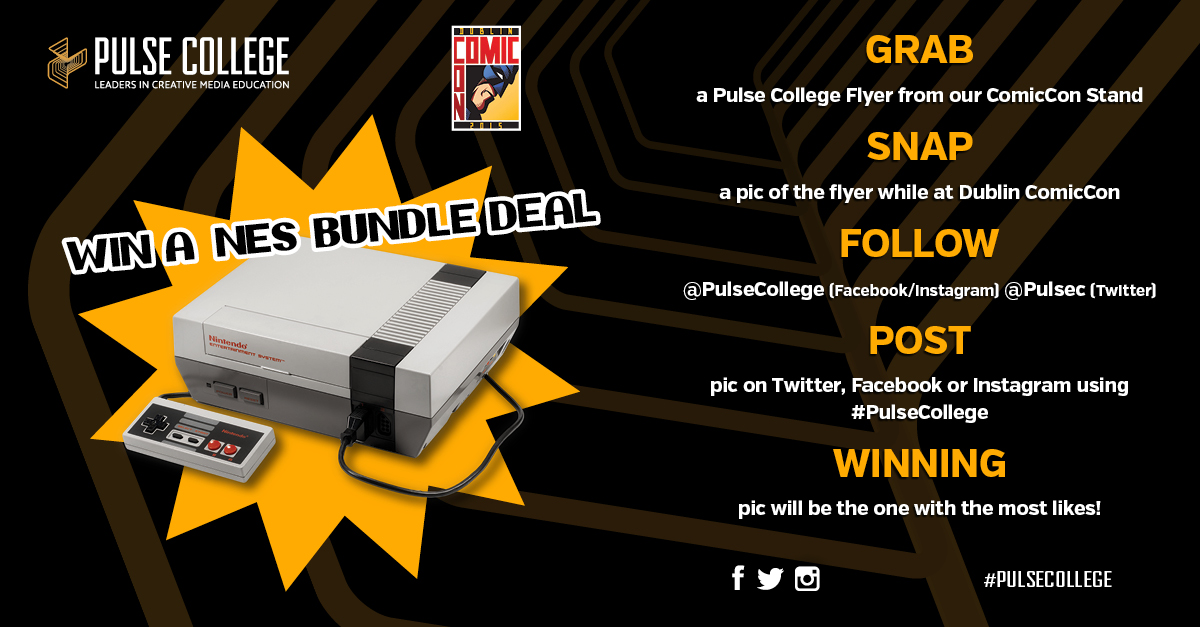 Check out the Pulse College Comic Con gallery from last year's event on our Flickr site.
If you would like more info on any of our courses, simply contact us by email or call 01-478 4045 or come along to our next Open Day Sat 22nd August.
[openday]
Follow Us