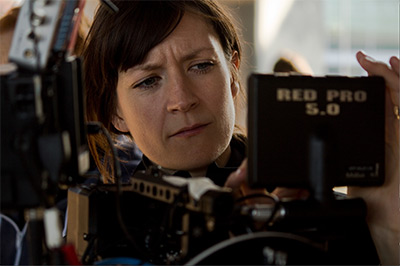 If you ask JJ what she does, be prepared to sit up and concentrate for a while; it's worth it because what she has to say is fascinating. The rapid-fire, in-depth response is partly due to the fact that she's constantly operating under time pressure but it also reflects the breadth of her experience and her success in an industry that many people find it hard to break into.
JJ chats about working in Europe and the States and industry awards from the likes of RTE, FilmBase and the Irish Film Board. Her work has been broadcast on national TV, she has secured funding for many film projects and she has been whisked away to screenings of her film work at international festivals.
It's a glam world and one that any film student would love to get into – so how did she do it and what's the best way in?
Did you go to film school; how did you get into film as a career?
JJ – I was always passionate about film, even as a kid, and I was involved in theatre too. I had lived in the States and moved back to Ireland in the mid 90's – I would have loved to have gone to film school at that stage but there was no such course. Instead I studied for a degree in theatre and literature at Trinity. Luckily by the time I finished that, there was an MA course in Film Production and Theory run by D.I.T. which was right up my street. The combination of the two courses gave me a great starting point for a career in this industry.
Sometimes I think people feel that if you work in a creative field, your success is down to talent alone but the reality is that you need to study your craft and work at it – it can be a slog like any other job but it helps when you love what you do.
Was there a big break that helped build your career?
There have been highlights that's for sure and the first success I had was writing and directing the graduation film for my MA.
The MA I did was very hands-on and it gave me the chance to operate a camera, to try my hand at directing and to learn relevant technical skills.  All the time I continued to write screenplays and edit scripts so when I came to do a project for my graduation, I was ready to direct my own work. Soon after this, I applied for funding to RTE and FilmBase and managed to secure the level of funding needed to get another film made. After that, I did the same with another film funded by the Irish Film Board and RTE. Then I started working with production companies, and writing professionally, and pitching projects to studios that included DreamWorks and BlueSky. So the graduation film was a springboard to other projects, for sure.
I've continued to make shorts throughout the years as they're a great way to get screened on national TV and as a gateway to festival screenings. One of the highlights of my career (so far!) was being flown over for the 50th Anniversary of the Alcala de Henares Film Festival as a "Special Guest" for my work as a writer and director – it's great to be recognised by your peers in the industry.

At what point did you decide to teach and why Pulse?
I'm not sure I can remember a time since I graduated when I wasn't teaching – I think directors and writers have a natural inclination to teach, and I had worked briefly in script-editing and development which is all about helping writers develop their screenplays. Working with students is a great way to stimulate ideas and it's useful for my own creativity. The film school at Pulse teaches skills in a practical, hands-on way so there are always lots of ideas  being generated.
As Head of Programmes for film production at the college, I'm very keen for students to be fully engaged in what we do and class sizes allow for that – typically there are about 15 to 20 students in a class. We structure the practical work so that everyone is involved; while one group works with the camera, the other team can work on sound – we don't have people standing around or scrambling for their turn to use technical equipment.
The facilities at Pulse are great; the technology is the real-deal; broadcast quality cameras, labs with the latest post production software and sound editing tools, a green screen studio….I'd be remiss not to mention the great teaching team. That's an important consideration for the students; they are taught by industry professionals and insiders with practical expertise. That's a real bonus if you're serious about working in film.
Is Ireland a good place to start a career in film?
Film is an important industry for the Irish economy and as a result there is a lot of state-backed funding available for those starting out and looking for support – having worked in the USA too, that level of state support just doesn't exist.
So it's a good place to establish yourself and organisations like RTE and FilmBase have funding available and are very supportive of interesting projects.
What advice would you give to people looking to get into the film industry?
Well speaking from my own experience, it helps if you can multi-task; I write, direct and teach; that makes it easier to forge a career and to make contacts in the business. The starting point for any career though is to get the right skills and going to film school, getting a qualification and learning about the industry itself is essential these days.
Be prepared to work hard too – it's as much about perspiration as it is about inspiration!
Learn about our film production courses now or come along to our next open day to find out more.
[openday]
Follow Us