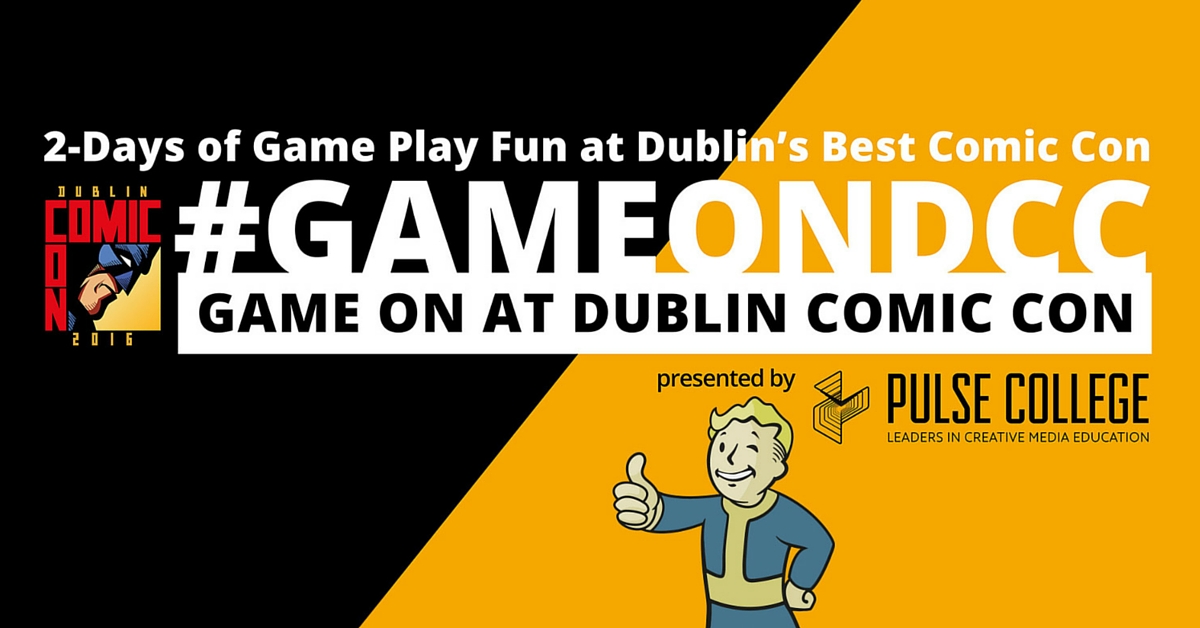 Pulse College is super excited to announce that this August 6th & 7th, we will be partnering up with Dublin Comic Con at the Convention Centre Dublin to present #GameOnDCC, a series of Games Zones across the 'Con! We are also super proud to announce our special guests for the weekend are none other than two of the most important game developers in the history of game design – John and Brenda Romero!
GAME PLAY ZONE – #GAMEONDCC

Pulse College will host the Game Play Zone in the main expo hall, which will be comprised of different areas covering Retro and Arcade Games Zone, Virtual Reality Zone, Workshop Zone, and the e-Sports Battle Zone, where the Doom DeathMatch battle will take place, giving you the chance to play against it's creator John Romero!
TIMETABLE FOR EVENTS
ANIMATION WORKSHOPS
Saturday and Sunday = 10.30am – 12pm
*each workshop will last 10-15mins
*suitable for children and adults
*entries available on the day
DOOM DEATHMATCH
Saturday and Sunday = 12pm – 3pm
*pre-entry to tournament available via eventbrite registration
*limited entries available on the day
Make sure to tick 'going' on our Facebook Doom Deathmatch event event as well!
E-SPORTS BATTLES
Saturday and Sunday = 3pm – Close (team pre-entry to tournament will be available shortly via eventbrite registration)
*email us now with 'esports Comic Con' in subject line to get first alert
*Entries available ahead of the 'Con and also on the day
GAME DEV ZONE – #GAMEONDCC
The Pulse College Gaming Department is delighted to be taking over the Game Dev Zone, to help showcase up and coming local developers and larger developers. We will have over 20 of the industries major companies and indie-devs bringing playable demos for visitors and they will be around all weekend to chat about their games and studios!
This will take place in Liffey Suite 2a/b on the first floor (to the left of the main hall).
GAME TALK ZONE – #GAMEONDCC

John Romero is the man credited with coining the term "deathmatch" and created the modern first person shooter genre with his titles Quake and Doom. Working on programming, designing and levels creation on these classics, and others such as Wolfenstein 3D, John is one of the most famous names in the world of video games.
John will be joined by video game designer (and partner) Brenda Romero, known for her amazing work in the industry on smash hits including the Wizardry and Jagged Alliance series, for a Games Industry Panel Discussion on the Saturday in the Main Panel Room of the Dublin Comic Con. There is no one better placed to talk about games and the industry than Brenda – She is the longest continuously serving woman in the video game industry, recipient of the 2013 Women in Games Lifetime Achievement Award awarded by Microsoft, named one of Forbes "12 Women in Gaming to Watch" and one of the top 20 most influential women in the game industry as ranked by Gamasutra.com.
If you are interested in the games industry and the future of games design and development, then this panel talk is something you NEED to check out while at the Dublin Comic Con.
Panel Talk takes place Saturday 5pm in the Large Panel Room on the 2nd Floor.
MORE TO COME!
If you are interested in attending or going to the Dublin Comic Con already, make sure to join us and tick 'going' on the #GameOnDCC Facebook Event Page!
We will be releasing a ton more info (as well as some giveaway contests!) over the next few weeks about what we will be getting up to at the Dublin Comic Con and letting visitors get hands on with some cool gaming equipment! Follow us now on social media links below to keep up to date in the run up to the event and don't forget to use the Pulse College and Dublin Comic Con Gaming hashtag #GameOnDCC to chat to us.
To grab tickets for the Dublin Comic Con, firstly click here, and secondly, act fast because this event always sells out early!
Follow Dublin Comic Con on Facebook and Twitter but firstly check out our highlights video of the 'con from last year!
[openday]
FOLLOW PULSE COLLEGE