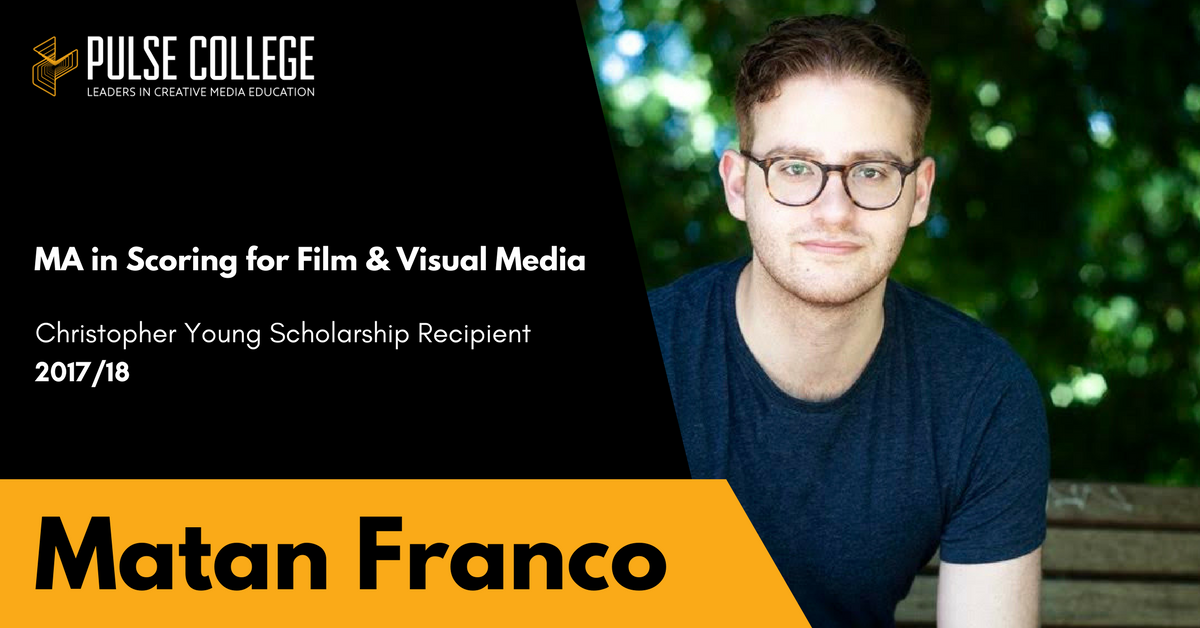 Christopher Young Film Scoring Scholarship for 2017/18 Awarded
Pulse College is delighted to announce the recipient of the Christopher Young Scholarship Award for 2017/18 as Matan Franco.
Matan is a composer, arranger and performer with a varied and diverse musical background, hailing from Melbourne, Australia. Matan graduated as Valedictorian of his cohort with First Class Honours from the Melbourne Conservatorium of Music (MCM) in December 2015, with a Bachelor of Music (Hons.) specialising in Composition and undertaking minor studies in classical voice. During his time there, he was the recipient of several awards and scholarships including the Lionel Gell Foundation Scholarship for Composition (2012), the Joyce McKenna Scholarship (2014) and the Adolph Spivakovsky Award for Composition (2015).
"The opportunity to partake in this exciting course at Pulse College under the guidance of industry experts in a variety of fields, in state-of-the-art facilities, and surrounded by world-class musicians, is undoubtedly once in a lifetime. I believe my time there will equip me with the technological knowledge and foundations needed to forge a successful career, and that the tools gained throughout the course will enable me to better navigate this ever-evolving and exciting industry. I am honoured to have been awarded the Christopher Young Scholarship!" – Matan Franco.
Learn more about Matan via his website or Soundcloud profile.
MA in Film Scoring Scholarship Opportunities
The Christopher Young Scholarship, the Conrad Pope Scholarship, and the Garry Schyman Scholarship are three €3000 scholarship awards offered by Pulse College, in conjunction with these major international artists, exclusively for the Scoring for Film and Visual Media MA Program. All accepted applicants to the Masters program will be automatically considered for either of these scholarship awards. Christopher Young, Conrad Pope and Garry Schyman teach on the Scoring for Film and Visual Media master's program, and there will be opportunities for professional mentoring with some of the tutors.
Find out more about our Film Scoring Masters and Scholarship Opportunities by clicking here
[openday]


Follow Us