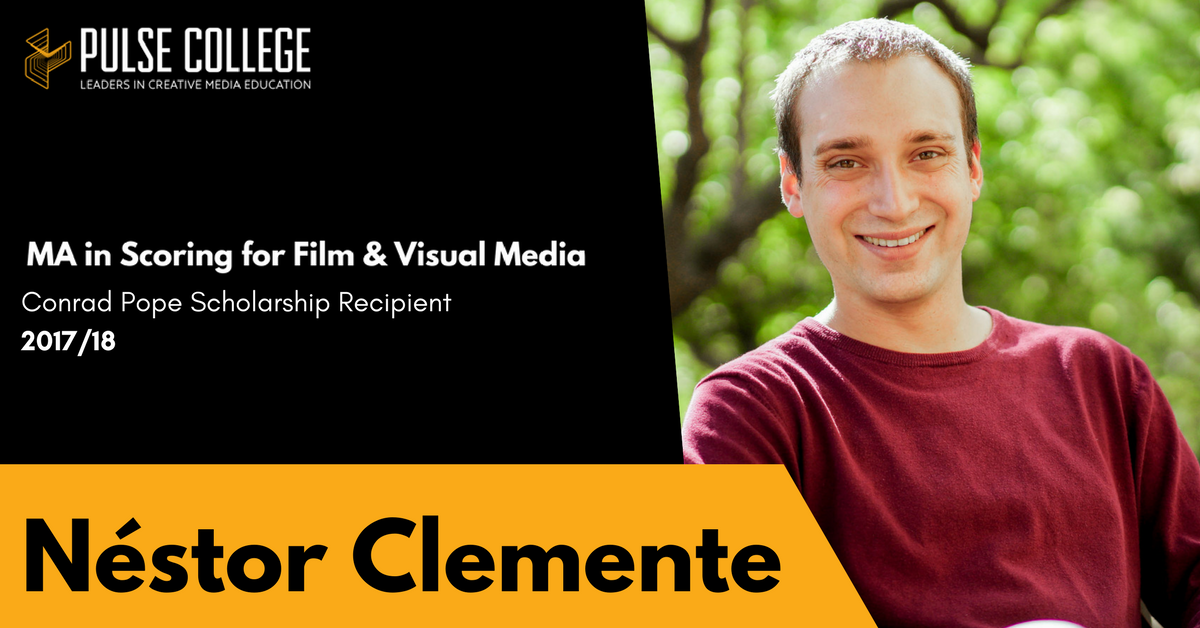 Conrad Pope 2017/18 Scholarship for the MA in Scoring for Film & Visual Media Awarded
Pulse College is delighted to announce the recipient of the Conrad Pope Scholarship Award for 2017/18 as Néstor Romero Clemente.
Néstor is a composer and filmmaker born in Zaragoza, Spain. While growing up internationally, Néstor became acquainted with music at an early age. In 2010, he began composing music for small television shows and movies in Spain, as well as collaborating on many different projects related to music and film. In 2011, he co-founded Magno Entertainment, S.L. an independent production company and VFX service in Barcelona, where he currently works as a composer. Néstor graduated in 2015 with a Bachelor degree in Arts & Humanities holding a double major in Musicology and History from the University College Roosevelt in The Netherlands.
"I feel very touched and thankful for having been awarded the Conrad Pope Scholarship and for being part of the Pulse College MA in Scoring for Film & Visual Media. I believe that having the opportunity of learning from a faculty of great names in the industry, working together with very talented students and musicians in such an amazing environment, at the Windmill Lane Recording Studios, will have a great impact in my life and my career as a composer. I feel that the amount and quality of the tools and resources that this MA curriculum offers to its students, truly makes it a unique program. My contact with people at Pulse College has been inspiring since the very first moment and I am looking forward to arriving in Dublin and meeting everyone in person!" – Néstor Romero Clemente.
Learn more about Néstor via his website or Soundcloud profile.
MA in Film Scoring Scholarship Opportunities
The Conrad Pope Scholarship, the Christopher Young Scholarship and the Garry Schyman Scholarship are three €3000 scholarship awards offered by Pulse College, in conjunction with these major international artists, exclusively for the Scoring for Film and Visual Media MA Program. All accepted applicants to the Masters program will be automatically considered for either of these scholarship awards. Christopher Young, Conrad Pope and Garry Schyman teach on the Scoring for Film and Visual Media master's program, and there will be opportunities for professional mentoring with some of the tutors.
Find out more about our Film Scoring Masters and Scholarship Opportunities by clicking here
[openday]
Follow Us