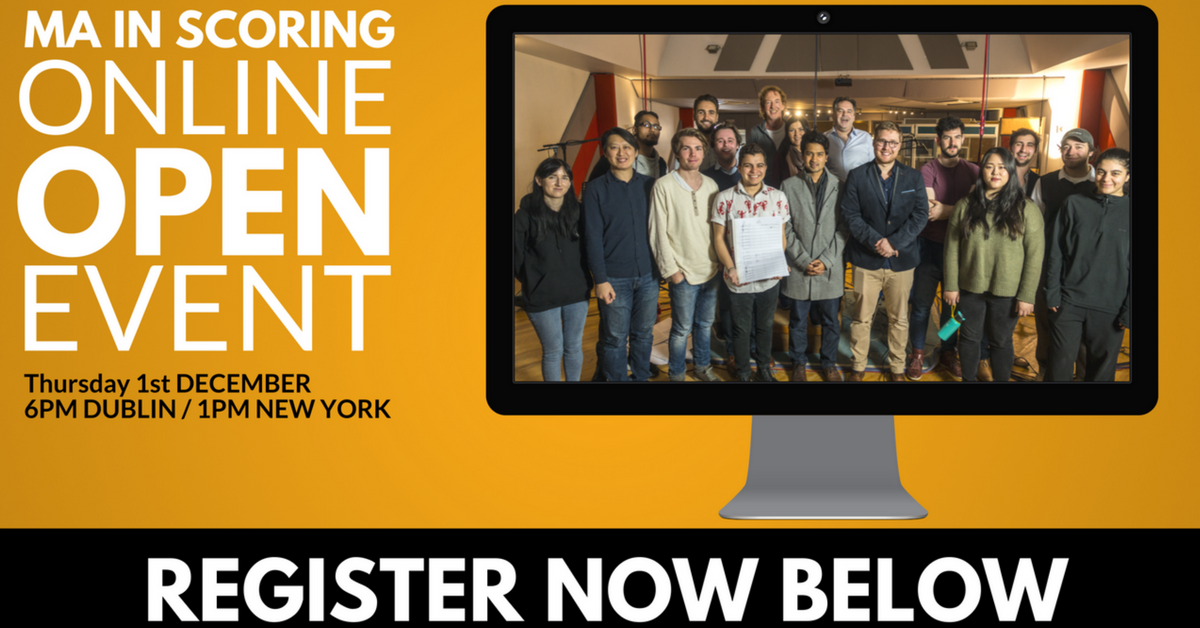 MA FILM SCORING – ONLINE OPEN EVENT
DATE: Thursday 1st December 6pm Dublin / 1pm New York
Discover our renowned MA in Scoring Program
On Thursday 1st December (6pm Dublin / 1pm New York), Pulse College, Ireland's leading institution for creative media and provider of one of the most widely regarded Film Scoring programs in the world, will host an Online Open Event beamed direct from the world-renowned Windmill Lane Recording Studios, where our MA in Film Scoring students get to study and record.
Simply register your interest using the form here or at the bottom of the email to receive links to join the broadcast via YouTube Live.
If you are interested in Film Scoring and developing yourself as a composer to the highest possible standard, make sure to tune in for an online tour of the MA in Scoring program, facilities and tutors.
During the Online Open Event, which will be led by Director of International Recruitment & Graduate Admissions, Nigel Ashley Lees, we will cover the following areas:
Hear from Course Director, Derek Gleeson
Meet current program students and members of Alumnus family
Learn about key program modules including the 110 Piece Orchestra Cue
Living and studying in Dublin, Ireland
Applications Procedure
Early-Application Opportunities
Composers Residency Program with Chris Young in Hollwood, CA
Submit Questions
If you have any questions on the course, simply email us with 'Film Scoring Online Q&A' as the email subject line or submit them live during the event on YouTube using our Chat Box (You will need a Google login to use the Q&A but you do not need one to simply view it during the event!)
Date / Time
Thursday 1st December 2016
6pm Dublin / 1pm New York / 10am Los Angeles
30mins Duration
Register
To watch the Exclusive Online Video, simply register your details below and you will be invited to this exclusive interview. The video will be streamed across our website and through YouTube. All links to where to watch will be emailed to you after registering and following the event, a recording will be emailed to you as well.
[openday]
FOLLOW US