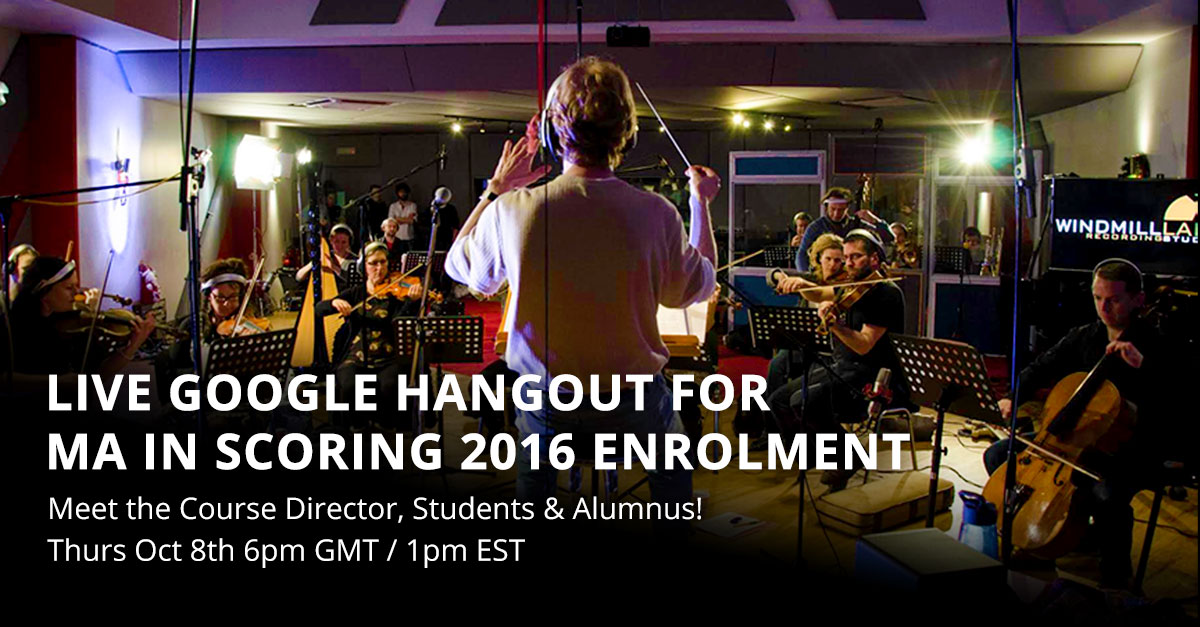 Join us for the Live Google Hangout to launch 2016/17 enrolment for our MA in Scoring Program
DATE: Thursday 8th October 6pm GMT (1pm EST)
On Thursday 8th October, Pulse College, Ireland's leading institution for creative media and provider of one of the most widely regarded Film Scoring programs, will host a Live Q&A Hangout as part of 2016/17 enrolment to the MA in Scoring for Film & Visual Media program. This will be beamed direct from the world-renowned Windmill Lane Studio 1.
During the Hangout, which will be led by Director of International Recruitment & Graduate Admissions Nigel Ashley Lees, we will cover the following areas:
Hear from Course Director, Derek Gleeson
Meet current Masters students and Scholarship recipients
Learn about the 110 Piece Orchestra Cue in Bulgaria with Conrad Pope
Applications and Graduate Admissions Support
Diversity on the Program & Living and studying in Dublin, Ireland
Career Development Opportunities
Composers Residency Program with Chris Young in Hollwood, CA
Program connections with ASCAP
See you all Thursday 8th Oct at 6pm GMT / 1pm EST / 10am PST!
Register
CLICK HERE TO REGISTER AND RECEIVE AN ALERT AHEAD OF THE LIVE Q&A
Submit Questions for The Panel
If you have any questions you would like addressed live at the event, simply email us with 'Pulse College Scoring Live' as the email subject line or post to Facebook/Twitter/G+ using the hashtag #PulseLive (social links below)
MA in Scoring for Film & Visual Media
To find out more about our renowned MA in Scoring Program, simply click here or talk to our admissions team now by emailing us here.
[openday]
FOLLOW US