The entire Roland Cloud catalogue will now be available to all Pulse College classrooms, teachers, and students. Roland believes that pursuing a relationship with music through education enriches students and helps to build invaluable skills that enable learners to harness their creativity.
What has the music of David Bowie, Nile Rodgers, and Prince got in common? All three relied on Roland gear to help create their signature sounds. That's just one of the many reasons why we are really excited to announce our new academic partnership with Roland Cloud.

Roland has been integral to the creation of modern music for half a century thanks to their technical innovations and passion for electronic musical instruments. Their mission to inspire creativity perfectly aligns with our own commitment to nurture creative talent, so it's an ideal partnership that will serve our students well into the future.
Roland's innovations are legendary, and they have been part of the recording industry since the 1970s. Learning about modern production, sound design, and Roland's rich history of tech innovation is profoundly valuable to have a fundamental understanding of the significance of synthesizers and drum machines. The influence of iconic classics like the Roland TR-808, JUNO-106, and JUPITER-8 can still be heard across all genres of music and this kit has left an indelible mark on contemporary culture.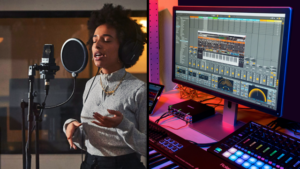 Who Is Roland and What Do They Do?
If you have a passion for music creation, then you probably already know exactly who Roland are and what they do. Founded back in 1972 as a specialist manufacturer of electronic musical instruments, Roland have been making their mark on the music industry across the world for 50 years. In this time, they have established themselves as the world-leader of electronic musical instruments and the company is celebrated for its high-quality products and cutting-edge tech. From synthesizers to drum machines, Roland has something for everyone who loves making music.
Roland was founded by a Japanese engineer who previously worked for the electronic musical instrument company Ace Tone. Kakehashi's goal was to create a new electronic instrument that would be more affordable and accessible than the expensive, complicated instruments that were available at the time.
In recent years, they have been primarily known for their V-Drums, widely considered the best electronic drums on the market. Roland's mission in the music industry is to manufacture the best electronic instruments possible with the latest technology. Their work has established them as the go-to choice for musicians of all genres, including rock, pop, jazz, and classical.
Products
The catalogue of products is hugely extensive, and Roland has you covered on every step of the music creation process – no matter what your favourite sound or style is. The full offering includes Pianos, Synthesizers, keyboards and accordions, Guitar & Bass, Drums & Percussion, Wind Instruments, Production, Amplifiers, AIRA & DJ, Roland Cloud, Professional A/V and Accessories (phew!) Let's take a deeper dive into some of these products and how musicians and creatives access them to make sweet sounds!
Roland Cloud
Roland Cloud is a subscription service that gives you access to the company's entire library of sounds and instruments. Roland's evolving cloud-based platform offers more than 50 authentic Roland software synthesizers and sound libraries, allowing you to get creative with sounds from the past, present and future. This is a great way to access various sounds and instruments without buying them all individually. It is also an excellent option if you're looking for a comprehensive way to access Roland's sounds and tools. The service includes software for both Mac and PC, as well as iOS and Android devices.
While there is a free trial period so people can try it out before committing to anything, ongoing access is usually only available when you pay a subscription; either monthly or yearly. But thanks to our exciting new partnership with Roland, all Pulse students will now get to enjoy a free membership to Roland Cloud!  Let's play with it; it's not just an amazing resource – it's incredible fun!

Drum Machines
Roland's drum machines are some of the most popular on the market, and for good reason. They offer a wide range of features and options, making them perfect for both beginners and experienced producers.
The TR-808 is one of the most iconic drum machines ever made and it's still in high demand today. The TR-909 is another classic that has been used on countless tracks.
Solid State Amps
Roland's solid-state amplifiers are amongst the best in the business. They are ideal for any player and they come with a wide range of options and features. The Jazz Chorus is one of Roland's most popular amps. It's known for its clean sound and ability to produce a wide range of tones. The Cube is another popular option, and it's known for its versatility and can be used for various genres, from country to metal.
Synths
Synthesizers from Roland are among the best-known electronic musical instruments on the market. The Juno-106 is one of the most popular synths ever! It's known for its rich sound and ability to create a wide range of textures. The Jupiter-80 is another popular option, and it's popular for its powerful sound.
Some legendary tools included in Roland Cloud:
To celebrate the fact that Pulse students will get to enjoy the full suite of the Roland Cloud this academic year, we wanted to highlight some of the most noteworthy tools! These synths and drum machines echo throughout music history and continue to inspire future generations of musicians to this day.
Juno – 106
The JUNO-106, released in 1984, was a standard-setting analog polyphonic synthesizer. Following the JUNO-6 and JUNO-60, it was the third and most advanced model in the affordable JUNO series, and the first to incorporate the new MIDI standard. The 106 built on the innovations introduced with its predecessors, offering easy programmability, digitally controlled oscillators, expanded patch memory, a fat-sounding stereo chorus effect, and more.

Jupiter – 8
Produced between 1981 and 1984, the JUPITER-8 was the pinnacle of Roland synthesizer engineering. Master-crafted with a now-iconic design, the eight-voice polyphonic synthesizer boasted deep programmability and a sweeping dynamic range.
The JUPITER-8 was a must-have for professional synth players and well-equipped studios throughout the '80s. Beloved for its robust analog sound and hands-on programmability, it's famous for its unmistakably lush pads and cosmic leads. Named after the largest planet in the solar system, the list of hits featuring the instrument is huge and diverse.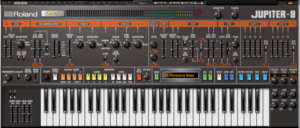 TR – 909
The influence of the TR-909 drum machine is still heard—and felt—nearly four decades after it was launched. Now, the 909 is available as a software plug-in, delivering the speaker-pummelling power of the original with new features that extend its sonic capabilities and make programming faster and more fluid.
In 1983, Roland followed the massively influential TR-808 with the TR-909. Around this time, digital samples of acoustic drums had become fashionable, but the sounds in the available devices weren't very adjustable. And let's be honest—they still didn't really sound like real drums. For the 909, Roland engineers took a hybrid approach that used tweakable analog circuitry for the kick, snare, clap, and toms, while reserving digital sampling for the cymbals.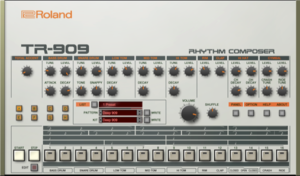 50 Years of Roland's Influence on Music
Roland has been a pioneer in the music industry, constantly innovating and pushing the boundaries of what is possible with music technology. They have left their mark on nearly every corner of the music world, from their iconic drum machines to sizzling synths and high-impact guitar effects pedals.
And their influence and dynamic approach continues to shape music around the world. Jim Stout, Head of Content Development at Roland Cloud, says, "Our current products are just the culmination of all our years of work and embracing the company's history." This commitment to innovation has made Roland one of the most respected names in the music industry.
"No matter how much you think you know, there's always more to learn when it comes to your craft. Try to understand the mechanics of whatever it is you're passionate about and be okay with the fact that you'll never stop growing". Jim Stout reminds us that the key is simply to enjoy the journey.
And it's not just the iconic musicians we've mentioned like Prince and Bowie that have relied on Roland to create a unique, distinctive sound – in recent years electronic artists like Skrillex and Deadmau five have extensively used Roland's products to craft their unique styles of music.
Roland's commitment to quality has made them a favourite among professional and amateur musicians alike. Their products are durable and easy to use, making them ideal for both live performances and studio recordings. With such a wide range of products available, Roland has something for everyone, whether you're a beginner or a seasoned pro. And now that Pulse students have access to Roland Cloud resources, you'll become familiar with the brand and its stellar contribution to music. So, ignite your creativity with a world-class resource – it's a golden opportunity to expand your skills and make sweet music!