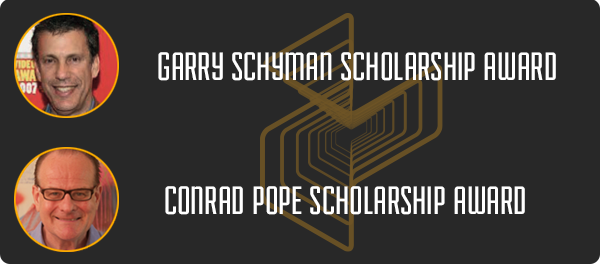 Pulse College was delighted to announce at our recent Live Q&A that there are now two amazing scholarships on offer as part of our MA in Scoring for Film and Visual Media program in 2014!
They will be awarded to two outstanding applicants who have demonstrated a passion for music, shown exceptional creative talent, are professionally motivated and able to make unique contributions and achievements demonstrated through the application, the interview, experiences to date and their personal statement.
The Scholarships carry an award of €3,000 and for 2014 we will have the following:
The Conrad Pope Scholarship Award Conrad Pope is an award-winning composer and orchestrator whose credits include the most recent Star Wars trilogy; the Harry Potter series; Pirates of the Caribbean, Star Trek X; the Matrix films; and Memoirs of a Geisha, and My Week with Marilyn
The Garry Schyman Scholarship Award Garry Schyman is a film composer and videogame scorer. Garry has written acclaimed scores for BioShock; Dante's Inferno and Destroy All Humans! and contributed to TV shows and films including Magnum, PI; The A-Team; Lost in Africa; and Tornado!
Both Conrad Pope and Garry Schyman teach on the program, and will provide the  scholarship recipient with individual professional mentoring.
All applicants accepted to the course will be nominated for either of the awards and the recipients will be announced towards the start of the program
For more information on the scholarships and applying for the course, please email us and our Director of Recruitment will take you through the process.
More about the MA in Scoring
Website: http://bit.ly/ScoringMA
Prospectus: http://bit.ly/MAProspectus
Phone: +353 (0)1 478 40445

Follow Us