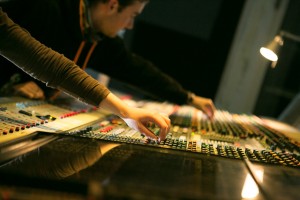 If you have a passion for music coupled with a more technical mindset, then a career in sound engineering may be ideal for you. Unlike producers, engineers are particularly concerned with the mechanics of production and mixing – in other words the technology that goes into producing a particular sound. It's equal parts art and science, and requires a keen ear for what sounds right and a methodical approach to your work. It's great work but a tough business to break into, so here's some key tips on getting started.
Get the technical chops to do the job
It should go without saying, but any audio engineer worth his or her salt needs to have a rock-solid knowledge of everything to do with music technology, including:
A diverse skillset is key to securing work, so the more you can bolster your knowledge in these areas the better.
This applies as much to software as hardware. It's easy to get locked into a particular Digital Audio Application, but being flexible in the studio is critical. You may be familiar with Cubase, but what happens if you're thrown into a studio environment where Pro Tools is required? Frequently you'll be tasked with finding technical solutions so you need to be familiar with the intricacies of different programs. Your best bet is just to get stuck in and learn by doing. There are currently free trials of many of the most popular DAWs, including Avid Pro Tools, which is an area of special expertise at Pulse.
Beware of gear lust
Though it's good to get to grips with as wide an array of equipment as possible, it's important to ensure that your desire for shiny new things doesn't outstrip your ability to actually use them productively. You may be eyeing that brand new AV Preamp, but always consider how you're going to incorporate it into your sessions. In the heat of the moment, the last thing you don't want to do is bring a recording session to a grinding halt while you're fumbling with instruction manuals or temperamental equipment. Start with the basics, master them, and gradually you can acquire equipment that compliments your growing skillset. (This approach is also kinder on your wallet.)
Get yourself a mentor
Audio Engineering is a creative discipline and because of that it can be difficult to gauge your progress without constructive feedback. There's plenty you can get from books, but it's very difficult to encapsulate in words what great sound engineering does for a recording. This is where a great mentor is indispensable, as they can offer invaluable guidance informed (hopefully) by years in the industry.
Not only that, but the industry virtually runs on word of mouth, and the mentorship of a seasoned vet can be invaluable in setting up an initial contact network. So if there's a producer you particularly admire why not try to get in contact? If you can't get a hold of their email just reach out via social media. Bear in mind that they'll want to see a promising talent, so try and get a good quality demo of your work in front of them as soon as possible.
Get any work you can to start out
Offering your services at a low rate is critical for getting your foot in the door of this competitive industry. Doing a great job in a professional way is the best advertisement of your talents imaginable, and can frequently lead to further work down the line. Most work experience in the area is unpaid, but the pay-off will be the time you can get left to your own devices in a real recording studio. If you get this opportunity then seize it: call in any musicians you know and try and get a professional sounding recording out in the time you have. This will give you something substantial to put under the nose of the people in the industry you need to impress.
Pulse College offers courses for sound engineers
Attacking all of this by yourself can be a daunting task, and often the best first step is to enrol in a relevant course. Pulse College offers five industry-leading courses that aim to prepare students for technical roles within the music industry:
There's an emphasis on practical, vocationally-focused tuition, and our course tutors all have extensive industry experience. What's more, our Dublin campus is located in the historic Windmill Lane Studios, one of the most well-equipped facilities in the world. Why not get in touch with us today to find out more about what a course at Pulse can do for your audio engineering career?
[openday]
Follow Us