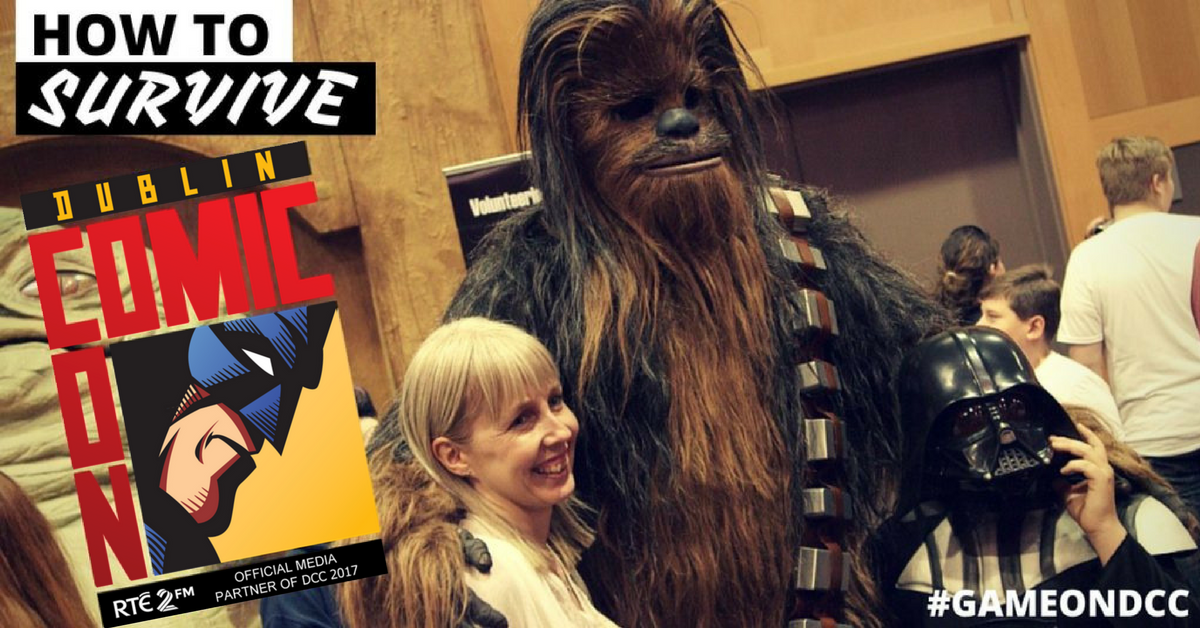 Attention all gamers, movie buffs, comic book fans and anime aficionados – Dublin Comic Con is upon us. Almost 19,000 people will descend upon the Dublin Convention Centre for two days of Valhalla-like pop culture revelry. It's one of the highlights of the year for the creative community, offering visual artists, musicians, game devs and comic book writers the chance to showcase their work to the world and the hardcore fans.
Pulse College will be there in force this year as we join up with Dublin Comic Con to present #GameOnDCC, offering convention-goers VR, online multiplayer events, workshops/demos, and the chance to meet Irish Game Devs and be the first to play their latest games!
The 2017 Dublin Comic Con is shaping up to be the biggest of all time, and to help you make the most of it we're offering a few survival tips for the weekend.
Accept you're going to get lost and make arrangements
The Dublin Convention Centre (also DCC to add to the confusion) can be a bit of a maze at times. There's a nifty interactive map here, but you will inevitably get split up from your pals in the throng. A simple solution is to keep your phone charged and set up meeting points beforehand.
Make provisions for acquiring swag
One of the best things about DCC is the merchandise on offer from vendors and you'll want to make sure you will be able to take home as much as your hands can grab so bring a comfortable rucksack. Hell, even bring a full-on hiking bag if you can. You'll be on your feet the whole day and you'll want to lighten the burden as much as possible. This bag is also going to be a handy way to keep some food and water on stock and hold other items like jackets, cameras, chargers, and anything else you need to get through the event.
Also, bring cash. A basic but oft-overlooked fact is that not all stalls will have card machines and any ATM's in or near the Convention Centre will have some pretty extreme queues.
Learn the Virtue of Patience
It's a sad truism all convention-goers will come to terms with very quickly: the coolness of any given stall is inversely proportional to the length of the line. You could end up spending a lot of time waiting in queues. There are three options for dealing with this:
If you live a rich inner life, feel free to drift off into a dream world replete with high adventure, colourful characters and incredible audio-visual displays. Just don't get too into it because – y'know – it would kind of defeat the purpose of going to a comic convention in the first place.
If you're less imaginative, download podcasts and audiobooks to transport you away. Or maybe bring an actual physical comic book or novel (they do still exist).
If you're a friendly sort, get to know your tribe. Odds are, anyone else who's willing to line up for forty minutes for a special guest meet-and-greet is going to be just as in to that person as much as you are. Start talking to the person next to you about how much of a die hard fan you are and you could find a BFF for life!
Wear Comfortable Footwear
The queue to get in the building is long and the Dublin Convention Centre is pretty big so prepare to walk…a lot! It might sound like the most basic of tips, but unless you're in a pair of comfortable shoes for all that sprinting to and from panel talks and exploring every inch of the 'Con, your feet are going to pay for it. Of course those Cosplaying might not have has much choice for what shoes to wear but keep that back up pair close so you can take a break every now and again. You really don't want those swollen blistered feet!
Plan Your Day and Stick to It
Do you want to see all the panel talks? Do you want to do all the experiential stuff? Do you want particular signatures from the signing table? Do you want to see who takes home the crown of best costume? Do you just want to take it all in? Check out the event schedule and plan out the main things you want to do, make a list, set times to be in certain places and then stick to it! For the rest of it then, you can just run around like a headless chicken.
Don't Run Out of Juice
Your phone will be your best weapon, your closest ally and how you record your adventures at Dublin Comic Con. You do not want that magic little box in your palm running empty of juice so unless you're lucky enough to have a phone with a crazy long battery life, you are going to want to invest in some sort of portable battery. There are a whole host of options out there but here are some good recommendations.
Think of others, Don't be smelly
You're going to be surrounded by a hell of a lot of other people and the air-con might not be the best. You'd hate nothing more than being stuck standing beside someone with smelly ol' pits so you should make sure not to be that person yourself! A bit of deodorant and some spare in your bag will go along way to keeping everything fresh and clean.
Also, hand sanitiser will go along way. There is going to be a lot of people touching the same merchandise and display props so give a little squeeze into your palm every now and again to help keep the germs away.
Into Animation and Game Development?
If you're a first-timer then you're in for a real treat and if you've any interest in game development, be sure to drop over to the Pulse College Game On DCC Zone, where we're showcasing leading Irish Game Dev companies who will be there to talk about and let you play their new games, as well as running workshops both days on 2D and 3D Animation and Game Design!
Last But Not Least – Don't Forget Your Tickets!
Buy tickets ahead of time. Yes, there will be a number of tickets available on the door, but why take the risk when you can sort it all out ahead of time? Also, print them out. Also also, download the PDF to your phone. Basically, you can't be too paranoid when it comes to the ticket situation and no ticket-no entry.
Those are some of the essential survival tops to make the most out of Dublin Comic Con. You'll find what works best for you and if it's your first time attending just jump in feet first and enjoy every minute of it! Oh, and some basic advice which doesn't need it's own section above is to simply be courteous and respect all other attendees at the 'Con. Just don't be that guy who annoys everyone else.
The Pulse College Games and Animation Team are going to be there in force to run 'Game On DCC', so make sure to get involved with us at our different Game Zones and join in the fun with us online, using #GameOnDCC on Twitter, Instagram and Snapchat!
While you count down the days to the main event, check out the highlights video from last year. Hope to see all you Comic Con peeps there on August 12th and 13th!!!
[openday]
FOLLOW US