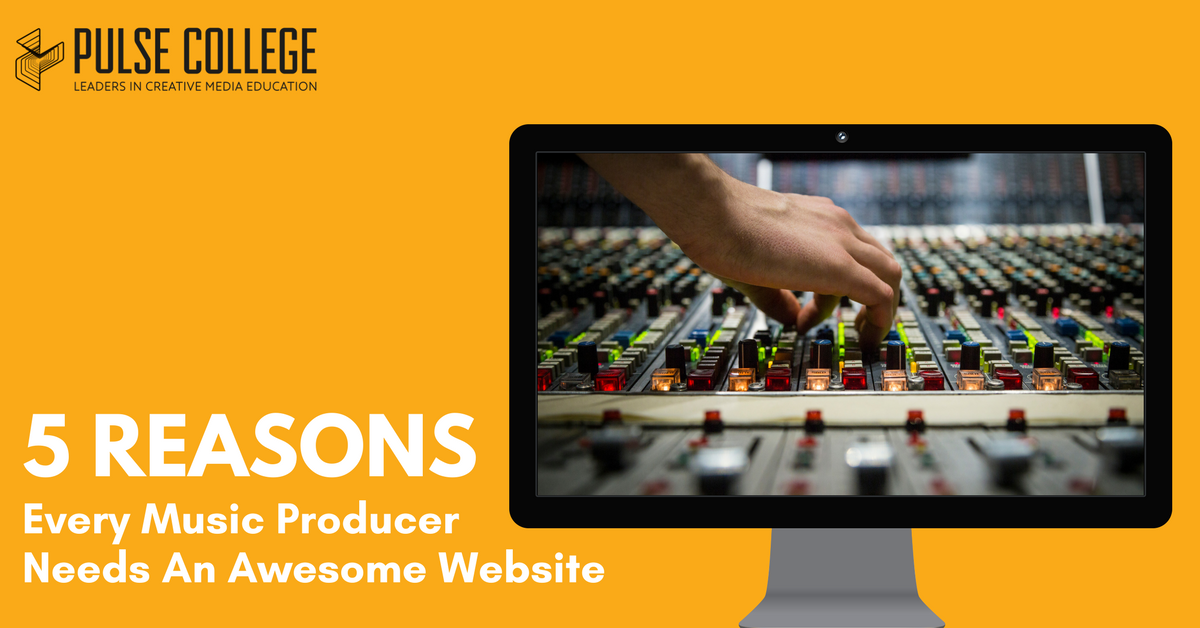 Music producers are in big demand but how are you going to find the right one for your project? Well pretty much the same way you find anything else – on the internet! For that very reason it doesn't matter if you're world renowned or just starting a music production course – you're gonna want people to find your work and hire you for their project.
There's loads and loads of reasons why a music producer should have a website and once you have one you can really make it your own, making it work for your career. Here's our top 5 Reasons Every Music Producer Needs a Website.
1. Music Production Profile
This is probably the most important reason. Having a good credible profile and being considered a true professional is extremely important within the industry. Owning a website is a great way to demonstrate to people who don't know you that you mean business! You can think of it like a CV and highlight all the courses you've taken, any professional certificates you hold and showcase some of your work.
Having a slick-looking website creates the right impression. I'm sure you've been looking on Soundcloud and have come across a profile with a small number of followers or plays – I bet you didn't stay long on it; that's why you need to have an engaging, current website with a credible personal profile.
2. Showcase Your Work
For a music producer, a website is the perfect place to showcase your work. You can build different areas on the site – so if you had done some work producing music for games or music for film or if wanted to show off your project work from your music production course – you can create categories and make it easily accessible on your site.
People can then browse your work and find out how amazing you are for themselves….
3. Build a Fan Base
Having a website is a great way for a music producer to grow their fan base across all platforms. You can use your website to pick up traffic from search engines like Google. These site visitors could be quite valuable to you to help get your name recognised – you need to present a site with content that will convert them from a visitor to a fan. You can then use these new contacts to help grow your social media profiles by integrating your social accounts into your site. It's a win-win!
4. Professional Emails
If you're emailing family or friends from your course, it won't make any difference what email address you're sending from. When contacting clients though you'll want to look professional (remember it's all about profile!). Check this out.

We'll let you decide which one creates the best impression.
Without even knowing it, you automatically feel more confident with the bestproducer [at] musicproducer [dot] com email. Not only does the email address appear more professional but people who get your mail may be tempted to go visit your website.
It's very easy to set up an email address to match your website address and that's one more benefit to having a site.
5. Build a Blog
If the students in our music production classes are anything to go by, music producers love to talk to tell us what they are working on and what they've been up to. Having a website means you can have a blog. This is an ideal way to keep people up to date on what you're doing, keep them informed on latest trends and build your profile as an industry expert.
Not everyone knows this but adding new content to your website keeps it fresh and helps it get traffic. You can also use Search Engine Optimisation (SEO) techniques to help make your blog easier to find. With even some basic SEO skills you'll see an increase in your sites traffic.
Music Production Courses
If you're looking to learn music production skills we've always got our finger on the Pulse of all the latest techniques, technology, and trends. Drop in to one of our open days and get a feel for what our music production courses, delivered in collaboration with Griffith College, are all about.
[openday]
FOLLOW US