ALUMNUS INTERVIEWS
Name: Aapo Latava
Course: Game Development Higher Certificate
Year of Graduation: 2015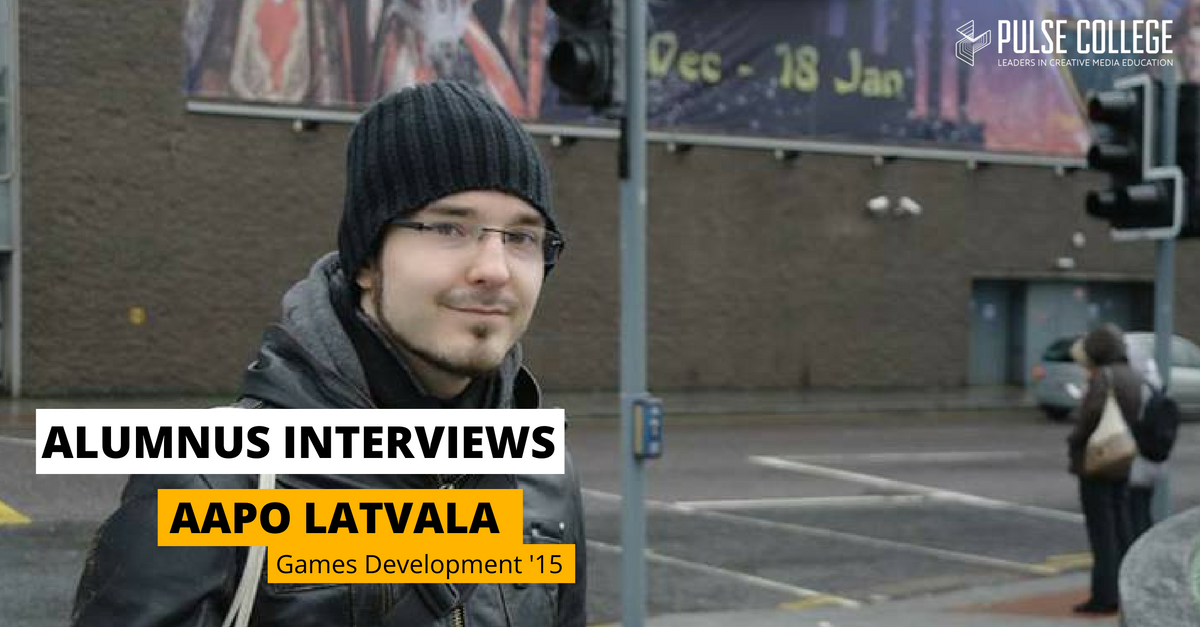 For the latest in our Alumnus Interview Series, we speak with Aapo Latvala, Game Developer and Founder of Green Sawdust Studios and has just had his first game release on Steam. Aapo graduated from the Pulse College Games Development Higher Certificate in 2015.
Hi Aapo! Congrats on the launch of your game on Steam, After Life! Could you tell us a little about it?
Thank you! After Life is an interactive narrative game set in Ireland. It tells the story of Rick Dennehy, an Irish dad who dies in a car crash in the 90's. In afterlife, or 'purgatory' if you will, he gets a chance to hear his family's reactions to his passing and witness how they dealt with his death.

What was the inspiration behind the game?
This country and its people. Whenever families have been mentioned in our discussions, the response has always been positive. There hasn't been an ill word towards their family members from my native friends in here. Around the time when I realised that, my wife got pregnant with our first child. That led me into thinking about life and death in general and I started to wonder if there's an idea for a game in here somewhere. Two months later I had a working prototype and a nearly finished script in my hands.

What was the game development process like and what part did you like the most?
I wrote and prototyped a lot. It took me 11 months to build it from scratch. I started with a script and a flying sphere in empty environment. The script had to be captivating, easy to follow and I wanted my players to easily relate to the characters. Much like a short novel you'd finish in one afternoon and continued to ponder about it for the rest of the evening.
Once the script was nearly done, I started prototyping different movement methods and designing the levels. The game was supposed to take place in Rick's house only, but as the response in Facebook started to grow, I wanted to give more to people. Eventually I hired someone to do the soundtrack and searched for voice actresses and actors. Then there were the programming parts and the manual labor of stitching it all together.
I don't have a favourite part of the process, really. The whole 11 months of development and design was an amazing experience.

What are your hopes for the game?
I want to remind people our time on earth is limited and you can never be too sure what the future holds. It's important to take care of your loved ones and remind them every now and then how much they mean to you. If one person in Ireland gets this message, I feel I've succeeded.
Did you always want to work in the games industry?
It was always a childhood dream of mine, but I never thought I could make it a reality. I forgot about it until I saw Pulse College adverts on billboards in the city. I just thought back then "Sure, why not. Lets do this."
After Life – Story of a Father Launch trailer @AfterLifeSoaF https://t.co/9NfWXPlgCB via @YouTube

— Aapo Latvala (@Jinckait) November 24, 2016
What was your background before Pulse College?
I've traveled a lot and worked a number of different jobs. When I started at Pulse I was also starting my career in IT. I knew some JavaScript and I was comfortable with a number of photo-editing software's. I also have a vocational college degree before this and a certification in IT.
What did you enjoy most about your time studying at Pulse College?
Oh my. There's so many nice things in the college overall. I'd say it was the diversity of the class. We had a great mix of nationalities in there, everyone with a different skill level and different background. I found it easy to respect the students who were clearly better at certain things yet it was never a challenge to approach anyone and ask for help. There was always different opinions shown in class and I felt the class really worked together, despite the obvious cliques that occur in every class. It was a good mix of talented and motivated people.
What advice would you give to someone looking to build their first game?
Get proactive and learn some basics by yourself. Get someone to teach you a bit more, whether it's online or offline. Start easy and gradually create more challenging tasks for yourself. You learn nothing by diving to the deep end if you're still swimming with floats. You will get better eventually. It just doesn't happen overnight.
GAME DEVELOPMENT COURSES AT PULSE COLLEGE
Find out more about our Game Development programmes or Contact Us to discuss any of our other courses in more detail!
Click Here to find out about our next upcoming Open Event to visit the campus and tour the studios!
[openday]
FOLLOW US