ALUMNUS INTERVIEWS
Name: Jack Power
Course: BA (Hons) in Music Production
Year of Graduation: 2015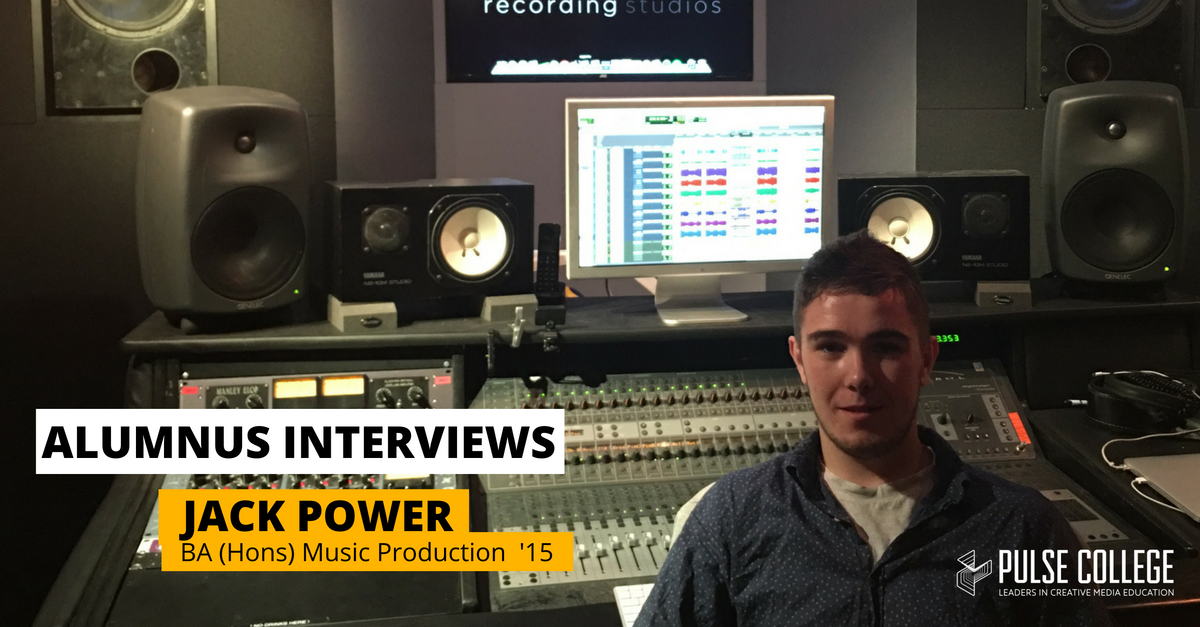 For the latest in our Alumnus Interview Series, we speak with Jack Power, graduate of the BA (Hons) in Music Production Degree. Jack is now Studio Manager at Camden Recording Studios Dublin.
Did you always want to work in the Music and Audio industry?
Absolutely! I grew up with a strong musical background with my grandparents having been in show bands with record deals along with their own recorded albums, and back then it wasn't as easy to record an album as it is now. This was a strong influence of mine. I started playing guitar at a very young age and began writing music from about the age of 10. My issue was that I was too shy to play any of my music to anyone, so the only way I could present anything was to record it. Thats where it all began, although the fascination grew far beyond overcoming my shyness.
What was your background before studying at Pulse College?
I started in Pulse College straight out of school. I was always interested in recording. I began learning my way around Ableton and was interested in the ability to record and develop a piece of music from a computer in a bedroom. I began DJ'ing when I was 15 and by 16 had a weekend residency in a nightclub in Waterford.
Before I started in Pulse College I had steered away from writing music on guitar and became more and more interested in electronic music production. I had been remixing and producing tracks which I would play while DJ'ing. This led to more gigs and festivals around the country, as well as couple of my tracks getting played on the radio which led me to work in radio for a short period on weekends.

Why did you choose to study at Pulse College?
College is somewhere you go to learn the in's and out's of a particular industry and what better college to study at than one that is situated in the same building as one of the top recording studios in the country. The facilities at Pulse College include some of the best recording equipment in the world. That for me had me sold. I attended an open day at Pulse College a year before attending, I had the opportunity to meet many of the lectures, to which I quickly learned were all actively working in the industry. This stuck in my mind as it gave me the impression that Pulse was an institution that's active and up to date in todays industry.
What did you enjoy most about your time at Pulse College?
Honestly, every day in Pulse College was amazing. I loved every minute of it. It's hard to summarise down to one thing. There is something about Pulse College that stays with you. Even when you find yourself there for 2 days straight, after a full day of lectures leading into an overnight in the studio to bring you into the next morning where you grab a coffee and get to your morning lecture, It's all part of it.
The size of the college plays a key part too. All the lecturers there, even if you don't have them for classes, get to know you and show an interest in your work, encouraging and advising you on work inside and outside of college. I have met some amazing people at Pulse College and have made some great friends. The common interest among everyone is what makes it.
Can you tell us about the role are you currently working in?
After I left Pulse College I started an internship at a new studio in Dublin called Camden Recording Studios. Camden Studios opened around the same time I left college. Its been a great opportunity to get involved right from the start as the studio grows. Since then, I have been taken on full time as Studio Manager. I feel very lucky to be working at such a great studio with some really great people.
The responsibilities include the operations of the studio, such as engineering, producing and mixing on a daily basis. The other side of being the business side of things such as bringing in new clients, the promotion and marketing of the studio, invoicing and accounting etc.

What are the most challenging aspects of working in a recording studio?
Working to a constant deadline, from the small sessions to the bigger corporate ones. For example, some bands will only have one day in the studio and its up to you to meet their expectations without being unrealistic. You have a list of responsibilities running around in your head such as keeping the band relaxed and happy, making sure they enjoy their experience in the studio, which will result in them playing better. You have to act fast, get the band in and set up, mic'ed up well and ready to record in as little time as possible. Some days you could have up to two and three sessions in the one day which can be most definitely be challenging. You don't have time to spare.
What would you say are the top requirements for someone entering the industry?
Hmmm…don't act like you know everything. Be willing to work every hour of the day. That's what it can take. Its something thats goes for every industry, but maybe a little more extreme in the music industry, you put in the hours and you get the rewards.
Get in the studio as much as possible. No textbook will ever teach you how to be a good, fast engineer. It starts in college. Pulse College is great as they allow you to book in for overnights. You can spend the night practising techniques to get better and faster. Then when you get yourself a job, be ready to adapt to how they like things done.
MUSIC PRODUCTION COURSES AT PULSE COLLEGE
Find out more about our Music Production Degree and Certificate programmes or Contact Us to discuss any of our other courses in more detail!
Click Here to find out about our next upcoming Open Event to visit the campus and tour the studios!
[openday]
FOLLOW US