ALUMNUS INTERVIEWS
Name: Michelle McCamley
Course: Diploma in Film Production
Year of Graduation: 2016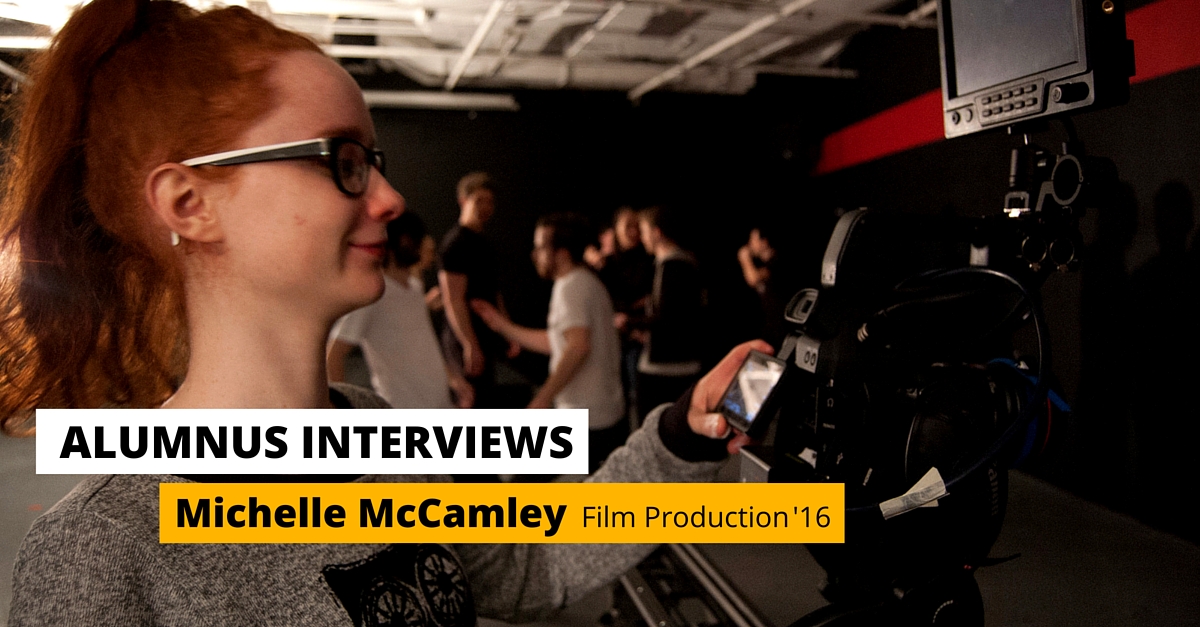 For the latest in our Alumnus interview series, we speak with Michelle McCamley, graduate of our Diploma in Film Production program.
Did you always want to work in the Film Industry?
Oh Yeah! I started making short films with my friends in secondary school and I realised that I loved directing and seeing our ideas come life. I loved interacting with actors and figuring out how to achieve our ideas, the whole creative, puzzle solving aspect of film really made me want to work in the industry. My Parents also both worked in animation, my Dad still does so seeing them work really made me want to be apart of filmmaking.
What was your background before studying at Pulse College?
Before Pulse College I made a few shorts with my friends, and my parents really encouraged and influenced me to be creative and make my own stuff. I had to do work experience in school for TY so I got to work in Brown Bag films and Windmill Lane Post Production, I learnt so much from this and it really made me want to work in the film industry even more!
Why did you choose to study at Pulse College?
I chose to study at Pulse College because it seemed like such a hands on film course compared to others out there. Pulse have industry standard equipment that you get to use within your first week of the course and you're constantly making stuff which is really important, and all of the lecturers are industry professionals so these were all huge factors in why I chose Pulse College. The atmosphere and people also seemed very welcoming and encouraging to be creative so I really felt like I would fit in and enjoy going there.
What did you enjoy most about your time at Pulse College?
A lot of things, I really enjoyed the people I met, being under the same roof as students from other courses was great, we'd all help each other out with different aspects of our projects and it made for a really fun and collaborative atmosphere, I made some really great friends. The lecturers, also made my time at Pulse really enjoyable, they really encouraged us to be creative and help us figure out our ideas, their enthusiasm increased your enthusiasm which made you want to do your best, I learnt a lot from them.
I loved that everyday at Pulse College was different and that you'd get to try out the different departments in film throughout the course, from screenwriting to sound design to directing. The constant making of projects and different sets you'd be on each month, the different stories you'd make and seeing your projects all come together was the most enjoyable though because it gave you challenges, it made everyday different and we left Pulse with a lot of different content and skills.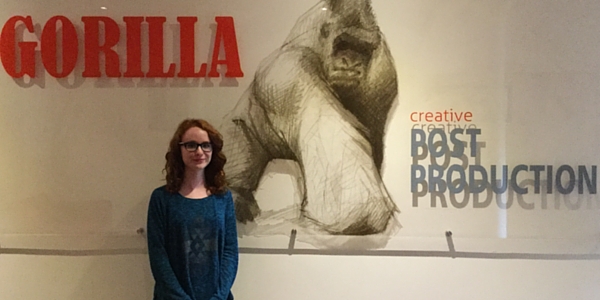 Can you tell us about the role you are currently working in?
I'm currently working in Gorilla Post Production as a Post Production Producer. I meet and greet the clients that come in, directors, producers, voiceover artists and take their bookings for projects. I manage all of the different projects and media that come in and inform the engineers and editors about what's going on with each project. I also assist editors and engineers in the studios when they need a hand and help with deliverables for projects.
I'm really enjoying it, I get to meet so many different people and learn about the post production process along the way. And since I want to direct it's a great way to see the approaches different directors and producers have to projects and the post scheduling of them as well as how much more their is involved in the post production process.
What kind of things did you learn at Pulse College that prepared you for your professional career?
Pulse College taught me how to deal with clients and to be clear and organised with them. They also taught me how important deadlines are in the industry, this is really important in post production as I have to keep track of the deadlines for each project and have to get this information from clients and always know what's going on. Production paperwork and scheduling really helps with all of the organisation which we leant a lot about, learning how to think on your feet has also helped as you have to pre empt situations and what clients need.
My editing skills in Final Cut have helped me a great deal, Gorilla Post use Avid which is a bit different but from doing my Final Cut Pro exam it's made it easier for me to adapt to other editing softwares. I'm also able to work with protools from the audio classes we had so that's really benefited me as I can assist engineers when needed.
What are the most challenging aspects of working in the Film Post-Production?
Deadlines would be the most challenging, trying to make sure you get the job done in a tight turn around can be stressful especially if you've multiple projects to work on. Trying to keep track of each project and the workflow is difficult but if you have have an organised workflow, have clear communication between clients and keep yourself informed and updated then everything is fine.
What would you say are the top requirements for someone entering the industry out of college?
You just have to go for it! You have to be persistent, the worst people can say is no so just reach out and talk to people, if you don't hear back try again or reach out to someone else, you have to keep pushing for it. You've also got to want it and be willing to put the hard work in, it's worth it if it's what you want to do so show that you're passionate and that you'll work hard. Take as many opportunities as you can, paid or unpaid, and get to know the people you meet along the way because they'll help you get more work and make your work even more enjoyable as well.
What's next for Michelle?
To make more stuff! I'm creating a few more projects along side working in Gorilla so that'll be really exciting and fun. I'm also looking into funding for my Steampunk, Fantasy mini series that I started in Pulse College called "Colidas & the Coat Key" so keep an eye out for that and feel free to donate 😉 But just plans to create and direct more content!
FILM PRODUCTION COURSES AT PULSE COLLEGE
Find out more about our Film Production BA Degree and Diploma programmes or Contact Us to discuss any of our other courses in more detail!
Click Here to find out about our next upcoming Open Event to visit the campus and tour the studios!
[openday]
FOLLOW US