ALUMNUS INTERVIEWS
Name: Natalie Geday
Course: Audio & Music Technology Diploma
Year of Graduation: 2003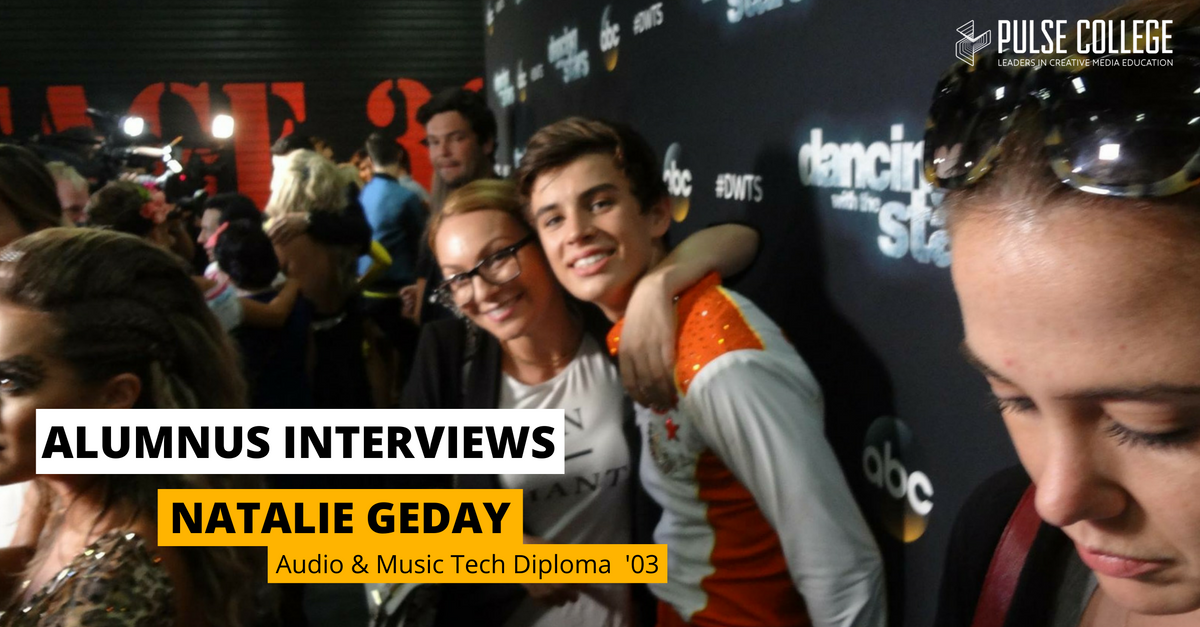 For the latest in our Alumnus Interview Series, we speak with Natalie Geday, Entertainment PR & Marketing executive in Los Angeles, CA., who graduated from our Audio & Music Technology Diploma in 2003.
Did you always want to work in the Music and Audio industry?
I knew from a very young age I wanted to work in the music industry, I just wasn't sure at what capacity, so I studied Sound Engineering and Music Technology at Pulse College to cover the technical side, and when I moved to the U.S, I studied Music Business. It was then I fell into the A&R and Publicity Department at Epic Records and realised it was the perfect place for me!
Why did you choose to study at Pulse College?
I went to a few open days and really liked the vibe at Pulse College. I remember meeting Naomi and Tony, the College Directors, and really being able to feel their love for what they do and the excitement to teach others and bring out their best.
What did you enjoy most about your time at Pulse College?
I really had the BEST time studying at Pulse. Getting to hang out and work with like-minded people everyday made it such a great environment be be fearlessly creative.
Alumnus Natalie Geday @Natttycakes talks to @Tubridy2FM bout weird/wonderful world of Music PR http://t.co/ZLmlnFgiFN pic.twitter.com/KHsSNvFQlk

— Pulse College (@Pulsec) April 3, 2015
Can you tell us about the role are you currently working in?
Ive been living and working in Los Angeles, California, for the past 12 years. I moved here shortly after graduating from Pulse to pursue my career in the music business. After many years at Record Labels and production companies, I decided to open my own Lifestyle PR and Branding Agency, NMG Relations. I'm lead publicist here and work with some incredible musicians, producers, TV stars, digital stars, athletes and brands, to nurture individualised growth by architecting innovative campaigns aimed at consumer and business audiences.
What kind of things did you learn at Pulse College that prepared you for your current role?
Particularly for my producer and musician clients was learning the fundamentals of what goes into making records. Being able to speak with them on that level is invaluable.
What are the most challenging aspects of working in PR, Marketing and the Music Business?
You can never take your finger off the pulse, so finding a work/life balance that works for you is imperative, especially for creativity. We are in a climate of immediacy thanks to social media, so you have to stay ahead of the curve and prepared for anything. There's no time for burnout!
What would you say are the top requirements for someone entering the industry?
Passion, drive, and confidence. It takes a lot of work, so you really have to love what you do. And have confidence in yourself and your ideas.
On set ✌🏼️ pic.twitter.com/KF5vlNWUoI

— Natalie Geday (@Natttycakes) May 3, 2016
What's next for Natalie?!
Expansion! I'm in the process of opening a Dublin office for NMG Relations. The world is so connected now, so it feels like the perfect time to work with Irish brands looking to target and launch in the U.S.
AUDIO & MUSIC TECHNOLOGY AT PULSE COLLEGE
Find out more about our Music & Audio Technology program or Contact Us to discuss any of our other courses in more detail!
Click Here to find out about our next upcoming Open Event to tour our recording studio campus at Windmill Lane Recording Studios!
[openday]
FOLLOW US