ALUMNUS INTERVIEWS
Name: Robert Fitzhugh
Course: Film Production Part Time Diploma
Year of Graduation: 2016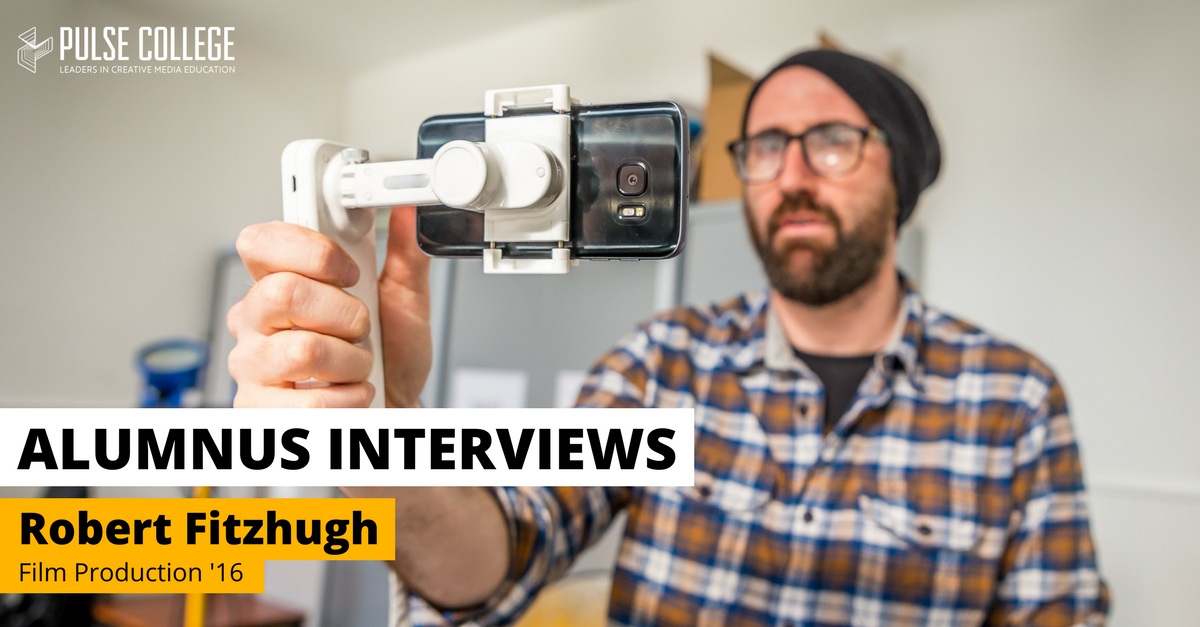 For the latest in our Alumnus Interview Series, we speak with Robert Fitzhugh, who graduated from the Pulse College Diploma in Film Production in 2016. Robert is a filmmaker and Festival Director for the upcoming Dublin Smartphone Film Festival.
Hi Robert! First question, did you always want to work in the Film Production industry?
To be honest no, I always had a love for movies and how they were made. I used to read and write about films and the process behind it but I never saw myself working in the Industry. Part of this was down to not really knowing where to start. I had camera's when I was younger but I was a bit directionless. I knew I had a passion for cinema but it never translated into a desire to actually create until much later in life. Gradually I got more and more hooked on the idea so I attended a Pulse open day and that brought me to here!
What was your background before studying Film Production at Pulse College?
Originally I studied Business and Arts Management in IADT. I actually picked this course by mistake! It had a different name on the CAO and when I showed up on the first day of college I was adamant I was in the wrong place! The course turned out to be my calling though. It was Business management for the Arts sector so we learned how to set up Festivals, create and market albums etc. It was really hands on with a small class and we covered so much, one minute you were studying Human Resources, the next breaking down visuals from Blade Runner. It was an odd mix but very interesting.
During this period I was working at a number of Arts Festivals; the Spraoi Arts Festival in Waterford and The Saint Patrick's Day Parade. Even after college I still stayed involved in a number of festivals. I spent some time in Canada where I worked with the Reel World Film Festival. During this period I wrote about film and reviewed film on Dublin City FM but I still didn't really pick up a camera, it was all just theory before Pulse College.
What made you choose Pulse College?
Honestly, Pulse College were the best. I was looking for something really hands on and practical. There was a lot of shorter courses I could have done but I felt I needed to take the full two years to do it right. I wanted to commit. The part time course was only every Saturday but the calibre of people lecturing and the status that the college has in the industry made it the obvious choice.
What kind of things did you learn at Pulse College that prepared you for the industry?
The list here is endless really, it was eye opening stuff for me and every week I picked up a useful hint and tip that I am still using today. If I was to take anything away from it, it is the importance of collaboration. It is the essential key ingredient to getting anything made. Everyone has a role to play and each part is a piece of a whole. Without collaboration to shape ideas you will never survive in the industry. I learned very quickly that everyone on a film set has their skill and you all need to work together to get things done.
It was amazing how quickly everyone slotted into their specific preferences. I found myself in the role of producer a lot, probably due to my original college background. I really enjoy the macro view of the whole process. Working with every department to a common goal and helping the director shape their vision. I have directed several times as well and when a film crew is working together there is no better experience.
What kind of projects have you been involved with since graduating?
Since graduating in 2016 I have had my finger in a lot of different pies. A core group of us from the graduating film production class realised very early that we were stronger together then as individuals so we formed a filmmaking collective soon to be rebranded as Debatable Ape. We work together and individually on the a number of very different projects. I normally take on a producer role so far. We have just completed a comedy-fantasy short Glory, which we are about to submit to the festival circuit. I co-wrote and produced another short that we just wrapped called the Hardest Goodbye. Personally I have been working on a number of projects. I directed a number of corporate videos, a music video for an Irish Pianist Senior Piano and a stop motion animated horror called Lucid on my phone that received considerable attention at a number of International Film Festivals.
You have just set up a brand new festival for films shot exclusively on Smartphones/Tablets. Can you tell us a bit more about that
Absolutely, I recently launched the Dublin Smartphone Film Festival which is due to take place early 2018. This I suppose is the natural next step for me considering my background. One of the barriers to creativity for a lot of filmmakers is accessibility and expense. Mobile phones offer a level of creativity and freedom that you don't get with traditional cameras. The technology is improving every day and phones offer filmmakers the ability to write, shoot, edit, score and market their films all in one device. The things the smartphone filmmakers are doing right now are mind-blowing and I wanted to create an event that would offer a platform to showcase these incredible films. We are excepting submissions right now from all around the world and the response so far has been amazing. The quality of the submissions are phenomenal. It's an exciting time to be involved and I am really excited about the direction the event is going.
People were asking when they could start #submitting… Yippee Ki yay. https://t.co/oXxON8ALlU pic.twitter.com/rKafxe4C7p

— Dublin Smartphone FF (@DubSmartFF) July 13, 2017
Describe a typical day on set for you as a director!
Coffee, Coffee, Coffee!!! In all serious a typical day on set for me is always filled with ups and downs. When a shoot is running on time and everybody is working as a team it is a pretty easy day. I am not a diva so I like to keep things light but moving. Sometimes shoots can drag out so it's important to keep the cast and crews energy and momentum up. I surround myself with some reliable strong crew members. I have worked with the same two DOP's alternately on all my shoots so we have a great working relationship. We spend so much time in pre-production getting everything fine-tuned so I trust their judgment when we are working through the day. It makes for a more pleasant experience at it frees me up to focus on the performers and getting the right performance on the day.
What are the most challenging aspects of your line of work?
My biggest challenge up to this moment if I am honest is time. I work best when I am juggling a number of projects at once and finding the time to work on all these projects as always been my Achilles heel. I love the whole process from start to finish so I always find the time but it's a challenge. Now with all my projects done and dusted I can pour all my energy into the festival. I wouldn't be surprised if I try to squeeze in another project between now and then (I am a sucker for punishment).
What would you say are the top requirements for someone looking to enter this industry?
I think grit, persistence and a healthy amount of naivety. It's tough especially if you are generating your own content. You need to stick with it, you could make something, think it's amazing and its greeted with total indifference. You need to learn from your failures and keep moving forward. It is important to always listen to the advice of others throughout the whole filmmaking process. Input is crucial to shaping the film. Filmmaking is one of the purest forms of collaboration and teamwork and it only works if you are willing to listen. Most importantly you need to enjoy it. It can be a long daunting experience from start to finish but I love every moment of it.
What's next for Robert?
It's all festival for me now moving forward. There is a lot of work to do in the build up to the event so this will be my priority. I still plan to direct but now mainly linked to the festival. I have a shoot for Lucid 2 coming up at the end of the month, as well as an advert for the festival that we are shooting at the end of August so it's all systems go. It's an exciting time for filmmaking in Ireland and I plan to roll up my selves and get stuck in.
FILM PRODUCTION COURSES AT PULSE COLLEGE
Find out more about our Film Production programmes or Contact Us to discuss any of our other courses in more detail!
Click Here to find out about our next upcoming Open Event to visit the campus at Windmill Lane Recording Studios.
[openday]
FOLLOW US