ALUMNUS INTERVIEWS
Name: Steven Maher
Course: Music Technology Diploma
Year of Graduation: 2007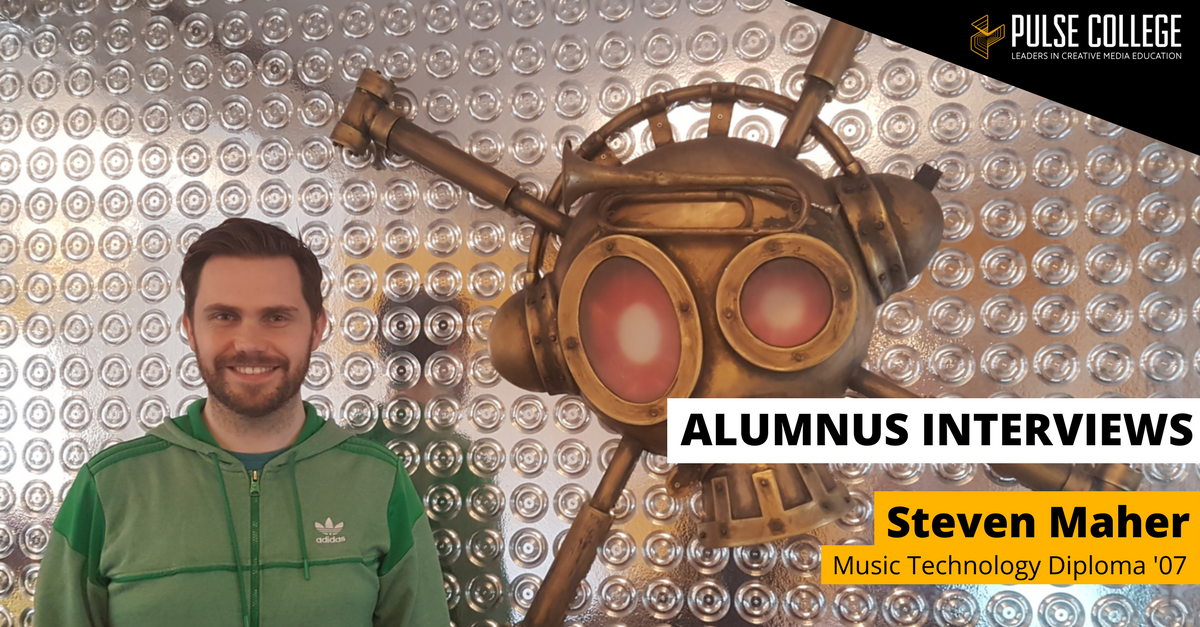 For the latest in our Alumnus Interview Series, we speak with Steven Maher, Sound Re-Recording Mixer and Head of Mutiny Post. Steven graduated from the Pulse College Diploma in Music Technology in 2007.
Hi Steven! First question, did you always want to work in the audio and music industry?
I wanted to be Jimmy Page and I was fairly sure I could be the next Jimmy Page until I was about 16 then I started looking into being a music producer and engineer. There was always a lot of music in our house when I was growing up; my Dad and my brothers all play instruments so I was lucky enough to be exposed to music and music technology from a very young age.
My Dad had an old PA system and a couple of SM58's lying around when he wasn't gigging so I learned basic signal flow early on. My eldest brother Graham bought a Boss BR8 recorder when I was 15 so that would've been my introduction to recording. That was when I really discovered that I had a huge interest in music technology.
What was your background before studying at Pulse College?
I was playing in a band for a few years and was in and out of part time work as most teenagers are I suppose. I had done work experience in Westland Studios and also in a post production studio here in Dublin when I was in transition year. I was fascinated by the job. It was just the coolest job in the world to me and so I was lucky enough to know what I really wanted to do when I finished my leaving cert.
Why did you choose to study at Pulse College?
I actually went to B.I.F.E. in Bray for 2 years before I started in Pulse College and learned a lot there too but I really wanted to get hands on with Protools so that's what led me to Pulse College. The Protools certification was a major goal for me and at the time Pulse were one of the only colleges that made that possible to students. The opportunity to work on a D-Command was brilliant and it really gave me a leg up. I joined in with the second year lads in Pulse as I had already completed year 1 in Bray. I remember my first day, I had never used a Mac before, it felt like I was starting all over again but the guys were so brilliant to me and after a few weeks and a lot of practice out of hours I was catching up with the other students. It was an amazing year, I loved every minute of it and I was devastated when I had to finish up.
What kind of things did you learn at Pulse College that prepared you for the industry?
Well I initially was pursuing work in the music industry as that was my passion from day one and honestly they were my favourite classes in Pulse. I tried getting into music studios around town but the reality was there was very few positions available if any so I tried Live Sound for bit. I went to New Orleans and had a chance to work in the House Of Blues for a few days and when I returned home I did a few gigs but absolutely hated it, it just wasn't for me. I really enjoyed the Post-Production classes in Pulse College and when Justin Fraser gave us a guest lecture it really opened me eyes to the creativity of Audio Post Production. I figured, why wouldn't I give it a go? It was great to be given the opportunity to learn about all aspects of sound.
You are currently Head of Audio at Mutiny Post Studios. How did you make the career progression to this point since graduating Pulse College?
Well I started out as a runner making tea and coffee in Screenscene and after a few months I was lucky enough to get the assistant engineer position in Number 4, Windmill Lane. After the initial nerves of the first week or so I knew I found my place and I truly loved going to work which is the ultimate satisfaction. I worked as the assistant in Number 4 for 2 and a bit years before heading to Canada for a few months. I had an opportunity to shoulder Andy Malcolm, one of the best Foley Artists in the world, at his "Footsteps Studios" in Uxbridge, Ontario and that experience just changed my whole career.
The detail and the passion for achieving the best sound is all that matters to people like that and I just couldn't get enough of it. When I came home I did a short maternity cover in Beacon Studios before returning to Number 4. I started working in animation (Peter Rabbit) in 2012/2013. Ireland has become a major player in animation. Brown Bag Films were, and still are, producing some of the best animated shows in the world and it was pure luck that I ended up arriving into animation when I did.
I joined Mutiny Studios in 2014 and was made Head of Mutiny Post. I have continued to work predominantly in animation since then and also get to do a lot of work in commercials, Programs and Feature Film so I get a happy balance of different work which is great.

Congrats on your recent Emmy Nomination for Outstanding Sound Mixing for the animated show 'Peter Rabbit'! Can you tell us about your work on the show and what the nomination means to you?
Peter Rabbit was a huge huge gig. There was a lot of pressure to deliver top quality sound as we all knew that it was a household name so we really wanted to set the bar as high as we possibly could. The show itself needed a soft organic sound-bed so we focused on making the little sounds sound really nice which can be quite challenging on tight schedules.

Sometimes the large big crashing sound effects can be a lot easier than the most subtle foley. The mix was a real challenge because we don't get a lot of time (it's never enough!) and there's a tonne of fine detail in the sound edit that we always want to bring through into the final mix. They're easily 130 track mixes with a lot of reverb, panning and fx so if you only have 6 or so hours to mix an episode, it's not easy.
I think we did 112 episodes altogether and we put everything into them so getting the Emmy nomination is a big honour and some very welcome recognition for all our hard work. There's a good few Irish Emmy winners and nominees in Animation categories over the last few years so I think it really shows the standard the Irish workers are delivering at, so it's really brilliant to be a part of that now.
Describe a typical day of work for you!
I suppose a typical day on a show like Peter Rabbit could be starting with a dialogue clean up and dialogue mix. I like to mix music second as I feel it's usually the second most important part of a mix from the client's perspective. As sound geeks we always want to push our own sounds like sound effects higher in the mix because we've established biased ears over the course of the sound edit. Once you have the music and dialogue mixed well you have a decent balance of where things are going to sit in the final mix. SFX, footsteps, cloth and atmos would all follow after that before going over general mix levels again and again and again until it's sounding like it should…then there's reverb…and panning…I could really go on forever! There's a lot of work in every minute. It's intense but I love it.
What are the most challenging aspects of your line of work?
The most challenging aspect in my line of work would probably be trying to keep a large number of experienced professional clients happy. You're dealing with a lot of very creative people who have worked at the highest level and it's hard to find a balance that suits everybody. We all want it to be perfect!
What would you say are the top requirements for someone looking to enter this industry?
I'd imagine a lot of graduates are walking out the door thinking the same thing I was; "where do you start?" My advice is to try a bit of everything and find what part of sound makes you happiest and then just go for it. If you're a hard worker and you're dedicated to doing good stuff you can't go wrong.
If you're interested in Post Production Audio I'd recommend practicing at home if possible. Try to redo the sound/ADR on one of your favourite movie scenes? Get your hands on some short film work and build up a few credits. Why not ask can you sit in with an experienced engineer to see if you'd like it? You could always start like I did and be a runner until an opportunity arises. Above everything though, don't stop learning.
What's next for Steve?!
I'll be starting season 2 of "The Stinky & Dirty Show" for Brown Bag Films and Amazon Prime in August so I'm really looking forward to that. I'll be working on that for a year or so and I really think it's going to be the best work we've ever done so fingers crossed this Emmy nomination is the first of many. We're also working on another show called "Becca's Bunch" for Jam Media and Nick Jr which is looking amazing. A fellow Pulse College graduate Tom Slattery is Sound Supervisor and doing a fantastic job so can't wait to see the finished article. We've got several other projects in the pipeline but I'll have to keep those quiet for the moment!
AUDIO AND MUSIC TECHNOLOGY COURSES AT PULSE COLLEGE
Find out more about our Audio and Music Technology programmes or Contact Us to discuss any of our other courses in more detail!
Click Here to find out about our next upcoming Open Event to visit the campus at Windmill Lane Recording Studios.
[openday]
FOLLOW US