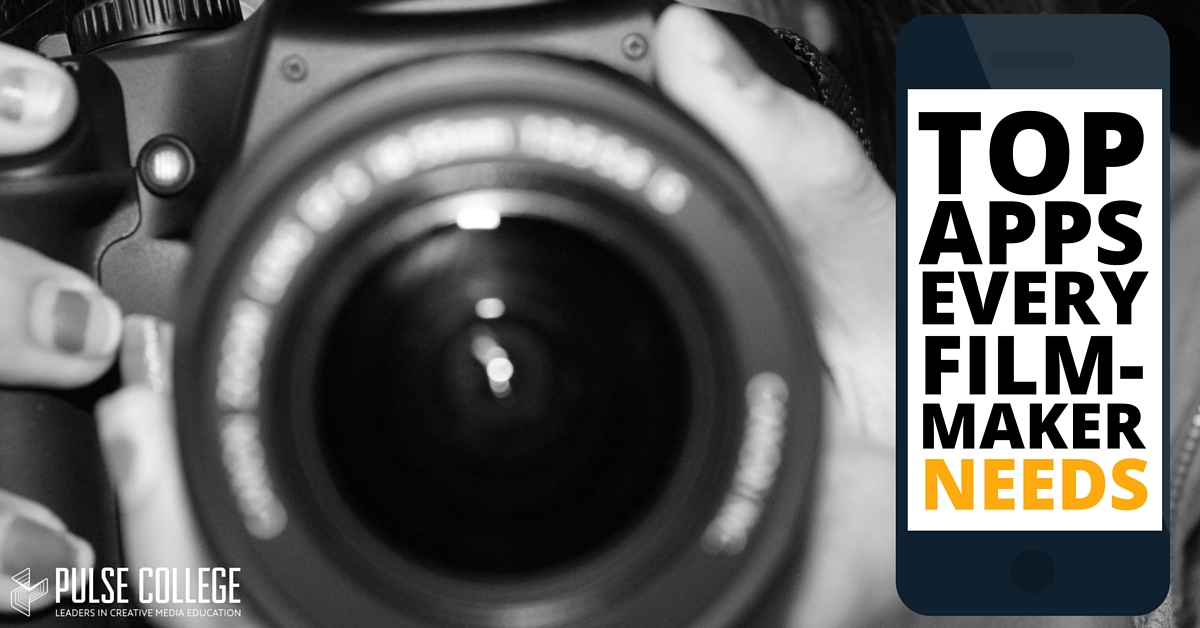 Chances are if you're just starting out in film-making or looking into film school, that you can't afford all of the fancy high end gear – HD DSLRs, mics etc. – that more established professionals might take for granted. Luckily the rise of mobile technology has levelled the playing field in a big way over the past few years, and your average smartphone can accomplish remarkable feats with the right software installed. Below, we recommend five apps that will allow you to up your filmmaking game using your trusted mobile phone.
1. Cinema Forms – Available on IOS


Odds are, if you're getting into a creative field like film-making, then you don't have much interest (or indeed ability) where paperwork is concerned. This handy little app takes a lot of the hassle out of the clerical side of things, providing ready-made legal templates, call sheets and production timetables. It's flexible, easy to use, and best of all it's free. There's also a Pro version available for less than a tenner, which allows you to convert files to PDF and share them, but there's plenty in the vanilla version to work with.
2. Celtx Script – Available on IOS and Android


While you'll ideally always have a laptop to hand to write and edit screenplays at any time, in reality circumstances often don't permit this. This app allows you compose properly formatted screenplays on your phone and back them up for free on the cloud. It also has features to allow you to collaborate simultaneously on the same script.
3. Filmic Pro – Available on IOS and Android


If there's one app that underlines how useful a tool a smartphone can be for a filmmaker, it's this one. With this installed, your phone can all of the features of a high-end DSLR or professional camcorder. It allows for incredibly granular control of your device, including:
More audio recording options, such as line level audio input by suppressing the automatic gain control Recording footage at up to 50mbps
Adjustable resolutions and frame rates
Expanded framing options
Manual control over color temperature, exposure compensation, shutter speed, and ISO.
At only €9.99, it's definitely worth the plunge to see what your phone is capable of!
4. Sun Surveyor – Available on IOS and Android


Planning outdoor shots has always been a headache owing to unpredictable (read: crap) Irish weather. This app won't solve drizzle and clouds, but it does make it easier to predict the best time of day to shoot. Based on a complex set of parameters, it anticipates the position of the moon and sun (altitude, timeframe etc.) for a particular location and time of day. With this app, lighting and shadows are a doddle. Additional nifty features include:
A 3D compass
Street view and an interactive map
A detailed ephemeris
There are other applications that perform the same function, but in our opinion this is far and away the easiest to use. At only quid it's great value too.
5. Final Cut Pro Field Guide – Available on IOS


For users of Final Cut Pro, Moviola's field guide is the best companion app you can have. It's loaded with documentation, trouble-shooting guides, keyboard shortcuts and a curated list of forums and websites. It's also constantly being updated with workflow guides for emerging technologies, including HD DSLR camcorders, RED and P2. With this resource at hand you'll never need to Google for Final Cut queries again!
Wrapping up
Our film school offers a strong technical introduction to just about every aspect of the trade. Why not check out one of our open days to find out how we can help you get to grips with the latest techniques and technologies?
[openday]
FOLLOW US