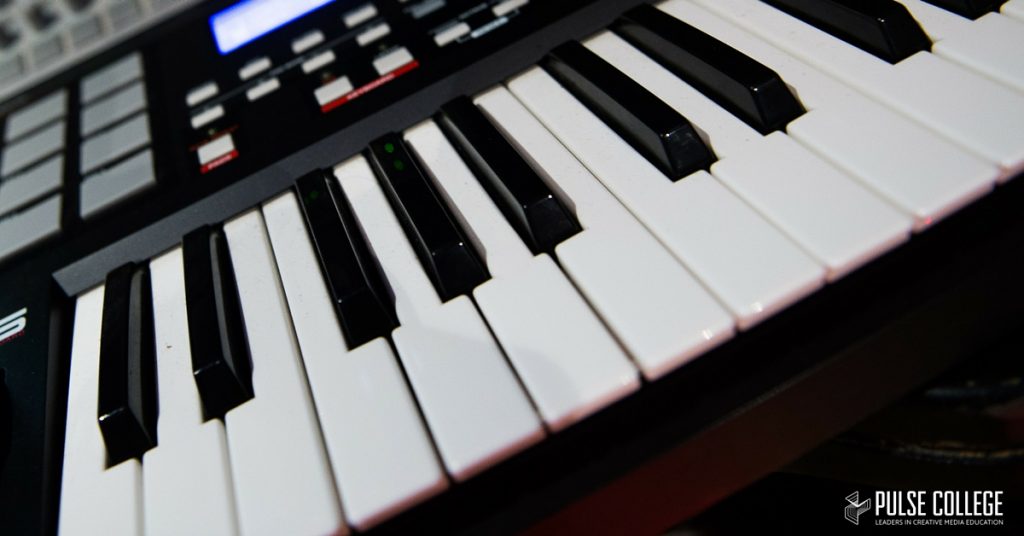 A midi keyboard controller is one of the most versatile and powerful music production tools any music student could ask for. They come in all shapes and sizes and the cost can run in to the thousands for high end models. For the average cash-strapped production student the higher end models may be a bit out of reach though, but luckily there are tons of budget-friendly options on the market with all of the functionality you could ever need. In this article we're highlighting a few of our favourite midi keyboard controllers at the budget end of the market.
Novation Impulse


It's astounding how many features Novation have managed to cram into the Impulse at this price point. These include:
Midi out and in ports
Sustain and expression pedal inputs
Bundled with Novation Bass station, Ableton Live Lite and a Loopmasters sample pack
Assignable inputs: 9 faders, 9  buttons, 8 dials
Semi-weighted keys
USB bus power, meaning no need for an adapter
The build quality is also fantastic. It's one of the pricier controllers covered here, but if you can spring for one you definitely won't regret taking the plunge!
Prices start at €189.99 for a 25 key model.
Alesis VI


If you're willing to sacrifice a little on build quality and aesthetics, the Alesis VI offers an excellent value proposition. They can be snagged for well under a hundred quid, and come with a pretty robust set of features, including:
16 multi-colour RGB backlit pads
Full-sized, semi-weighted keys with aftertouch functionality
36 assignable buttons and 12 knobs
Pitch bend and mod wheels
USB powered
The lack of faders and bundled software are the main drawbacks, but if you can overlook those then this is definitely recommended.
Prices start from $180 dollars.
Akai Professional MPD18


When people talk about MIDI controllers, the first thing that will invariably spring to mind is a keyboard layout. However, pad controllers have been becoming increasingly popular in recent years as they're the perfect percussion-based input. If beats are your business and nothing else, the MPD18 is all you'll ever need. Features include:
16 pressure sensitive pads
Plug-in-and-play USB interface
48 digital sounds and 3 sound banks
The MPD18 isn't currently available at any Irish retailers but can usually be bought for under €100 second hand.
M-Audio Oxygen


If a pad-only configuration is too restrictive and you've got a little extra wiggle room with your budget, the M-Audio Oxygen offers an excellent "hybrid" solution. It comes bundled with Ableton Live Lite and SONiVOX but auto-maps seamlessly on to pretty much every major DAW. The chassis feels a bit flimsy, but the velocity-sensitive keys have a nice tactile feel that make it a joy to play.
Prices start at €139 for the 49 key version.
Akai Professional MPK Mini MKII


Designed for the producer on the go, this tiny 25 key unit (it's only 12.4 inches long!) manages to cram in a whole array of features at a low price-point, including:
An integrated arpeggiator
A combined input for both mod and pitch
8 assignable control knobs and 8 velocity-sensitive drum pads with two banks
Dedicated toggles for octave changes, note repeat and full level
Don't take it from us – check out the user reviews on Amazon to get an idea how great these value-friendly controllers are!
Prices start at €99 for the 25 key version.
Music production courses at Pulse College
Pulse College offers a number of industry-recognised music production courses which are geared to equipping students with a robust skillset. What's more, we have the world class facilities at Windmill Lane studios at our disposal, meaning state-of-the-art will always be at your fingertips. Be sure to register for one of our upcoming open days if you want to learn more about how our courses can aid your development as a producer.
[openday]
FOLLOW US