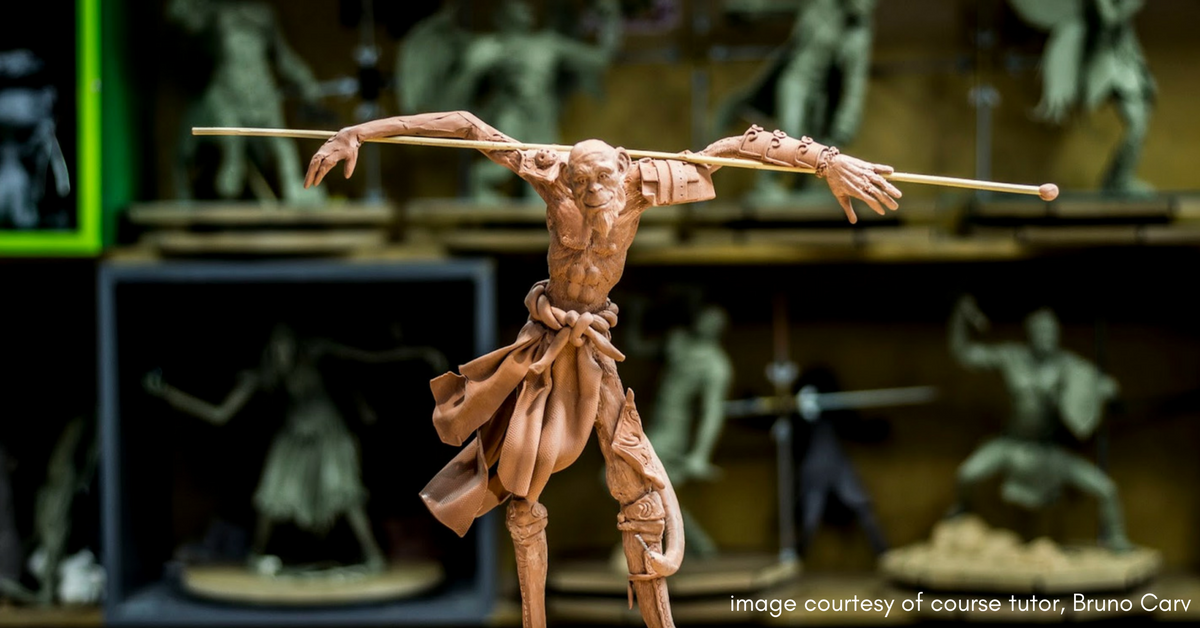 Would you like to learn a little bit about clay sculpting just for fun or have you dreams to carve out a professional career as an animator? Training as an animator can open up a world of exciting creative opportunities in a whole variety of media – TV, Film, Gaming – and taking an animation sculpting course could be the first step in your journey.
We'd like to tell you a little bit about how clay sculpting is used in animation and to help you decide if an animation sculpting course is the right choice for you.
Why Clay Sculpting?
Sculpture has been a part of human life for thousands of and is considered to be one of the oldest art forms in existence. The styles and materials used over time have changed but the art form itself remains popular.
Sculpting is a branch of the visual arts where three dimensional forms are created and clay sculpting is the most commonly used material today. Clay is very versatile and easy to work with so it's great for both the beginner and expert. Once you are familiar with the basic principles, it's easy to start with a simple block of clay and to go on to create your masterpiece!
In terms of animation, stop motion animation requires characters to be traditionally sculptured, moulded and pictured through each movement required for every scene and it's a painstaking task. An eye for detail is essential.
Materials and Tools
There are several different types of clay used for sculpting. Often it will depend on what you want to achieve as some clays are easier to handle and work with, others offer a certain finish etc. In animation, a clay sculpture is typically going to be used to produce a mould for casting and for this purpose you'll want to work with oil and wax based materials like Plastilina. Oil based clay can be a little unrefined and tricky for very detailed work but is soft and great for practicing with.
What tools will you be using? Well to start with you're going to get your hands dirty! At the beginning with you're only going to use your thumb and fingers to form the clay. As you get more experienced and used to the material, different tools can be used. The tools come in all shapes and sizes. Wire end, hardwood, callipers, knives are all tools used to shape, scrap and form the clay into the image you want. 
The Role of the Sculptor in Animation
So you're considering animation, design and sculpting courses and want to know a little bit more about how your skills are used in the real world? In film or TV, sculptors will often take drawings from the director or character designers and then mould three dimensional shapes in clay. These designs are tweaked and tested until everyone is happy with the look and feel of the character. Usually the finished design is used to make a plaster cast to facilitate the production of duplicates.
It can be a very exciting role as the sculptures are involved at all stages of the process and have to create the director's vision. Sculptor Greg Dykstra has produced hundreds of famous characters for some of Hollywood's biggest blockbusters, including Pixar's "The Good Dinosaur" and he says "Little by little, the character starts to form. You're making thousands of decisions every time you add a piece of clay."
Bust Sculpting by Pulse College Tutor, Bruno Carv
Animation and Sculpting Courses
If you'd like to try your hand at sculpting, we have a short course covering the traditional techniques used. This course is an ideal stepping stone into a full animation course and the skills learned will be extremely valuable in that context.
If you are interested in animation courses but not quite ready to commit to a long term course, another option for fans of comic book art style is our Sequential Art and Design course which runs for 6 weeks.
[openday]
FOLLOW US