DOOM DEATHMATCH at Pulse College Galway With DOOM Creator John Romero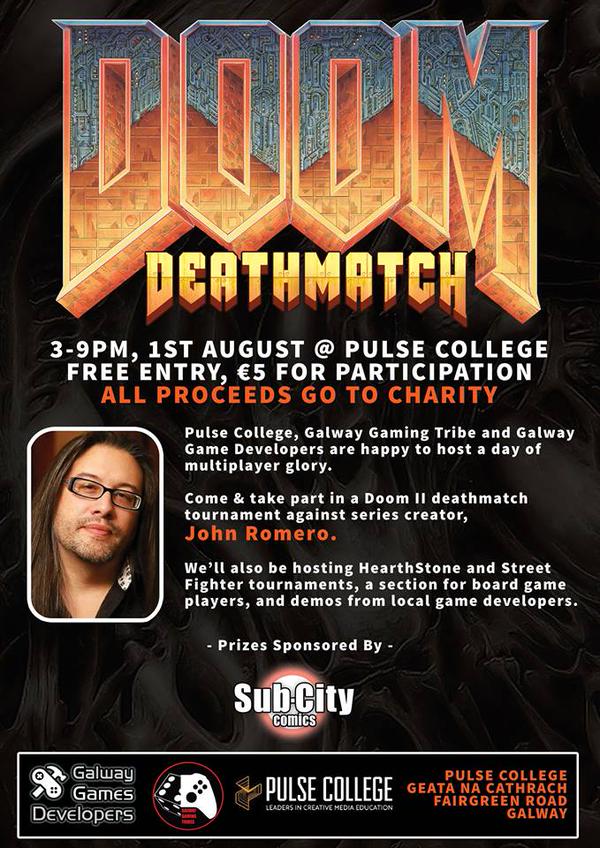 Pulse College Galway Campus
August 1st / 3-9pm
This event is presented by: Pulse College Galway, Galway Gaming Tribes and Galway Game Developers.
The event takes place at Pulse College Galway Campus (1st Floor, Geata na Cathracha, Fairgreen Rd., Galway: Click Here For Map)
ALL WELCOME TO ATTEND ON THE DAY, NO PRE-REGISTRATION NECESSARY!
This is a charity event. All funds we earn on the day will be donated to Cancer Care West. Free entry, €5 for participation. Come along, have some fun, meet a gaming legend, and raise money for Cancer Care.
Keep up to date on the event through the Facebook Event Page
Why not get in touch with us to find out more about our Games Development courses at our Dublin & Galway campuses or click here to discover our Full Time Higher Certificate Games Development Programme.

Follow Us