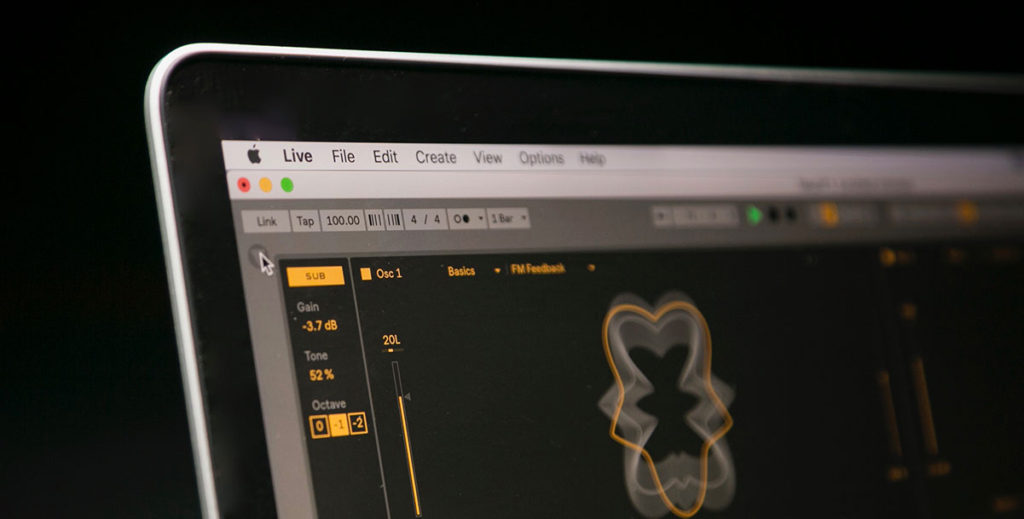 Wanna produce amazing, top quality music?
What is Ableton Live?
To quote Ableton – it is a 'fluid, flexible software for making music'. It has been meticulously designed to blend into your workflow giving you full autonomy in how and when to use it. Essentially designed to be used for live performances as well as being a tool for recording, composing, arranging, mixing and mastering.
Globally it is the go-to software for musicians and sound designers.
What are the some of features of Ableton Live?
(We say "some" as this is just a flavour of the huge array of capabilities!)
Ableton Live's views
One of the core features of Ableton live is that it has 2 views.
One is the arrangement view – This is where you can structure or record your ideas on a timeline. The visual nature of this view makes for a great UX and allows for a holistic experience for the producer.
The other main view is the session view. With no master timeline, each clip can be started and stopped independently but they always stay in sync. This view is a great place to brainstorm and let your creativity flow. You can mix and match and experiment with different song sections.
Instruments, Sounds & Effects
These can all be combined in whatever way you see fit.
With flexible synthesis architectures with intuitive interfaces, Ableton live makes deep programming more accessible… optimising the sound of each instruments; in the exact way you want. In addition, with cutting edge warping capabilities – you can change the tempo and timing of any audio in real time without stopping the music.
Its effects are truly first class and allow the producer to hone in and create the ideal sound  – you can clean up your mix with precision tools or explode your creativity with distortion, saturation and analog- modelled noise. It's serious fun to work this way!
Connect, extend and customize
From playing in time with other devices, Ableton live syncs timing over a network connection making it easy to play live with different software's and iOS apps.
Why use Ableton Live?
It's compatible with both MacOS and windows. From a practical point of view, this gives you great freedom and flexibility especially if you have different machines in different locations. So maybe your mac is for travelling whereas you have work via windows at home? No problem!
Ableton live is a very fast sequencer and may consider it the fastest. This makes a huge difference especially if your computer is older with a slow processor. Overall, it just simplifies your experience and supports a variety of devices.
User Experience. Following on from speed, the UX with Ableton live is largely flawless. The file manager for example saves you a lot of headaches as it's very easy to find what you are looking for. This efficiency, along with its great interface, make it an amazing tool in the repertoire of any budding artist.
Interested in learning more about Ableton Live?
Clearly, this software is a great development in music technology…but it is a complex tool with many capabilities and nuances. To help you get up to speed, we have developed a specific course…
This 6-week course is online so you can take it from the comfort and safety of your own home.
Tailored to get you up to speed and to hit the ground running -our pro team at Windmill Lane Recording Studios will lead your training in Ableton live.
Some of the topics covered:
Create beats and slice rhythms using samples, Drum Racks and Samplers.
Learn the basics of music composition: chords, melodies, and harmony to help your track evolve and develop.
Get an in-depth understanding of the Live Capabilities of the Session View, Ableton's unique jamming facility.
Learn how to
Edit Audio and MIDI like a pro.
Get impact, clarity and depth in your mixes.
Control and Perform Your Tracks in Ableton's Session View.
If you have any questions about the Ableton live course,  or are interested in a career in music, then please get in contact with the Pulse Team.
[openday]