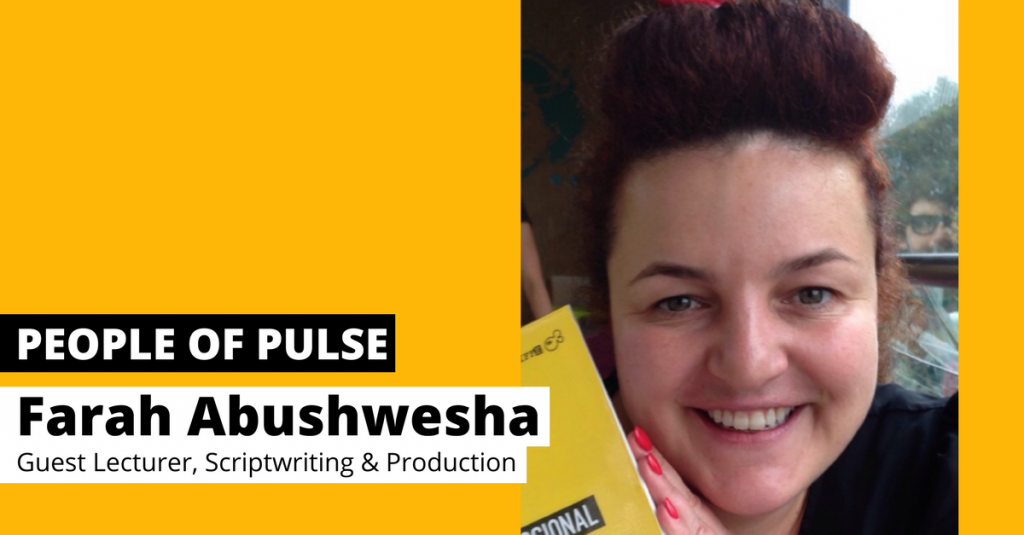 At Pulse College, we're lucky to have some of the best lecturers around and BAFTA nominated producer Farah is certainly leading the way in terms of passion and engagement with her students. When you chat to Farah you instantly get a sense that she absolutely loves her job as a film producer.
We recently sat down with Farah to find out how she got into the industry, what's she been up to lately and to pick up some hot tips for students trying to break into the film business!
So, Farah how did you start working in Film?
That's a pretty big question! Like a lot of people I fell into it. Social media and indie film were beginning to take off, as the kind of film school culture that's around today didn't really exist.
I went to drama school which really prepared me for this role in a way I never expected. We studied all the classics like Shakespeare and Checkhov which gave me a fantastic understanding of what I know now to be character arcs and development. Back then it was all new to me and I was like a sponge. I always found the male roles more interesting playing Iago in Othello for my audition piece.
In May 2000, I set up a group called the Rocliffe New Writing Forum as I struggled to find contemporary material for females in their early 20s. There weren't any strong parts for women readily available aka 'underdeveloped female characters'. This problem led me to giving a shout out to film writers, directors and actors with a 'hey let's get together and work on new material.'
The idea was that writers would bring along new material and we'd read and discuss it as a group. About 8 or 10 turned up to the first meeting, 25 people to the second and before I knew it 100 people wanting to meet! The group just really grew quite organically and now it's become the premier showcase for new screenwriting talent in the UK and one of the biggest in Europe.
It's evolved into what today is known as BAFTA Rocliffe New Writing Competiton & Showcase. There's a few different categories; drama, tv comedy, children's media and film. It's a great way to showcase work, network and for writers get feedback.
And an amazing thing happened along the way…
I came  across a short film about a desperate woman who breaks into a sperm bank. I had the idea – why not produce it myself. First however, I needed to raise the money for it and I headed to the Cannes Film Festival and realised everyone was there to do the same thing as me – plead for money! Thinking outside the box and I was drawn back to the hook of the film 'a desperate woman breaking into the sperm bank.'
So I went onto every big yacht and asked every man I met to donate their sperm and give me the proceeds. We raised £60,000 in sponsorship in kind – people putt their hands in their pockets so to speak!
We managed to go ahead and make the film and the UKFC now the BFI were amazing and gave us money for post-production to complete the work.
Were there any mistakes you made in the early days?
Quite a few! Still making them today. But the biggest mistake I made was not making a feature film sooner. We thought you had to make a short film to get started that you needed permission
Looking back, we had enough expertise and support to go for it but I didn't think I was ready at the time.
You have to put yourself out there and know when to spot your opportunities and be willing to help them happen.
What's your average day like when working as a film producer?
There's no two days alike! No average. Obviously, you do as much planning as you can. You prepare your schedules, budgets, cash flows, call sheets, delivery, what you're going to shoot, the time you're spending on each scene but anything can happen to disrupt even the best of plans.
For example, I was recently working on a movie in New York and one day it was snowing and the next boiling hot! In Ireland, we all know the weather is really tough to judge, so you have to prepare for weather cover. Lots of other things can happen and change plans too – what if someone gets sick?
So, you never know what to expect, it's a non-exact science. But being well prepped is extremely important – it's 90% of the job. I always say 30 minutes before call time is an hour too late.
Your book Rocliffe Notes has been a big success and lots of our students have read it. What inspired you to write it?
A lot of people were asking for help and guidance so I started writing a blog – within 3 days it had 1,000 hits. I was focusing on tips, in bullet form, just good information. I thought I'd put it into a book, Rocliffe Notes which has been really well received.
But the books not just my voice. I interviewed 150 different contributors from around the world; actors, script writers, directors, Oscar and Bafta winners. I got brilliant feedback on how they deal with rejection, on how to prepare for meetings, what they consider good writing etc. I got lots of great information, and it's great to have facilitated the sharing of those insights – this is a book people can really learn from.
I'm currently working on my second book on Low Budget Filmmaking.
You recently worked with two screen legends, Christopher Walken and Steve Coogan in Irreplaceable You – what was that like?
Amazing! Thankfully I've worked with lots of astounding people; Isabella Rossellini, Joanna Lumley, Leslie Phillips, and also Christopher and Steve – you know they're all amazing.
When someone high-profile comes on board your project, it's unbelievable – all you can think is Oh My God!!! Then you meet them and you realise they're just human beings like you or me and they're here to work. It's my job to create a supportive comfortable environment for them.
You have to remember for actors they are putting themselves on the line, it's their face and their performance. Some need to go into another space, inhabit another character, make it real and bring it to life. You need to make the process as easy as possible for them. The same goes for the director –keep an eye out for them, that they are supported so they are able to do their job well.
How do you spot a good film script?
It's hard to put your finger on it, no one knows exactly what "it" is. I know what does it for me. I love an interesting story with humour and a story with a heart. Projects that I've developed from scratch tend to involve promoting women both behind and in front of the lens. So, it's really a package for me.
Any interesting industry trends going on?
As soon as I'd have said it, it'd be gone out of fashion!!!
One thing I would say though is that there has been a massive change in the industry. Both audiences and industry pros are demanding and expecting to see a greater representation of women. Not just in the smaller supporting character roles that feed the lead male's emotional journey such as mother of, girlfriend of, best friend of but right across the spectrum. It's an exciting time for collaboration.
And diversity is key. In terms of the stuff I work on, I want it to reflect the real world. So I travel on a bus, shopping centre, food store or on the subway in a new town or city and take note of who's on the train, what kind of people are they, what are they wearing, how do they look  Then when I look at the characters in a film, I try to work out if we are portraying the same type of people; is it an accurate reflection of society?
Take Ireland for example. It has changed so much since I grew up there and we must be mindful of these changes when casting for parts even the extras in films.
What do you love about Pulse College? What makes it a great place to learn?
I love their holistic approach to film making, they cover so many different elements on their film production courses which is really important for the development of the filmmaker.
Just like I studied Shakespeare and Checkov, Pulse College do it with, production, script writing, directing, editing. I wish I had that opportunity to learn this way when I was a student – it provides a very rounded education.
Every day the students learn something new and whether you like a particular subject more than another, it's worth putting your best foot forward in all your modules as it'll stand to you down the line. You are doing this for yourself no one else. The things or subjects you might think are mundane to learn today can turn out to be invaluable tomorrow – you need to embrace it all.
Any hot tips for people trying to break into the industry?
Don't wait for permission. You need to put yourself out there so don't be scared!
Oh! and read tonnes of scripts – there's loads available on the BBC website.
Study Film Production at Pulse College
To learn more about our film product courses please contact us or come to an open day where you'll have the opportunity to ask questions and meet some of our lecturers. Join us!
[openday]
FOLLOW US