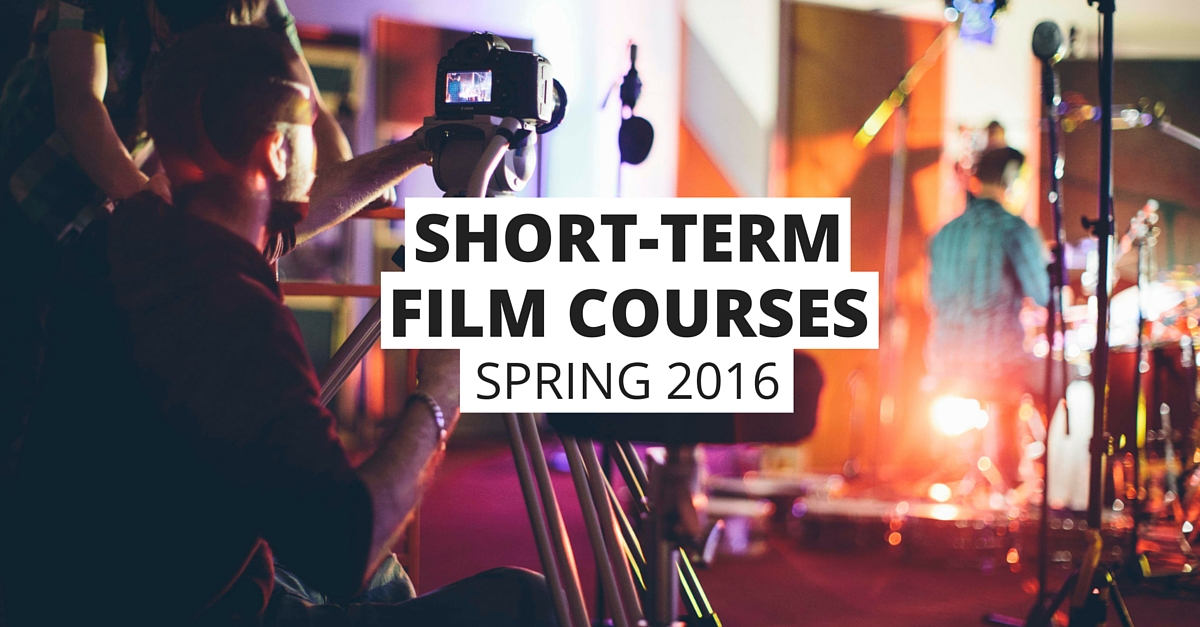 Don't miss your chance to enrol in one our Film Production Short-Courses this Spring, in editing, colouring, vfx, and writing for the screen! March course highlights include the 6-Week Intro to Film Production, Final Cut Pro X Level 200, Adobe After Effects, Adobe Premiere Pro and DaVinci Resolve. The next Script and Screenwriting bootcamp kicks off in May. All courses below offer reduced prices for current / past students. Please contact us for more info on these rate.
FINAL CUT PRO X – LEVEL 200
Used extensively by professional film and video editors worldwide, Final Cut Pro X delivers high-performance digital non-linear editing, native support for virtually any video format, and facility-class extensibility and interoperability. This five-day, hands-on course will teach you everything from basic video editing techniques all the way through to introducing you to Final Cut Pro's advanced features.
DATE/TIME: 21st March, 5-Days, 10am-5pm
FIND OUT MORE: Click Here
DAVINCI RESOLVE – LEVEL 200
DaVinci Resolve is the most powerful color-grading platform in the world. It's the Hollywood standard. This course is designed to teach you how to control, enhance and adjust the colors of your film, to convey your story. It is a hands-on workshop that encompasses both demonstrations and practical exercises in colour correcting and colour effects.
DATE/TIME: 21st March, 2-Days, 10am-5pm
FIND OUT MORE: Click Here
ADOBE AFTER EFFECTS
This three day Adobe After Effects course suits beginners and self-taught users of After Effects alike. It is a comprehensive tour through all the features and toolsets of After Effects CC from the basics of layer-based animation to the complexities of 2.5D camera-based scenes.
DATE/TIME: 29th March, 3-Days, 10am-5pm
FIND OUT MORE: Click Here
6-WEEK INTRO TO FILM PRODUCTION
This intensive 6 week Intro To Film Production course provides an immersive introduction to the exciting world of professional film production. You will study the fundamental aspects of visual storytelling in Pulse College's professional film production facilities, learning from practicing industry professionals from disciplines including screenwriting, production, sound, cinematography and post production.
DATE/TIME: 29th March, 6-Weeks, Tues & Thurs, 6.30-9pm
FIND OUT MORE: Click Here
ADOBE PREMIERE PRO – LEVEL 101
Adobe Premiere Pro (Level 101) is a three day course suitable for both existing Premiere Pro, cross-skilling Final Cut Pro and Avid editors alike. This official Adobe course takes the delegates through all aspects of Adobe Premiere Pro while highlighting the connections of the Non-Linear Editing system to other products in the Creative Suite family such as Prelude, Photoshop, After Effects, Speedgrade, Audition and Media Encoder.
DATE/TIME: 4th April, 3-Days, 10am-5pm
FIND OUT MORE: Click Here
SCREEN & SCRIPTWRITING BOOTCAMP
This screenwriting & scriptwriting bootcamp course provides students with a supportive environment that allows their natural story-telling talent to shine through. The course has an interactive and proactive narrative approach rather than focusing on theory. Participants' own ideas and skills as a writer will be encouraged in a fun environment as part of the course.
DATE/TIME: 7th May, 5 Weeks (5x Saturday's), 11am-5pm
FIND OUT MORE: Click Here
Full-Time Film School Options at Pulse College
BA in Film and Television Production
Advanced Diploma in Film Production
Check out our open events to see the facilities and hear from the tutors.
[openday]
FOLLOW US