We were delighted to welcome IFTN (Irish Film & Television Network) into Pulse College (Ringsend Campus) recently so they could have a chat with us to find out a bit more of the great work and plans we have for the college! Check out the article (published Fri 30th Jan 2015) in full below.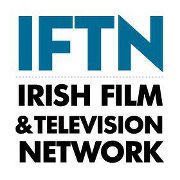 "Finger on the Pulse: IFTN talks to Pulse College"
With Pulse College set to host an open day on Saturday, February 7th, IFTN took a trip to the college to see for themselves what one of Ireland's leading Creative Media Educators had to offer.
Established in 1990 and offering an array of courses across audio, music, film, gaming and animation – Pulse College now boasts three campuses on Ringsend Road and Halston Street – both in Dublin – and Fairgreen Road in Galway City.
The Open Day on February 7th – starting at 11am – will be held in all three campuses simultaneously with presentations, talks, tours and a 'meet and greet' with course tutors and current students planned for the event.
While the Open Day will be about showing people the courses the college has on offer starting from September 2015, Pulse are also running a series of introductory courses for any prospective students wanting to get into Audio Technology, Game Development, Animation, Music Production and Film Production. These courses will begin on February 17th and will run for six weeks, two evenings a week – and will be explained in detail at the Open Day.
Speaking to IFTN about these Intro-Courses, Ray Lonergan – Marketing Manager of Pulse College – said: 'These unique and highly affordable courses are for two kinds of people. Number one will be people interested in doing a full or part time course starting in September – this course will show them the main aspects of what will be required on these courses and what is involved. Number two will be people who are working at the minute and are looking to either upskill or re-train altogether – these courses will provide them with an insight into what these courses are like and give them a chance to see if it is something they would be interested in.'
The Intro-Courses are offered on a first come first serve basis – with Lonergan stating that any students who go from an Intro-Course to a full or part time course in September will get a certain percentage of what they paid for the Intro-Course off their tuition.
Pulse College have expanded and seen increasing demand over the past couple of years, moving premises to their main hub now on Ringsend Road and opening the Halston Street branch solely for their gaming and animation courses.
Aidan Alcock – Co-founder and Director of Pulse College and Windmill Lane Recording Studios (which Pulse College bought six years ago) said: 'We wanted to give the gamers and animators their own space. They have a lot more creative freedom now with their own building – they have an atmosphere that is just for them and that is what we want to create here at Pulse College – the best working atmosphere possible so that our students can thrive.'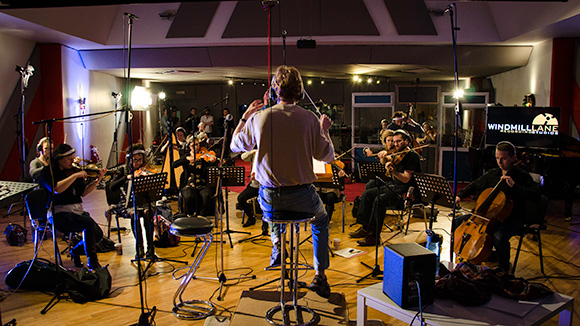 Alcock's sentiments were echoed by Lonergan who said: 'Right from day one, we want to create a real world environment for all our students across all courses. We want to move away from the theory and text-book side of things and put the equipment into people's hands straight away and let them make their own mistakes if needs be.'
Offering state of the art and up to date industry standard equipment for its' students use – Pulse College also trawls through the industry's top practitioners when choosing lecturers. 'These aren't lecturers that quit their jobs 15 years ago and are now lecturing instead', said Ray Lonergan, 'they are people that are still the top men and women in their profession – and when they are not lecturing with us they are working in their field and winning awards for that work.'
Aidan Alcock added: 'The lecturers are doing it out in the real world themselves and then coming here and imparting that up to date information to our students. I think that is one of the things that makes Pulse College unique – our students will leave here being taught by the absolute best using the highest standard of equipment meaning that will go into their chosen fields as experts rather than just as graduates looking for jobs – they will leave here with the utmost confidence and be able to walk into a job.'
Some examples of lecturers acquired by Pulse who are still operating at a high level in the industry include Ciaran Tanham (DOP of 'Love/Hate'), US Composer Christopher Young ('Hellraiser', 'A Nightmare on Elm Street'), Sound Recordist Noel Quinn ('Frank', 'What Richard Did'), Pete McNally (Technical Artist for games development company Havok), Caoimhe Doyle (Foley Artist on 'Game of Thrones') and Conrad Pope (Orchestrator for 'The Hobbit' & 'Harry Potter' Series).
This innovative approach to teaching hasn't gone unnoticed – the highly respected US publication Music School Central listed Pulse College number five on the list of Top 10 Schools for Film and Television Scoring – a list that includes Berklee College of Music and New York University (NYU) in the top three – with the world famous University of California (UCLA) coming in behind Pulse in sixth. The publication stated that Pulse College 'boasts some of the most extraordinarily accomplished faculty in the world in any music department focusing on commercial music.'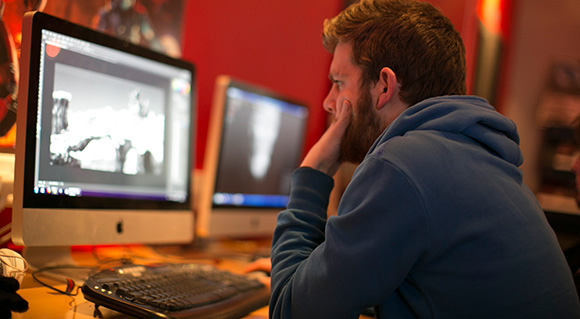 'I think another thing that makes Pulse College unique is that we are constantly engaging with the industry', said Ray Lonergan, 'We look constantly at what the industry wants – what's relevant in the industry and we cater for that to ensure that our students are being taught the most up-to-date relevant career-focused things.'
An example of Pulse College engaging with the industry to create real-world portfolio's and show-reels for their students are the Windmill Lane Recording Sessions, an on-going series of music videos by famous musicians that are recorded at Windmill Lane and which feature prominently on the Irish Independent website – one of the most widely read news websites in Ireland.
Acts such as Damien Dempsey, Aslan, The Riptide Movement and Mundy have so far featured in the sessions – with the Pulse College students working on the sound, shooting the footage and post-producing the videos for the Irish Independent website.
Speaking about the sessions, Aidan Alcock said: 'This is not just a cool project – it's a real-world assignment that will be seen and heard by a lot of people and a lot of the right people – I don't think you can get that anywhere else.'
Pulse College has between 450-500 students across all three campuses and even a scan through their halls evokes the feeling of a creative mecca – with students clearly revelling in the high quality of their education as well as the small class sizes that are designed to promote synergy and collaboration.
Speaking on this, Ray Lonergan said: 'Students coming here aren't coming to skip classes and go on the lash. You are entering the industry by entering Pulse College – experiencing things right from the get-go – building relationships, using the equipment – essentially becoming an expert in your field by doing.'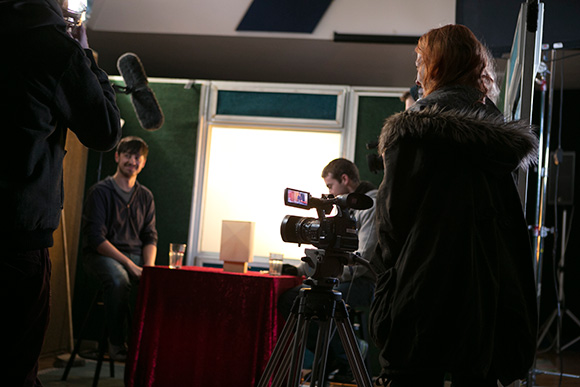 Speaking more about the synergy and collaborative spirit of Pulse College, Aidan Alcock said: 'We encourage our students here to engage with people in other courses – so for example, we will set up projects where film students will have to engage with people on the animation course or the gamers will need to team up with the audio guys. We want to create a wide network of collaborators here opening up the doors for them to collaborate in the future – whether that's in two years, five years or ten years.'
Lonergan added: 'I think there is something special about Pulse College. I think that's down to the collaborative spirit created here, that enterprising spirit and industry focused spirit that Pulse creates that I don't believe can be found anywhere else.'
Pulse College Open Day will be held on Saturday, February 7th. Click here for more info and to register to attend.
[openday]
Follow Us