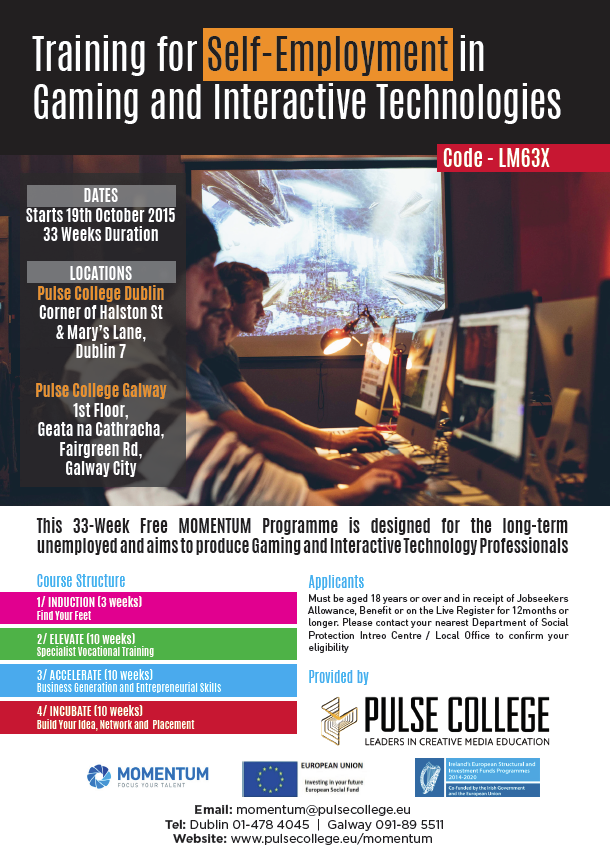 Start Your Own Tech/Games Company
Pulse College is offering a FREE 33-Week GameTech Start-Up education and incubation programme as part of the MOMENTUM initiative in the area of Games and Technology.
The program will take place at our Dublin and Galway City Games Campuses.
In collaboration with industry experts, the Pulse College Momentum GameTech Start-Up programme is designed to facilitate the development of ICT, game and interaction design innovators through a combination of vocational and industry training, start-up acceleration and incubation. Graduates of the programme will have experience in entrepreneurship for digital media.
If you are currently out of work but have a great business idea for anything technical or creative, like a video game, an app or new software, but don't have the skills to get your company or idea off the ground, we have a new exciting programme to take you from 'live register to entrepreneur.'
Find out more on the video below or click here to visit the program website

To find out more about the Momentum Program or if you have any queries, simply email us and our admissions team will be happy to help!
Pulse College will be hosting an Info Event for the Momentum Course Friday October 2nd at our Dublin & Galway campuses. Register your interest for the course by contacting us here
[openday]
FOLLOW US