Game Design in Ireland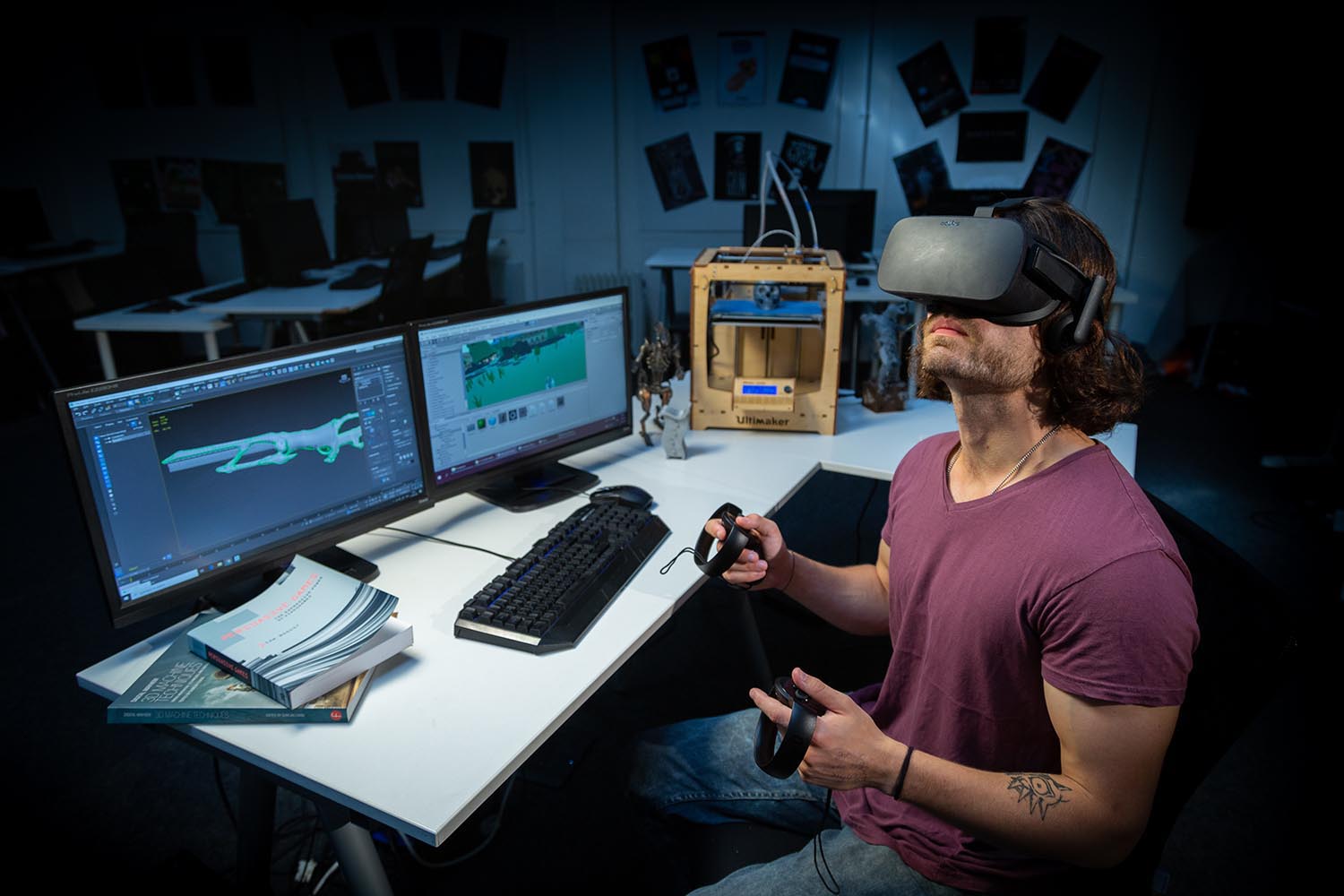 "I could make Halo. It's not that I couldn't design that game. It's just that I choose not to. One thing about my game design is that I never try to look for what people want and then try to make that game design."
Shigeru Miyamoto, legendary creator of Mario and Zelda
If you are looking to get into the game, then there is no better place to study than Pulse College. Situated in the heart of Dublin, Ireland, Pulse has established a reputation for being the leader in creative media education.
Pulse's offers a wide range of Game Design & Development courses that will teach you everything you will need to create your own original, interactive and immersive gaming masterpiece. With some of the most exciting and dynamic courses in Ireland, we have specifically designed our courses to produce multi-disciplinary game designers who are equipped with the skills and know-how to excel in a highly competitive creative industry.
But first, let's have a quick definition.
What is Game Design?
We often hear this question and particularly whats the difference between Game Design and Game Development?
Common question. Game design comes under the broad definition of game development. It refers specifically to the creative use of design to develop a game. This is typically for entertainment but can also be for educational purposes too.
What does a Game Designer Do?
If you are thinking about a career in game design, it's very important to be clued in on what a game designer actually does (and doesn't do). The size of the studio, the structure of the team and the types of games the studio makes will largely inform the day to day tasks of a game designer.
Depending on the location, it could be very specialised or more broad. Generally speaking, the bigger the project, the more specific the roles there will be. For example, on a big budget game, there could be a…
Systems Designer
Gameplay Designer
Open World Designer
Quest (or Mission) Designer
Narrative Designer
Technical Designer
UX Designer
Each role varies -but you will most likely have to pitch ideas to your team, design doc and assets lists and do any required scripting.
How to become a Game Designer?
So now you have an idea of what a game designer actually does. To make this your reality, it will be important to have the following in your toolbelt.
A Holistic Mindset
It's important to recognise it's multidisciplinary nature. While you can potentially be honing in one area (project dependent) –  having a holistic view and understanding is going to serve you very well in this field. You will be working with artists, animators, programmers and writers. The ability to appreciate how all these different fields come together in the development of a game will only improve your game design.
Team Player
Undoubtedly you are going to be working with different people and touchpoints along the way. By polishing your soft skills and your ability to work with others will be key in creating an exciting games design career.
Portfolio
Create. Create. Create. Ultimately your ability to show and not just tell will be critical to getting your foot in the door. Aside from going through the process and consequently improving your game design skills – a portfolio shows you care enough about your career to take the time to build one. Showing this initiative and proactive approach is what sets you apart. Your portfolio doesn't have to be a full game.  Game jam projects, vertical slices, prototypes are all excellent ways to show your craft (and enthusiasm for it).
How to make your Game Design Portfolio stand out?
Make sure you show the end product and tie up any loose ends. Even it's a small job – it's important to finish it. (Remember your portfolio is a reflection of you). With that in mind – think quality over quantity. With short attention spans – you want your portfolio to pack a punch and make an impact. Do this by showing your best work up front.
Finally make it visual – use images and videos. While you might need to include a spreadsheet – where possible make it easy on the eye!
Experience
One of the best ways to boost your chances of employment is getting some experience. As it can be difficult (but not impossible) to get an entry level industry job that requires no experience – consider getting your experience elsewhere. Think internships, work experience posts, trainee positions etc.
Also many people start off in Quality assurance (QA). While it may not the he long-term play – it can be the springboard for many budding game designers. On top of that, it gives you a great inside knowledge to how studios actually operate and it also helps to develop that critical 'holistic mindset' which we mentioned earlier. Once in the door, it's not uncommon to move from QA to design if the opportunity arises and you've been sharpening your skills.
Odds are your first job won't be your dream job but that it's a first step and that's the important part.
How to Combine Experience & a Portfolio for Game Design?
If you are thinking about Games design and/or game development – taking a game development course could be the solution for you. Our courses at Pulse are loaded with practicality and hands on work with an opportunity to create and develop your portfolio. (more on this below)
Game Design in Ireland
So what are the opportunities like for Game Design in Ireland? In general, the prospects are greatly improving as the industry in Ireland is growing. While the pandemic has had its affect, the opportunity to carve out a career in gaming in Ireland is very much there. Below is a snapshot of the a LinkedIn search for game design in Ireland. Theses are just some of the opportunities that are posted. Like many industries, some jobs are filled without there even being a need to promote. Think word of mouth, internal hires etc.

Your Game. Your Rulers.
At Pulse, you'll get all the creative and technical skills to bring your creative vision to life. As one of the fastest growing and most exciting job sectors in Ireland, Game Production offers graduates a number of highly creative and rewarding career possibilities.
With a qualification in Game development or design from Pulse, you'll acquire all of the skills you need to produce the world's next big videogame franchises. Whether you are looking to create games for PC, consoles or for smartphones and tablets, there is no better place to study than Pulse College.
At Pulse you'll cover all areas of game design, including everything from creating 3D concept art for environments and character to using sound design to create immersive experiences and advance programming skills to populate your digital worlds with advanced AI. With this qualification you can choose from a variety of creative and challenging careers, including:
Games Designer
Games Tester
Sound Designer
Gaming Programmer
2D and 3D Concept Artist
Technical Artist
Take your creative and technical skills to the next level by studying Game Design at Pulse College in Ireland. To find out how to get in the game, visit www.pulsecollege.eu or call +353 (0)1 478 4045.
Discover Our Games Development Course
Follow Us