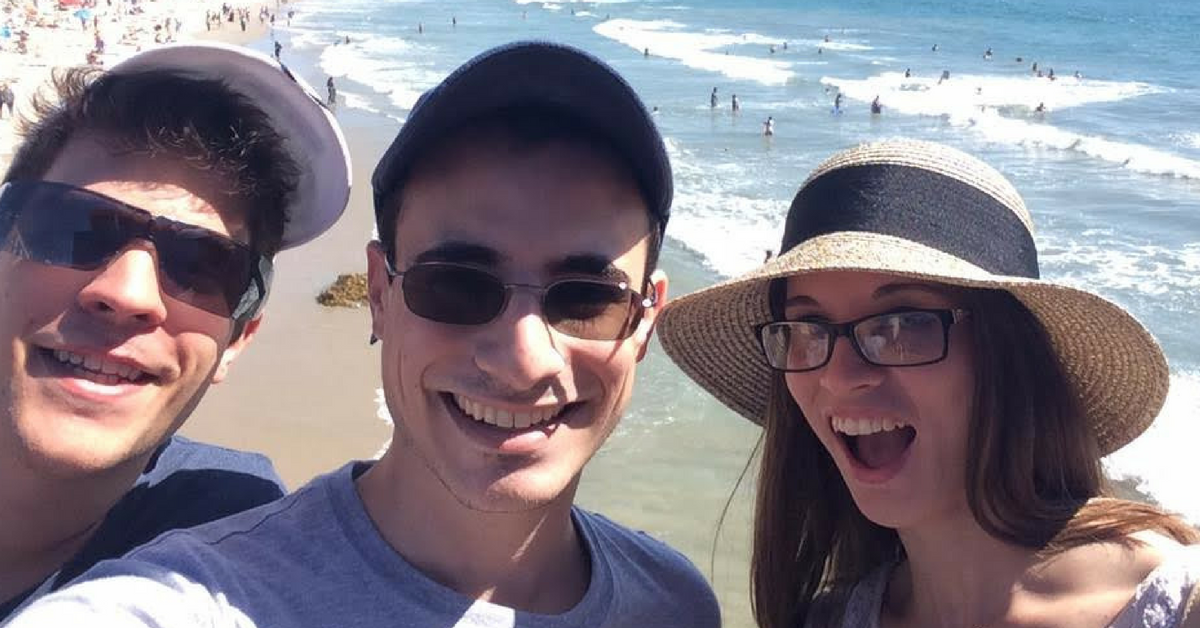 Samantha Van Der Sluis, an Australian composer and '16 Graduate from the MA in Scoring for Film & Visual Media Program here at Pulse College, was our first attendee to the Hollywood Composers Residency. This exclusive residency, in collaboration with renowned composer and visiting tutor Christopher Young, is something we offer every applicant who is accepted and deposits during our Early Action Phase. Sam has kindly wrote a blog of her experience in Los Angeles!
'My L.A. Residency' – Sam, MA in Film Scoring Graduate
One of the best things about working in the film and music industry is that you never know where opportunities may take you. I was meant to be in Dublin last week but here I am still in California! I have gained an internship at Joann Kane Music Service, which is extremely exciting as I have the opportunity to attend recording sessions across L.A..
Thanks to my year at Pulse College, I have had the opportunity to reside under Christopher Young's composer's residency right in the heart of Los Angeles. I stayed at the residency for the month of September and experienced a variety of adventures from networking, creating friends and travelling.
If there's a mindset you need to have when you're in L.A., it's this: don't expect anything, keep strong (every man and his dog wants to compete against you in the industry) and have an open mind towards new pathways which may not be what you visualised at first.
My month at the composer's residency was definitely an experience I'd recommend to any aspiring composer. For one, I didn't have to worry about the high cost of rent while living in one of the best parts of L.A. My housemates and I became very good friends and we were very supportive towards one another.
We travelled together and visited Malibu, Laguna Beach, landmarks of L.A. including the Hollywood Hills, Runyon Canyon, the Samuel Goldwyn Theatre, the Walk of Fame and the Griffith Observatory.
I also visited Sony Studios for a conference, met countless respected industry professionals including composers Michael Giacchino and Harry Gregson-Williams, and directors / producers / storyboard artists / visual compositors from Disney, Marvel, How to Train Your Dragon, Dolphin Tale, Kubo and the Two Strings, Shrek – just to name a few! L.A. becomes smaller as you become a part of the community and everyone knows everyone. Just last weekend I met a cellist who worked with Danny Elfman.
I've also had personal meetings with directors in which I have gained some work. I have known a specific director for a few years and we had been emailing each other and I discovered that this director was the first director Chris Young worked with. The two of them are currently working together on a film set to be released in November so the director has offered me to assist him with temp music editing. He is also very good friends with the Newman family!
I return to L.A. this weekend for a Pixar conference and a panel with Michael Giacchino, John Williams and Alexandre Desplat, as I'm currently in Laguna Beach this week staying with good friends who are composers for trailer music and Fox Sports placements.
Basically, I've enjoyed the experiences that L.A. has offered to me so far and look forward to what happens next!
FILM SCORING COURSES AT PULSE COLLEGE
Check out the MA in Scoring for Film and Visual Media, come to our next open event or contact us now to speak to our admissions department and to find out more about our exclusive Early Application Awards and Scholarships.
[openday]
FOLLOW US