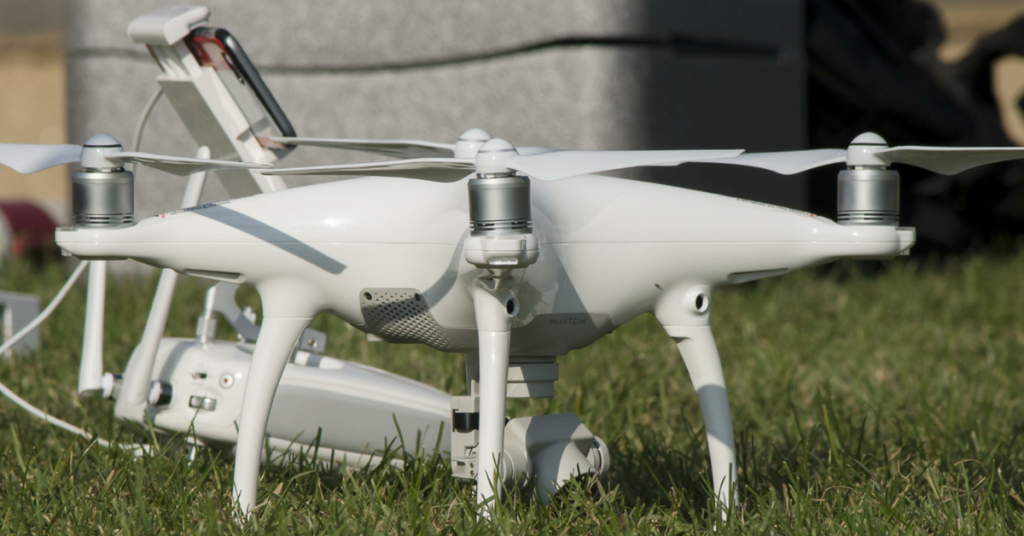 Drones are all the rage, not only are they great fun but they allow students in film production courses to achieve high production values without having a Hollywood budget. Filming on a GoPro with a drone is beginning to change how movies are made. Directors are using them to shoot beautiful things that in the past may not have been possible or would have cost an absolute fortune. Check out this awesome close up drone footage of a volcano erupting in Iceland, the footage was shot from over a mile away!
When you start out filming this way, it can be difficult to get the hang of it – instead of stunning panorama views you might be getting more basic shots. To help get you on track we've put together a few tips that'll get you on the road to being the next Christopher Nolan in no time!
Practice Makes Perfect
If it's your first time flying a drone or just starting out you'll want to get in as much practice as you can. It's all about muscle memory and the more you can practice the better you're going to get at controlling and moving the drone.
Take Precautions
As cool and as much fun as drones are, they can also be extremely dangerous. We want you to be safe so we recommend that all our students take full precautions and be aware of your surroundings. Be careful not to fly your drone over lots of people, close to power lines, buildings or airports. Keep an eye out that you are not near any dangerous obstacles so you don't have an accident. The Irish Aviation Authority has all the information and rules relating to flying drones on their website so take a look before you start.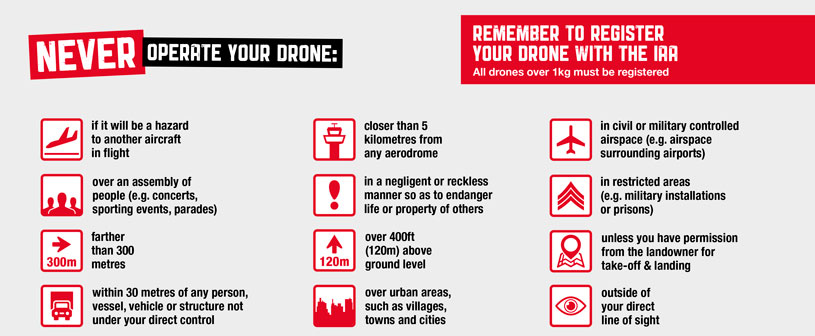 Flight Controls
For the best results, you'll want to have really good control over the drone. When filming with a drone we find moving the drone slowly and smoothly captures awesome shots. Allow the drone to move in nice long fluid movements to take in all the views. Apply the same conventional filming techniques you've already learned to filming with the drone. If the video moves around too much people will know it's a drone so steady movements are the key.
Planning
One of the things we always encourage our students to do is take the time needed to plan out their shots in great detail. When a shot is planned properly, you're going to capture much better footage and the battery on your drone isn't gonna last all day unfortunately! As an idea, start off nice and low near the grass and move up over an object like a tree. Then you can reveal a stunning view which can produce amazing results. We're sure you can't wait to get out there but the more you plan the better it's going to look. Oh and maybe pop a spare battery in your back pocket – it won't go amiss!
Think Outside the Box
Be a story teller and show people something they haven't seen before. Drone footage is at its best when you capture people's imagination and show them things not possible a few years back. On our film production courses, we love creativity and encourage our students not to be scared to think outside the box. When students are creative and original they produce mesmerising footage.
What's the Forecast
Ok it may sound like a bit of an obvious one but we all know the weather in Ireland can be a touch changeable to say the least! Before you head off give the weather a quick check to see what's happening. Windy condition can make shooting a bit difficult and also more dangerous. If you're not comfortable don't do it, there's always tomorrow!
Monitor
One piece of kit that can make all the difference is getting a good monitor. Being able to see what's happening will make things a lot easier and help you master the skills much quicker. There's plenty of options out there for you to choose from.
Post Production
When recording with a drone its best to use a gimbal to help keep the camera steady so the footage doesn't look to shaky. It's possible to use a touch of stabilising in post-production. Try experimenting with your footage afterwards and add some cool effects or a soundtrack. Adobe After Effects is a nice software package to work with. You can get a really good grasp of it in our 3 Day 101 Course.
Learn More
If you're interested in learning more about film production, we have excellent part time and full time courses available as well as a BA in Film and Television Production. Pop along to one of our open events to find out a bit more.
[openday]
FOLLOW US